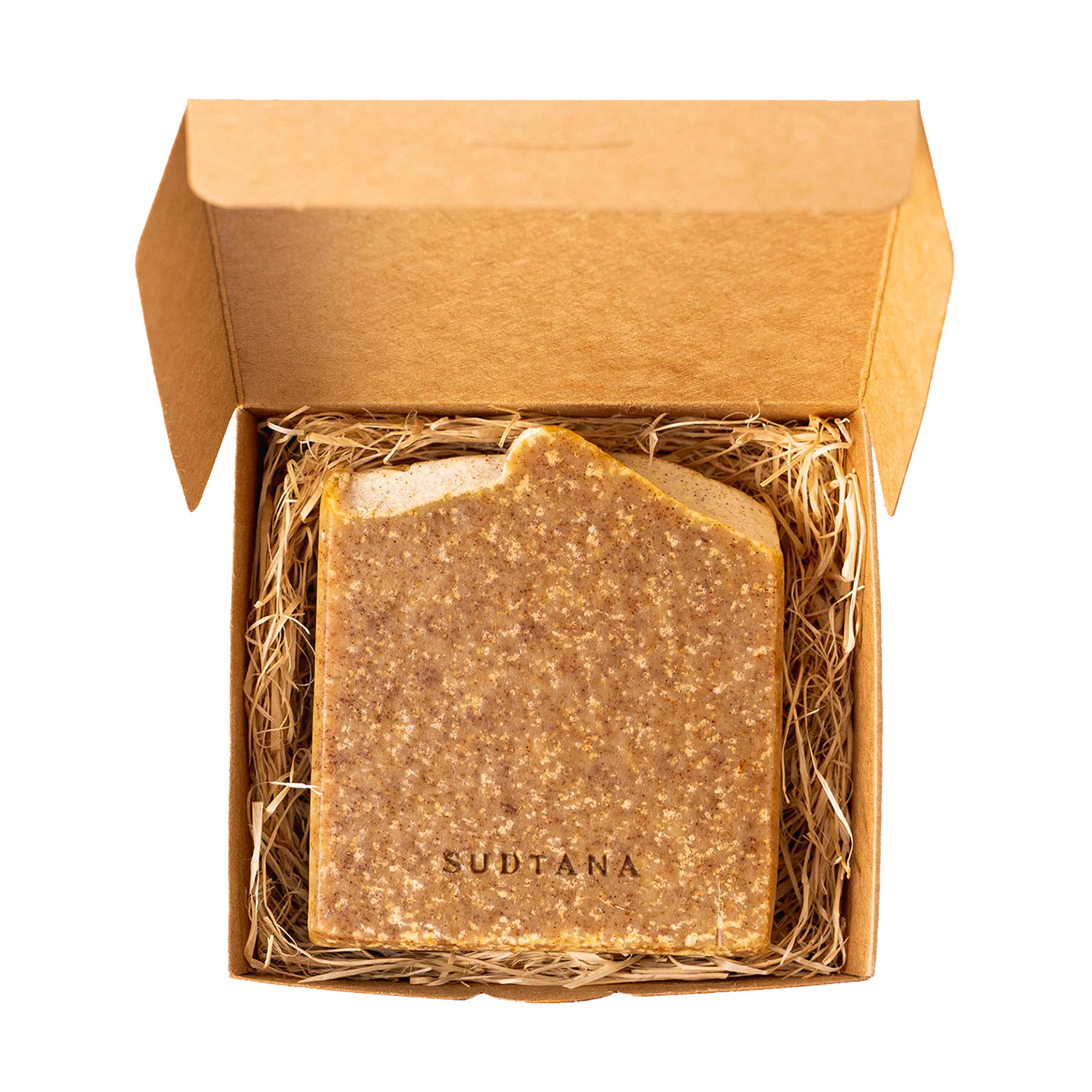 Description
Deep-cleansing bar soap with a refreshing, spa-like scent / 4.2 oz
Sudtana's Mung Bean, Lavender & Eucalyptus Cleansing Bar Soap is a gorgeously scented bar soap, carefully crafted without heat to preserve optimal nutrient levels. As with our other favorite soaps, no hardening chemicals are used their formulas — so each bar takes about 45 days to solidify.
The refreshing, spa-like scent of this bar soap is the showstopper: the blend of rejuvenating eucalyptus with calming lavender reminded one tester of taking an outdoor shower in a tropical landscape. A light touch of these essential oils is blended into the soap formula with whole-plant mung bean powder — known for its brightening properties — without any heat to make the most of these ingredients, all sustainably grown in rural Thailand.
With a base of olive, sunflower, and coconut oils, this vegan, sensitive-skin-friendly, essential-oil-free soap gives skin a satisfying lather and a very deep clean; it's not a moisturizing bar like MyHavtorn's, but it also won't leave skin feeling stripped due to its base of plant oils. That scent isn't just for show, either: each wash treats skin to mung bean's gentle brightening properties, eucalyptus' cooling properties, and coconut oil's soothing nourishment.
This soap bar transports us to memories of vacations past as well as its sibling, the Sandalwood, Cinnamon & Turmeric Cleansing Bar Soap. Equally perfect either for you or as a thoughtful gift.
How to Use
Lather on palms, washcloth, or loofah with water. Gently rub onto the body, then rinse thoroughly with warm or cool water.
Tips: Please avoid eye contact and store in a dry place (e.g., draining soap dish) right after use for a longer-lasting bar.
Ingredients
- Mung bean is prized for its brightening, soothing properties.
- Eucalyptus cools and refreshes, perfect for post-workout showers.
- Coconut oil, sustainably harvested from Thai family farms, keeps skin soft.
---
All Ingredients
Saponified Olea Europaea (Olive) Oil, Saponified Helianthus Anuus (Sunflower) Seed Oil, Cocos Nucifera (Coconut) Oil*, Aqua, Santalum Album (Sandalwood) Powder**, Cucuma Longa (Turmeric) Powder**, Cinnamomum Verum Powder**, Sodium Chloride (Sea Salt)
* Certified organic
** Organically grown
Saponified Olea Europaea (Olive) Oil, Saponified Helianthus Anuus (Sunflower) Seed Oil, Cocos Nuc...
See All