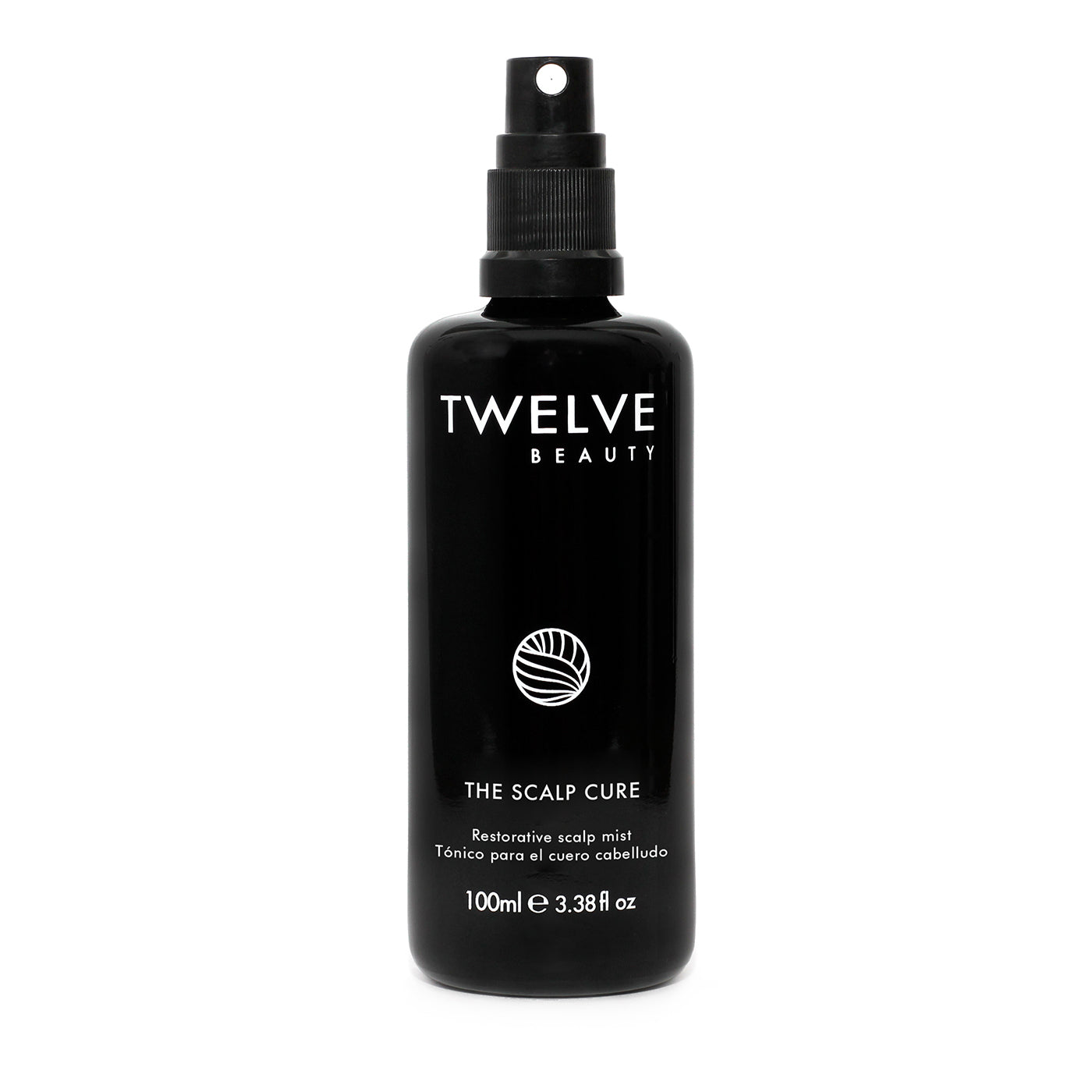 Description
Scalp tonic designed to enhance hair density and boost hair growth  / 3.38 oz 
TWELVE Beauty's The Scalp Cure is designed to encourage healthy hair growth, and it does so in a very TWELVE-like way: it promotes a well-balanced scalp microbiome through a blend of botanicals while also delivering a heap of corosolic acid to the scalp to support those with thinning hair or excessive hair loss.

Corosolic acid, extracted from the leaves of a plant called Eribotrya Japonica, has been shown to do the following exciting things:
- Inhibit the production of DHT, the hormone that causes hair loss
- Reduce the production of proteins that trigger hair loss, like FGF-5
- Increase the production of proteins that stimulate hair growth, such as FGF-7, VEGF, and BMP-2

The particular extract that TWELVE uses has also been shown to help enlarge the groups of dermal cells that are essential for a healthy hair root, making for thicker and stronger hair. (If you've followed us for some time, you may remember our horror at the phenomenon referred to as "miniaturization of the hair follicles.")

Additional botanical extracts in the non-comedogenic, fragrance-free formula help with corosolic acid's efforts. Maca extract, rich in peptides and sugars, encourages healthy hair growth; additionally, three plant extracts — coltsfoot, yarrow, and quinine — help feed the bulb (as Pedro told us in this interview about the formula, "bulb starvation is a thing"). And prebiotics like epilobium extract and inulin, sourced from chicory, keep the scalp and hair around it healthy and balanced.

The super-fine mist is easy to spray close to the scalp, and it can be used on virtually any type of hair (wet or dry, chemically treated, etc.) and by anyone (including those who might be pregnant or breastfeeding).

We love applying it to the scalp after washing our hair, and we also love working it into a nighttime hair routine on dry hair. First, brush hair from roots to ends using one our brushes from TEK. Next, spray on The Scalp Cure very close to the roots by lifting up sections of hair. Give yourself a nice scalp massage, then drift off into slumber. Bonus: you'll probably wake up with a little extra volume at your roots.

How to Use
Shake well. Evenly mist onto cleansed scalp, damp or dry, massage and leave in, do not rinse—style as usual. Can be used daily to keep scalp in optimal health.
Ingredients
- Eriobotrya Japonica Leaf Extract: Formulated to deliver the maximum amount of corosolic acid to effectively combat hair loss, enhance hair density, and fortify hair at its root. It also stimulates hair growth, resulting in thicker and more resilient hair.
- Tussilago Farfara Leaf Extract: Rich in minerals that strengthen hair and reduce breakage and hair loss.
- Achillea Millefolium Extract: Balances scalp health, reducing oiliness and irritation while promoting overall hair vitality and natural shine.
- Inulin: This natural conditioner adds moisture and detangles, leaving hair silky, and manageable. Moreover, it also acts as a powerful prebiotic, rebalancing the scalp's microbiome, and reducing the risk of irritation.
- Lepidium Meyenii Root Extract: Stimulates hair growth and strengthens follicles, promoting thicker, more resilient locks.
---
All Ingredients
Aqua, Tussilago Farfara Leaf Extract, Achillea Millefolium Extract, Propanediol, Eriobotrya Japonica Leaf Extract, Leontopodium Alpinum Flower/Leaf Extract, Inulin, Saccharide Isomerate, Sodium Lactate, Arginine, Maltooligosyl Glucoside, Aspartic Acid, Pca, Glycine, Lepidium Meyenii Root Extract*, Epilobium Fleischeri Extract*, Alanine, Serine, Valine, Proline, Cinchona Succirubra Bark Extract, Threonine, Isoleucine, Panthenol, Histidine, Phenylalanine, Allantoin, Hydrogenated Starch Hydrolysate, Glycerin*, Maltodextrin, Levulinic Acid, Caprylyl Glycol, Caprylhydroxamic Acid, Citric Acid
*Organic ingredient
Aqua, Tussilago Farfara Leaf Extract, Achillea Millefolium Extract, Propanediol, Eriobotrya Japon...
See All