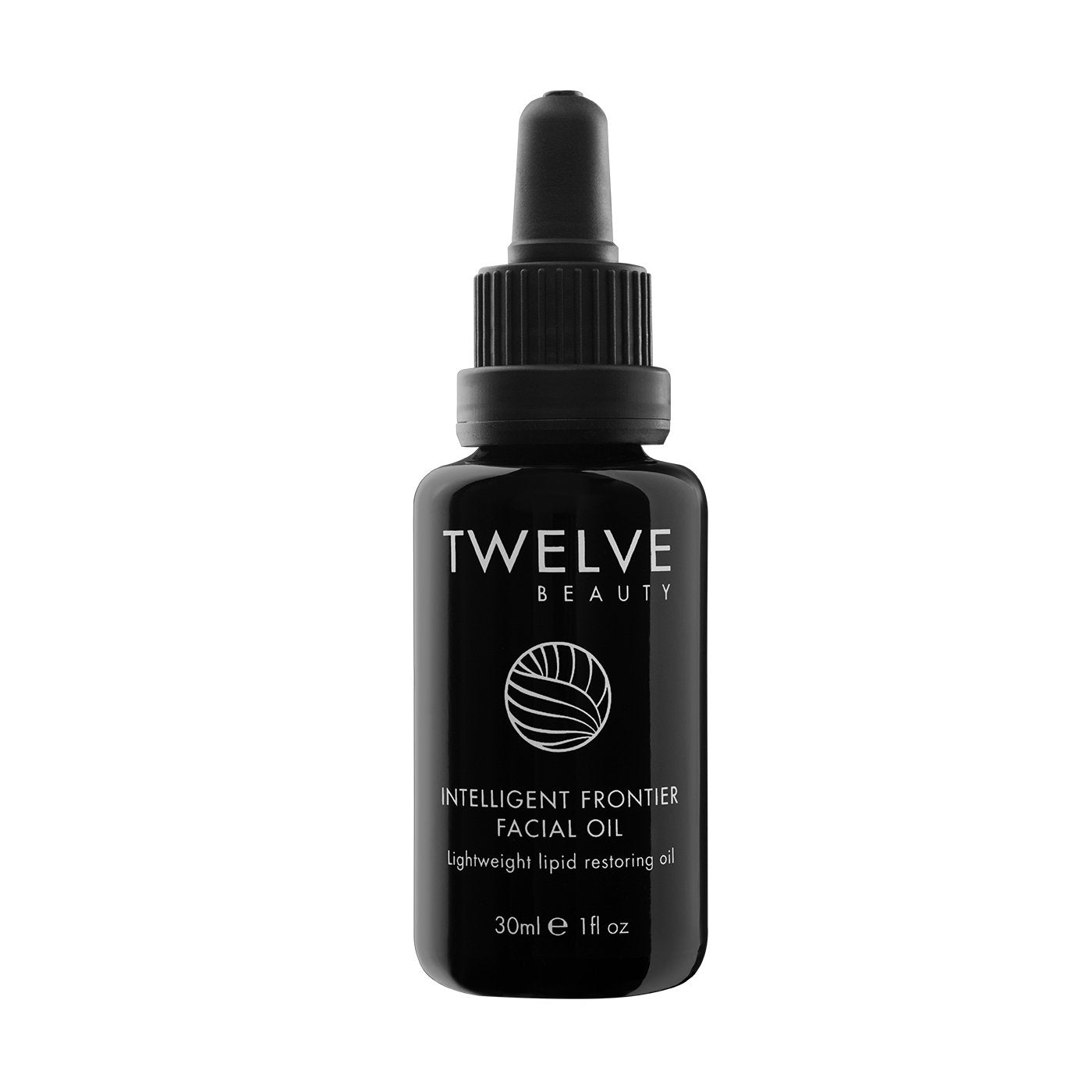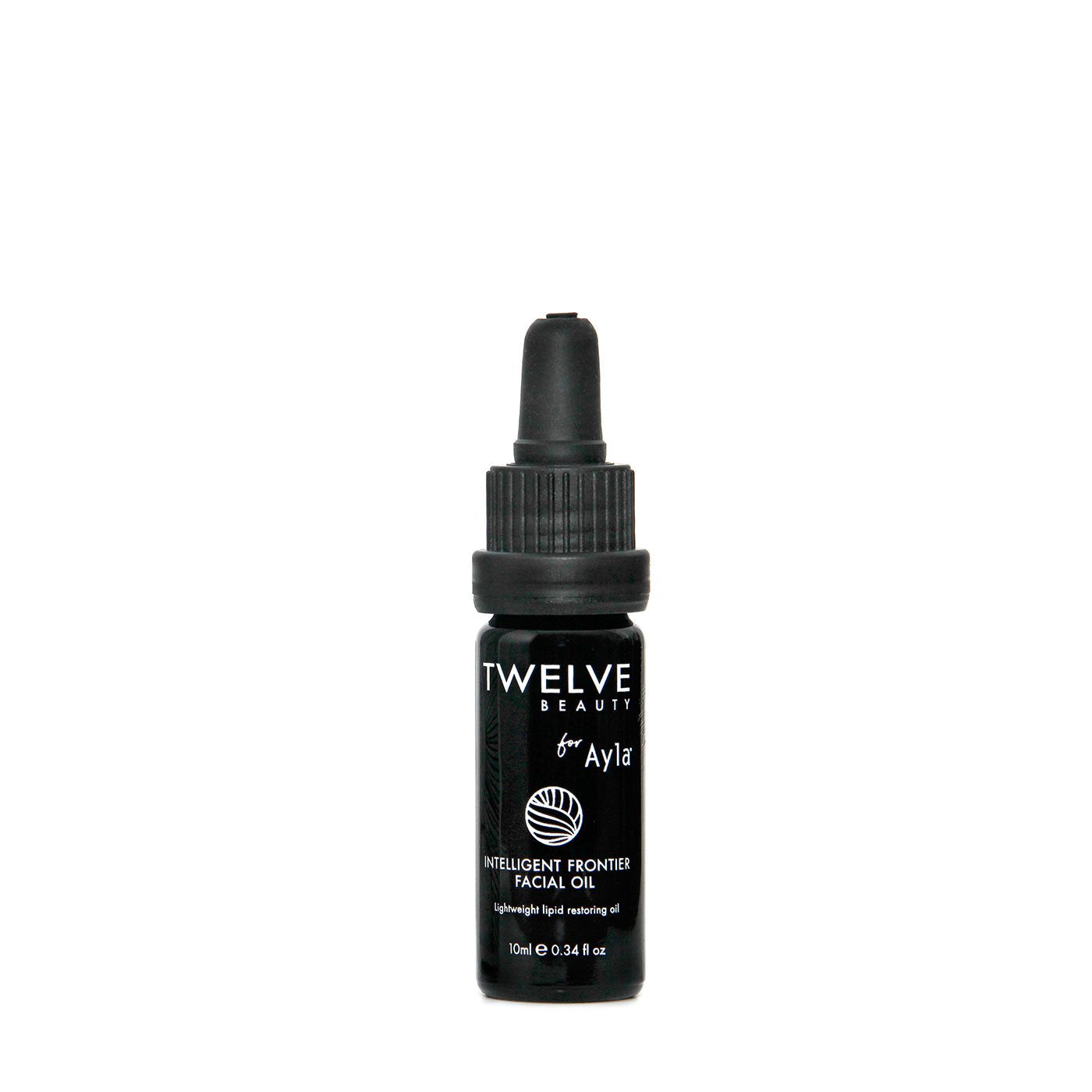 Description
High-performance blend of unsaponified plant oils / 0.33 oz just-for-Ayla hearty mini or 1 oz full size
TWELVE Beauty Intelligent Frontier Facial Oil's beauty — which is great — comes mainly from its use of unsaponified plant oils. 
Unsaponifiables are the layer of the natural plant oil where all the active ingredients lie, making them among the most efficacious natural ingredients available (the name comes from the fact that they can not be converted into soap when they are blended with strong alkaline molecules, unlike other parts of plant-based oils). They are, due to their lengthy and complicated extraction process, very costly – which is why they are so rarely used in commercial skincare.
Formulator Pedro Catala, who delights in doing things simply but differently in a way that makes a real difference, hand-blended a lightweight mix of unsaponifiable oils with skin-softening pollen, antioxidant vitamin E, and a smidge of essential oils (carefully chosen for their kindness to skin) so that it would suit all skin types. It's a particular boon for those dealing with acne, rosacea, and other compromised skin conditions: as Pedro describes it, Intelligent Frontier Facial Oil is designed to be like a "cement" for their skin cells.
Like everything else in the line, this beautifully silky oil leaves skin feeling as though it's been fed with exactly what it's been looking for. It won't leave you looking greasy, either — instead imparting a pretty, glowy, healthy sheen on skin. We love mixing it with TWELVE's Ideal Rebalancing Level or Ideal Moisture Level  serums.
Note: the 10ml hearty trial size now comes in a new bottle with a dropper, made just for us at Ayla. It's very, very exciting.
How to Use
After cleansing and toning, mix a few drops of oil with your favorite TWELVE moisture serum (Ideal Rebalancing Level Serum or Ideal Moisture Level Serum). Mix by rubbing your palms together and apply to face.
Ingredients
- Pollen: Rich in amino acids, enzymes, sugars, magnesium, zinc and vitamins, and acts a skin revitaliser
- Glycine (Soybean) Oil Unsaponifiables, from a wholly sustainable source: potent unsaponifiables: which act as a soothing skin conditioner
- Olive Oil Unsaponifiables: Contains verbascoside which is a potent radical scavenger – ideal for counteracting oxidation and preventing premature aging
- Wheatgerm Oil Unsaponifiables: restructures the skin by protecting some key proteins in the upper layers of the skin which then increases production of molecules essential for the formation of the skin's own Natural Moisturising Factor (NMF).
- Sunflower Seed Oil Unsaponifiables: the ultimate moisturizing agent due to its lipid-replenishing ability, which deeply soothes the skin. It also stimulates the synthesis of epidermal key lipids.
---
All Ingredients
Limnanthes Alba (Meadowfoam) Seed Oil, Plukenetia Volubilis Seed Oil*, Squalane, Pollen Extract, Olea Europaea (Olive) Oil Unsaponifiables, Helianthus Annuus (Sunflower) Seed Oil Unsaponifiables*, Glycine Soja (Soybean) Oil Unsaponifiables, Simmondsia Chinensis (Jojoba) Seed Oil*, Argania Spinosa Kernel Oil*, Triticum Vulgare (Wheat) Germ Oil Unsaponifiables, Dicaprylyl Ether, Theobroma Grandiflorum Seed Butter*, Sodium Hyaluronate, Helianthus Annuus (Sunflower) Seed Oil*, Amorphophallus Konjac Root Powder, Tocopherol*, Trihydroxystearin, Mentha Spicata Leaf Oil*, Citrus Sinensis Peel Oil , Salvia Sclarea Leaf Oil*, Cananga Odorata Flower Oil*, Coriandrum Sativum Seed Oil*, Anthemis Nobilis Leaf Oil*, Eletaria Cardamomum Fruit Oil*, Geraniol*, Nerol*, Aniba Rosaedora Stem Oil*, Citrus Aurantium Bergamia Bark Oil*, Citrus Limon Peel Oil*, Linalool*
*Organic Ingredients
Limnanthes Alba (Meadowfoam) Seed Oil, Plukenetia Volubilis Seed Oil*, Squalane, Pollen Extract, ...
See All
"I use this oil in almost every Gua Sha treatment I perform in the Ayla treatment room. It's a light, healing oil that works across skin types, even acneic skin. Acne prone clients are often nervous about oils, but they haven't had any trouble at all with this one."
Beth