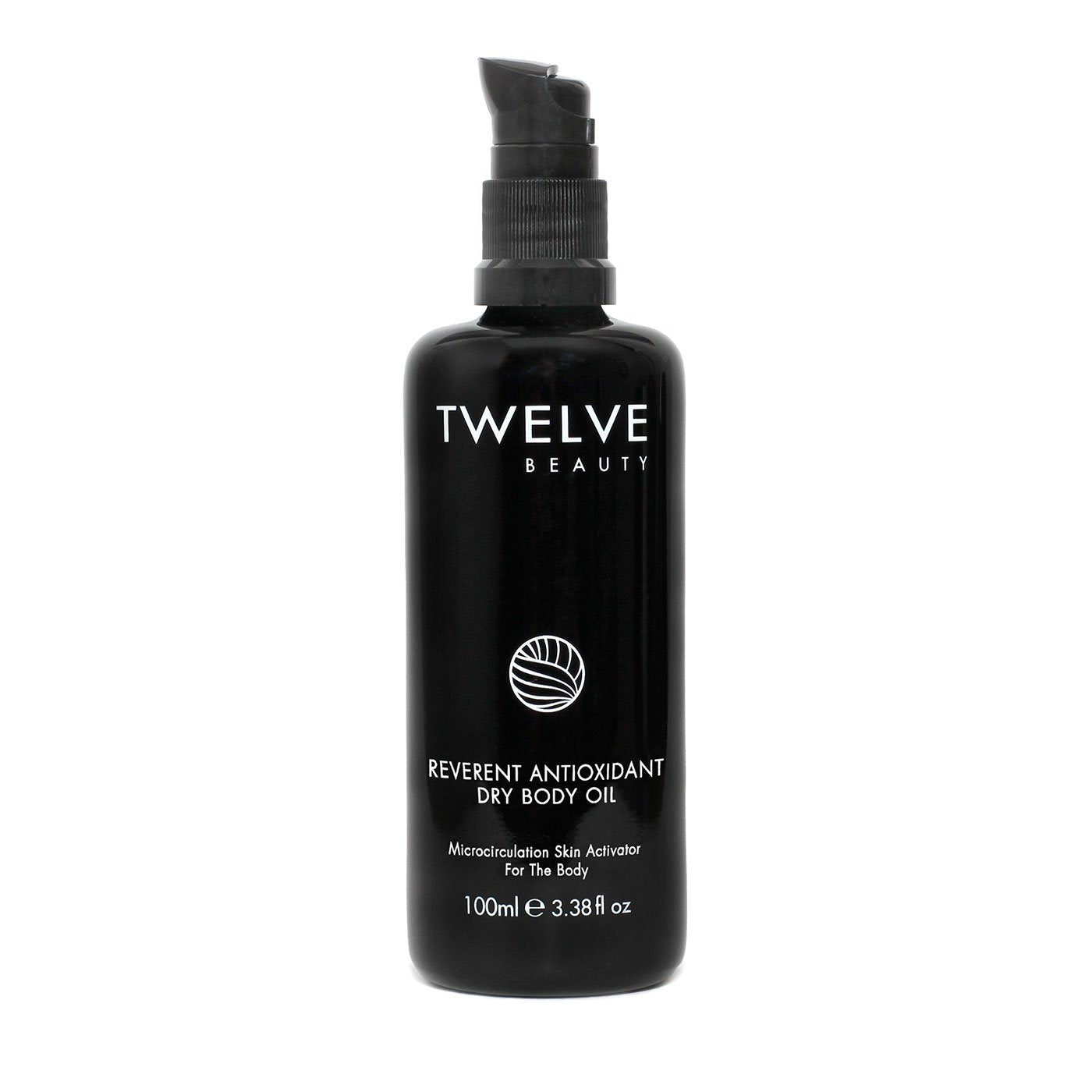 Description
Invigorating, firming antioxidant body oil that moisturizes with zero residue / 3.8 oz
TWELVE Reverent Antioxidant Dry Body Oil is one of those products that you may, at first, think you don't need. Who needs another body oil? Or body oil at all, for that matter?
Oh, friends. This one is different. So very different.
First of all, if you have ever lamented the fact that body oils require you to run around in the buff while it soaks into your skin — lest you damage your clothes — we can happily report that this one takes zero time to soak in. Zero. We've prided ourselves on selecting other body oils that are fast absorbing, but this one is next-level. Its creator, Dr. Pedro Catalá, cleverly used a base of 100% natural, coconut derived dicaprylyl ether, a true alternative to silicones, to enable faster spreading and the immediate soaking-in of highly skin-compatible vegetable squalene and jojoba oil. Reverent Body Oil feels gorgeous and unlike anything else we've ever tried.
Secondly, this gingery-scented formula just does a lot, which you'll notice from the pleasantly invigorating zing you feel when you apply it. Because they're in such an easily-absorbed base, the antioxidant-rich ginger, turmeric, and cinnamon oils in this formula can truly get to work, stimulating microcirculation to better nourish skin and stimulate the lymphatic system.
Pedro tells us this specific blend of ingredients can help tone skin and improve the appearance of cellulite, too, which sounds pretty fantastic and is probably why Reverent Antioxidant Body Oil was such an immediate sensation in Europe (where "slimming" products are all the rage). Even if that weren't the case, though, we'd reach for this daily for its beautiful texture, perfectly hydrating and reparative effects, and wake-me-up side benefits. It's perfection. But did we expect anything less from TWELVE? Absolutamente no.
Read more about the ingredients in this innovative product and why Pedro created it our interview with him on our blog.
How to Use
Apply a small amount with a light massage until completely absorbed. Use daily for optimum results.
Tip: It's great for soothing sore muscles after an intense workout.
Ingredients
- Turmeric Oil has powerful skin toning properties
- Squalene (vegetable origin) is identical to the lipids present in human sebum and it provides a greater rate of absorption of other key ingredients
- Ginger Oil helps repair sun damaged skin
- Coconut Ether is a lightweight, highly nourishing derivative of coconut oil
- Cinnamon Oil is a powerhouse antioxidant that strengthens blood vessels and improves circulation
- Jojoba Oil is easily absorbed as its composition is similar to the natural waxes found in human sebum
---
All Ingredients
Dicaprylyl Ether, Squalane, Simmondsia Chinensis (Jojoba) Seed Oil, Caprylic/Capric Triglyceride, Cinnamomum Zeylanicum Leaf Oil, Curcuma Longa (Turmeric) Root Oil, Zingiber Officinale (Ginger) Root Oil, Limonene, Eugenol, Cinnamal
Dicaprylyl Ether, Squalane, Simmondsia Chinensis (Jojoba) Seed Oil, Caprylic/Capric Triglyceride,...
See All