If you know us even a little bit, you may have figured out now much we love TWELVE Beauty and its founder, Dr. Pedro Catalá. Every single item in this lineup is a winner.
And when his long-awaited Reverent Antioxidant Dry Body Oil was finally ready to ship to us from Spain (we've been waiting for this one!), Pedro sent us this note: "During my time as a pharmacy student, the first Galenic preparation I made was Camphor Alcohol. I was so mesmerized by its evanescent texture, beneficial properties, and distinctive aroma reminiscent of the first apothecaries, that the experience has stayed with me to this day. Fast forward 25 years, and thanks to ingredients now available in the natural skincare industry, I have developed this firming body oil infused with botanical extracts that act as a second skin while also stimulating the lymphatic drainage system."
As you may imagine, we were beside ourselves with excitement — and full of questions for Pedro, which he graciously answered.
***
Ayla: First of all — tell us about these Galenic preparations and Camphor Alcohol.
PEDRO: "Galenic preparation" is another way of saying "a medical preparation following specific rules." The word comes from Galen, a Greek physician who practiced back in the 2nd century AD. And Camphor Alcohol is a traditional preparation made in pharmacies, especially in Southern European countries, to relieve sore muscles and joints. It is very popular with tired legs. 
Ayla: Reverent Antioxidant Dry Body Oil absorbs instantly, which we love: no more waiting for body oil to dry down! How did you achieve that?
PEDRO: When I was a student at the University of Siena, I came across dicaprylyl ether and was so pleasantly surprised that it was a 100% natural ingredient. It is a fast-spreading emollient that gave the skin a light, silky feel. To me it was and continues to be a true alternative to silicones. Moreover, it is very stable to hydrolysis (degradation of natural oils, which is much more common than most people might imagine).
The rest of the ingredients — such as vegetable squalane, jojoba oil, and Caprylic/Capric Triglycerides — are all very compatible with the skin composition. Squalane is identical to the hydroxycarbons found on human sebum, and jojoba is similar to the natural waxes that form part of the hydro-lipidic film on human skin. And Caprylic/Capric Triglycerides is a mixture of triglycerides that are, again, highly similar to the ones naturally present in our skin. It is all about finding ingredients with compatibility to the skin, and formulating with the objective of recreating its components in mind.
Ayla: How did you decide on the essential oils in the formula?
PEDRO: As you know, I am very cautious with essential oils. In fact, from the very beginning, I've used only traces of them in some products, while the rest of the existing TWELVE products are unscented.
However, when it comes to body care, my thoughts on essential oils are different than they are with face care. This combination of essential oils is well documented for improving blood flow and microcirculation, which improves nourishment of the skin and results in improved firmness and elasticity. I couldn't miss the chance to bring alive such a powerful yet soft-to-the-skin formula.
These particular essential oils — turmeric, ginger, and cinnamon — might not sound like the most exotic ones, but we understand them very well. This particular combination of essential oils, at the doses I use, have demonstrated a very safe profile in numerous studies dating all the way back to 1979. I'm further reassured of their safety on the skin because the quality and purity from the company I obtain them is unparalleled.
Ayla: How does Reverent Body Oil stimulate lymphatic drainage?
PEDRO: The formula stimulates the lymphatic system by relieving stagnancy. Overall, it is a unique formula that improves blood vessel dilation due to the combination of these specific base ingredients along with the essential oils.
Ayla: When do you suggest using it, and how much should be used?
PEDRO: I recommend using it once a day, and a small amount is enough: it is very emollient, and in formulating the product, I aimed for excellent spreadability as well as a dry finish. I personally love to use it in the evening after exercise. It makes a great post-gym treatment.
Ayla: Can it be used with the TWELVE Rewarding Body Balm, or are they for different skin types?  
PEDRO: I always apply a generous amount of Rewarding Body Balm afterwards. I used to neglect body care and focused on my face only. But now that I can see the benefits of using body oils and balms continuously, I am not going back to where I was before! This oil is very efficacious, and I'm more into self-care these days, so I always make a bit of time in the evening for my own ritual.
Ayla: What are you most proud of with this product?
PEDRO: It makes me very proud to create a 100% natural oil with such a silky touch (without silicones) that you can wear your clothes immediately. Goodbye to stained clothes!
***
We love, love, love this body oil. And the cherry on top? It's a sensible indulgence, because in addition to having myriad benefits, a little goes a long way — and each bottle lasts for ages. Check it out here.
You May Also like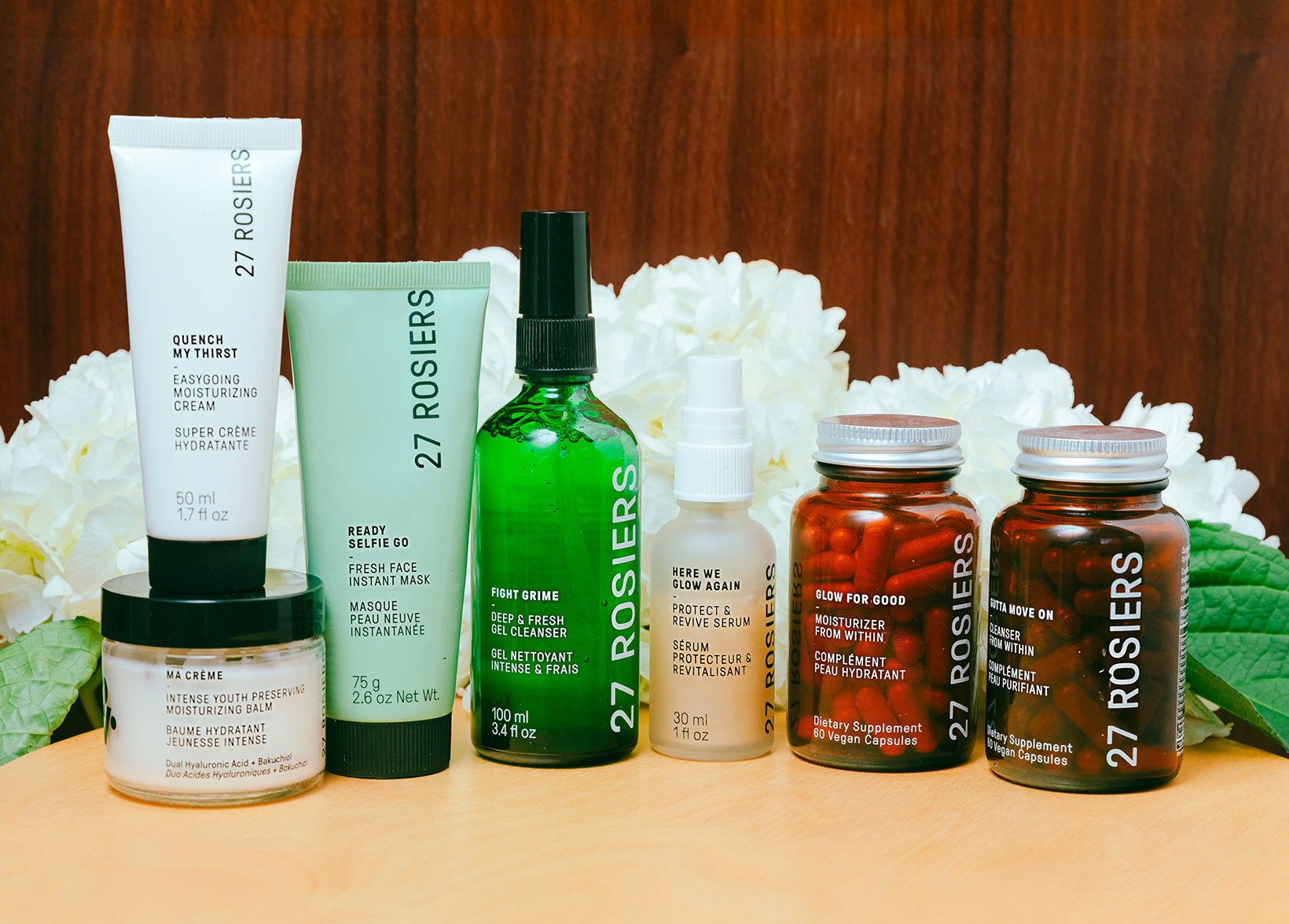 Why have beauty supplements been so popular in France for so long? For a Parisian perspective, we spoke with Kevin, the co-founder of 27 Rosiers.