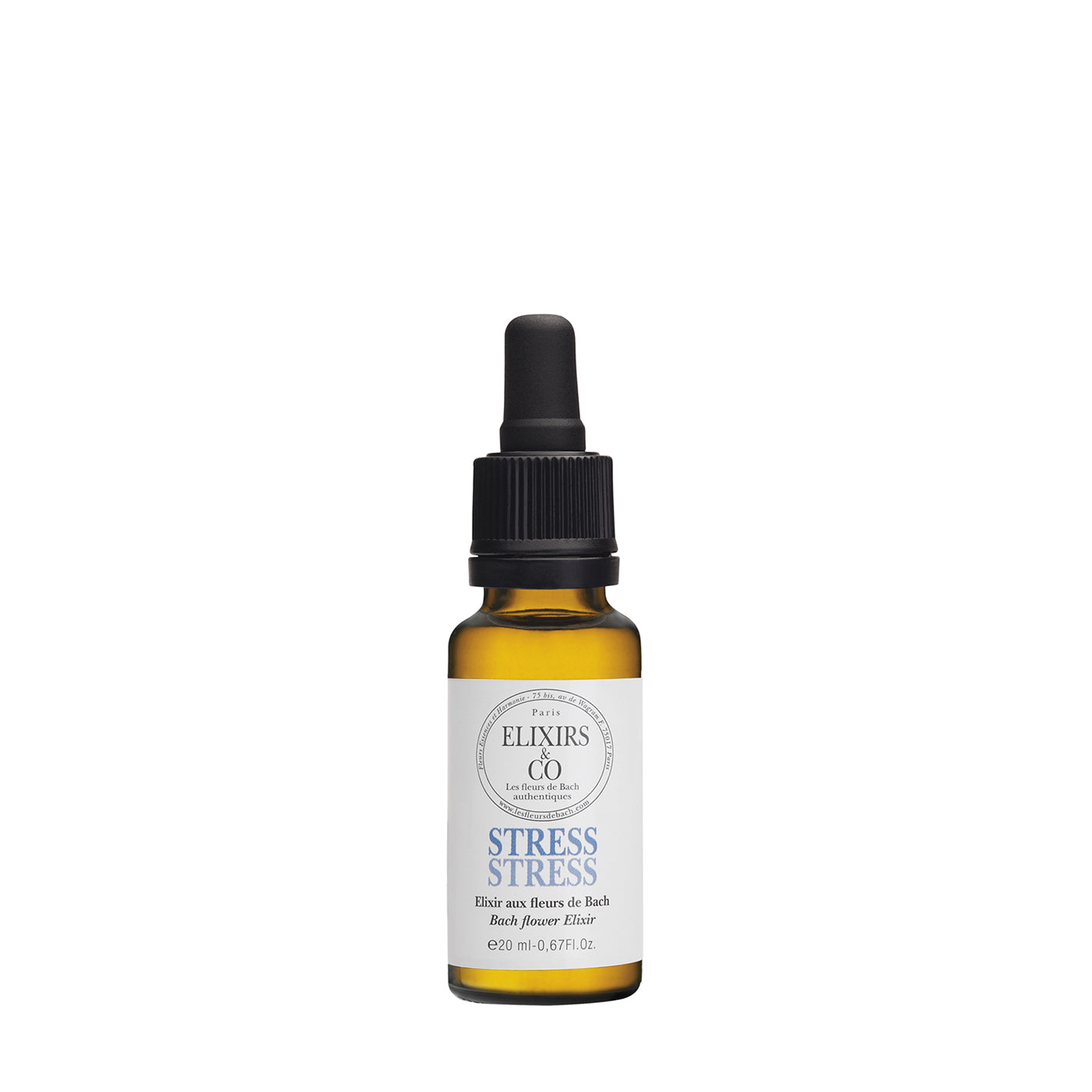 Description
Ingestible elixir that encourages peace of mind and relaxation / 0.67 oz
Stress Elixir was created by our friends at Les Fleurs de Bach, a wonderful little company based in Paris that is devoted to the preparation of the most effective Bach flower essences in the world (read about their exacting methods here). Bach flower essences were originally developed by Dr. Edward Bach, a British surgeon, homeopath, and bacteriologist. Reflecting Dr. Bach's own medical background, these essences have been clinically proven to help balance emotions, thus allowing the body and mind to focus on healing themselves. Fans of Bach flower remedies are as varied as Cate Blanchett and Van Morrison.
This Elixir was particularly alluring to us because our lives are filled with stress, much of which we can do little about. But instead of allowing that stress to drive you crazy (and — horrors — affect your skin and hair!), you can turn to this natural and organic supplement to help you surf those waves of stress with greater control and serenity.
Stress Elixir features a blend of Agrimony, Oak, Impatiens, White Chestnut, Pine, Crab Apple, and Vervain essences mixed with organic brandy. It takes things down a notch by the most perfect degree, with no side effects.
(Note to all busy professionals and/or parents of small children: once you start taking this supplement, you will absolutely live for it.)
Available in the US exclusively at Ayla.
How to Use
In cases where the cause of stress is new and sudden: Take 4 drops on the tongue (not diluted) and repeat 4 or 5 times at 1 minute intervals until you feel a sense of relaxation (this made us giggle, but it's what the Chairman of the International Bach Flowers Guild recommended to us...and he's the world's foremost Bach flower expert, so we're listening).
In cases of chronic stress, dilute 4 drops in a glass of water and take this 4 times per day — while necessary, but generally a minimum of 3 weeks is recommended. If easier, dilute the drops in a large water bottle that you drink from throughout the day. (This is what we did, since we were too stressed out to remember to do it 4 times per day, and it worked beautifully.)
Ingredients
Organic Bach flower essences for the following specific situations:
- Agrimony for those who hide discomfort, pain, difficult feelings, or suffering behind a cheerful face
- Oak for the stoic, who often just keep going out of duty until they wear themselves out
- Impatiens for those who move quickly and get frustrated by those who don't
- White Chestnut for spinning thoughts that you can't switch off
- Pine for feelings of guilt, even when it's not really your fault
- Crab Apple for perfectionists and those who feel shame around their appearance and/or have obsessive-compulsive tendencies
- Vervain for the enthusiasts who want to "convert" others to their point of view and find it hard to unwind and relax
---
All Ingredients
Organic Brandy (99.6%) 40% vol, Plant extracts 0.4% (1/250 concentration) : Agrimonia eupatoria, Quercus robur, Impatiens glandulifera, Aesculus, Pinus sylvestris, Malus sylvestris, Verbena officinalis.
Organic Brandy (99.6%) 40% vol, Plant extracts 0.4% (1/250 concentration) : Agrimonia eupatoria, ...
See All
""I hadn't gotten a good night's sleep in over two weeks and was at my wits' end. I kept waking up after 4-5 hours and unable to get back to sleep. I felt terrible. Last night I took the Sleep Elixir and Stress Elixir with water before bed. I slept deeply and awoke feeling refreshed and full of energy!" - Andrew"
Andrew