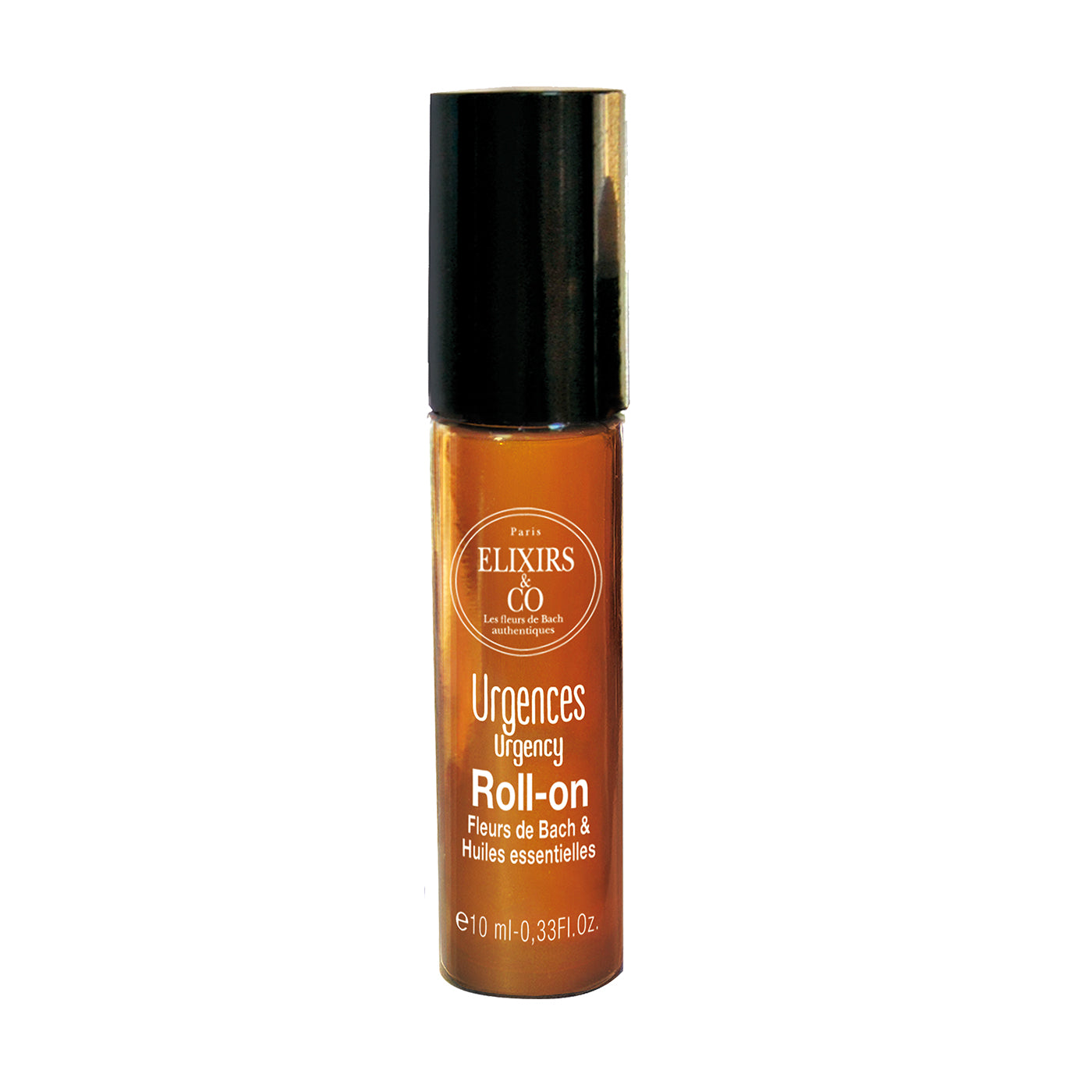 Description
Topical roll-on with Bach flower essences and essential oils to speed recovery from shock or stressful situations  / 0.34 oz
Les Fleurs de Bach Urgency Roll-On was created by our friends at a wonderful little company based in Paris that is devoted to the preparation of the most effective Bach flower essences in the world (read about their exacting methods here). Bach flower essences were originally developed by Dr. Edward Bach, a British surgeon, homeopath, and bacteriologist. Reflecting Dr. Bach's own medical background, these essences have been clinically proven to help balance emotions, thus allowing the body and mind to focus on healing themselves. 
Urgency Roll-on, like the Urgency Elixir, is Les Fleurs de Bach's organic and super-effective version of Rescue Remedy, the famous Bach flower blend relied upon by Van Morrison and Cate Blanchett before performances. Originally designed by Dr. Bach for emergency situations, Urgency is a good one to have on hand for moments when you need quick action — after a tough phone call, email, or argument; when encountering travel snafus; or before an exam or high-pressure situation.
The original emergency blend created by Dr. Bach features a blend of Clematis, Star of Bethlehem, Rock Rose, Impatiens, and Cherry Plum essences mixed with organic brandy. Gérard Wolf, the founder of Les Fleurs de Bach, added Crab Apple and Scleranthus to add extra centering power and quick action to the blend, and named it "Urgency" to reflect its immediacy. In the roll-on, these flower essences are mixed with comforting, re-centering essential oils of Clary Sage, Litsea Cubeba, Spearmint, and Lavender.
This blend can be applied as needed to the solar plexus or wrist as often as needed during times of shock, crisis, or persistent emotional difficulty. In roll-on form, the essences aren't delivered as directly as they are in the Elixir — but we love the ease and practicality of this use-it-anytime, bring-it-anywhere form factor, whose aromatherapeutic benefits add to the experience. It's a fantastic "just in case" addition to any travel kit.
Available in the US exclusively at Ayla.
How to Use
Apply on solar plexus or on the wrists. Avoid lips and eyes.
Ingredients
Bach flower essences with the following characteristics:
- Clématis (a "back-to-reality" essence) helps bring focus and efficiency.
- Star of Bethlehem consoles and brings moral comfort, balance and harmony.
- Scleranthus balances emotional and physical states and gives the strength to make tough decisions.
- Rock rose brings back calm, gives the strength to face an emergency.
- Impatiens helps regain a gentle, tolerant and forgiving attitude.
- Crab apple, the cleansing remedy, helps put things in perspective.
- Cherry plum brings calm, inner peace, and sanity. Helps put things in perspective.

Essential oils help soothe and comfort:
- Clary sage helps relieve pressure and stress
- Spearmint helps re-center after a shock
- Lavender helps calm stress and nervousness
- Litsea helps calm agitation and anxiety
---
All Ingredients
Alcohol**, propanediol dicaprylate, ricinus communis oil*, glycerin, parfum, lavandula officinalis oil*, aqua, litsea cubeba oil, lavandula hybrida oil, salvia sclarea oil, menthaviridis leaf oil, clematis vitalba extract*, ornithogalum umbellatum extract*, scleranthus annuus extract*, helianthemum nummularium extract*, impatiens glandulifera extract*,malus sylvestris extract*, prunus cerasifera extract*, linalol, citral, limonene, geraniol, coumarin, citronellol.

* Ingredients from organic farming
** Processed from organic ingredients
100% of ingredients are from a natural origin, 60% of ingredients are from organic agriculture
Alcohol**, propanediol dicaprylate, ricinus communis oil*, glycerin, parfum, lavandula officinali...
See All