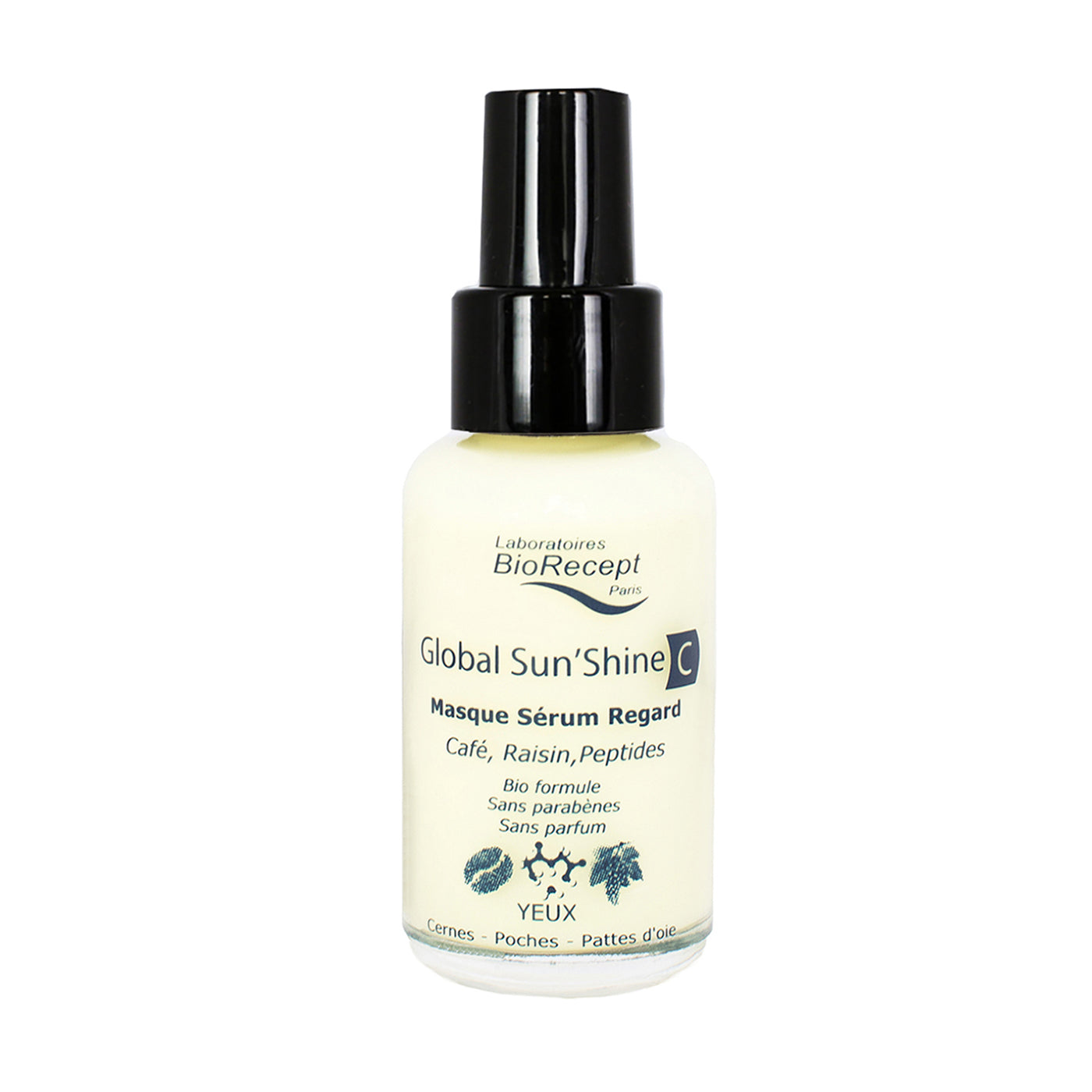 Description
Eye mask & serum for a more radiant, well-rested eye area / 1.67 oz 
BioRecept Global SunShine is like a fairy godmother for the eye contour. When we ask many of you what you'd like your dream eye product to do, we often hear: "Take care of this puffiness, and these dark circles, and these little lines I'm starting to see. Oh, and moisturize. But I don't want anything too heavy, because I'll get milia."
You, too? We know the feeling. And this mighty little product might just make all of those dreams come true. You can use it either as a mask or as a hydrating serum, which is intriguing (A mask! For the eyes!). And the gel-cream formula, painstakingly designed for compatibility with the eye area, is free of fragrance and color.
At the same time, Global SunShine boasts a higher concentration of actives than the typical eye cream — a list that includes capillary strengtheners for those dark circles, peptides and caffeine for that puffiness, additional peptides for those lines, and lightweight oils for that dryness. Allantoin provides additional soothing benefits.
What we love about this wonderful combination of ingredients is that it not only treats these troubles, but also prevents the deficiencies in the skin that lead to puffiness and dark circles in the first place. Eyes feel more comfortable and look radiant and rested.
PS Proof of a dreamy product: when Dara steals the tester. This one vanished immediately, never to be seen again. (Don't worry, we got more.)
PPS Looking for extra de-puffing help? Try some gentle massage with your Global SunShine.
How to Use
As a mask, apply 1 pump's worth once weekly for 10 minutes, then remove with a cotton pad soaked in cool water.As a serum, apply day and/or night around the eye area. Since it was first designed as a mask, you'll get more than you need when you pump it out. We like applying the extra to the upper part of the neck, where improved drainage and elasticity is most welcome anytime.
Ingredients
- Hesperidin methyl chalcone: strengthens capillaries around eyes
- Dipeptide Valyl Tryptophane & Dipeptide-2: increases lymphatic circulation to improve undereye drainage
- N-hydroxysuccinimide & chrysin helps eliminate pigments responsible for dark circles
- Allantoin soothes
- Caffeine assists with drainage to decrease puffiness
- Grapeseed oil strengthens the thin skin barrier around the eyes without clogging
- Macadamia seed oil helps with elasticity
- Palmitoyl Tetrapeptide-1 & -7: decreases inflammation, improves firmness
---
All Ingredients
Aqua (Water), Glycerin, Macadamia Integrifolia Seed Oil, Propylene Glycol, Peg-40 Hydrogenated Castor Oil, Vitis Vinifera (Grape) Seed Oil, Caffeine, Palmitoyl Tetrapeptide-7, Palmitoyl Tripeptide-1, Dipeptide-2, N-Hydroxysuccinimide, Chrysin, Allantoin, Hesperidin Methyl Chalcone, Caprylyl Glycol, Acrylates/C10-30 Alkyl Acrylate Crosspolymer, Steareth-20, Biotin, Sodium Citrate, Citric Acid, Sodium Hydroxide, Chlorhexidine Digluconate, Chlorphenesin, Potassium Sorbate
*Note: This product contains propylene glycol, an ingredient that we normally avoid in the products we carry. We discussed this with the formulator at length and are comfortable with it in this specific instance. Here, it is present in smaller amounts than you typically find in a cosmetic formula because it is used for a different purpose: it has been included specifically to boost the efficacy of the formula's preservative system so that a smaller amount of the preservative can be used, making it a cleaner formula overall that is more suitable for the eye area.
Aqua (Water), Glycerin, Macadamia Integrifolia Seed Oil, Propylene Glycol, Peg-40 Hydrogenated Ca...
See All
"I love it. There aren't many eye products I say that about!"
Kristina Holey