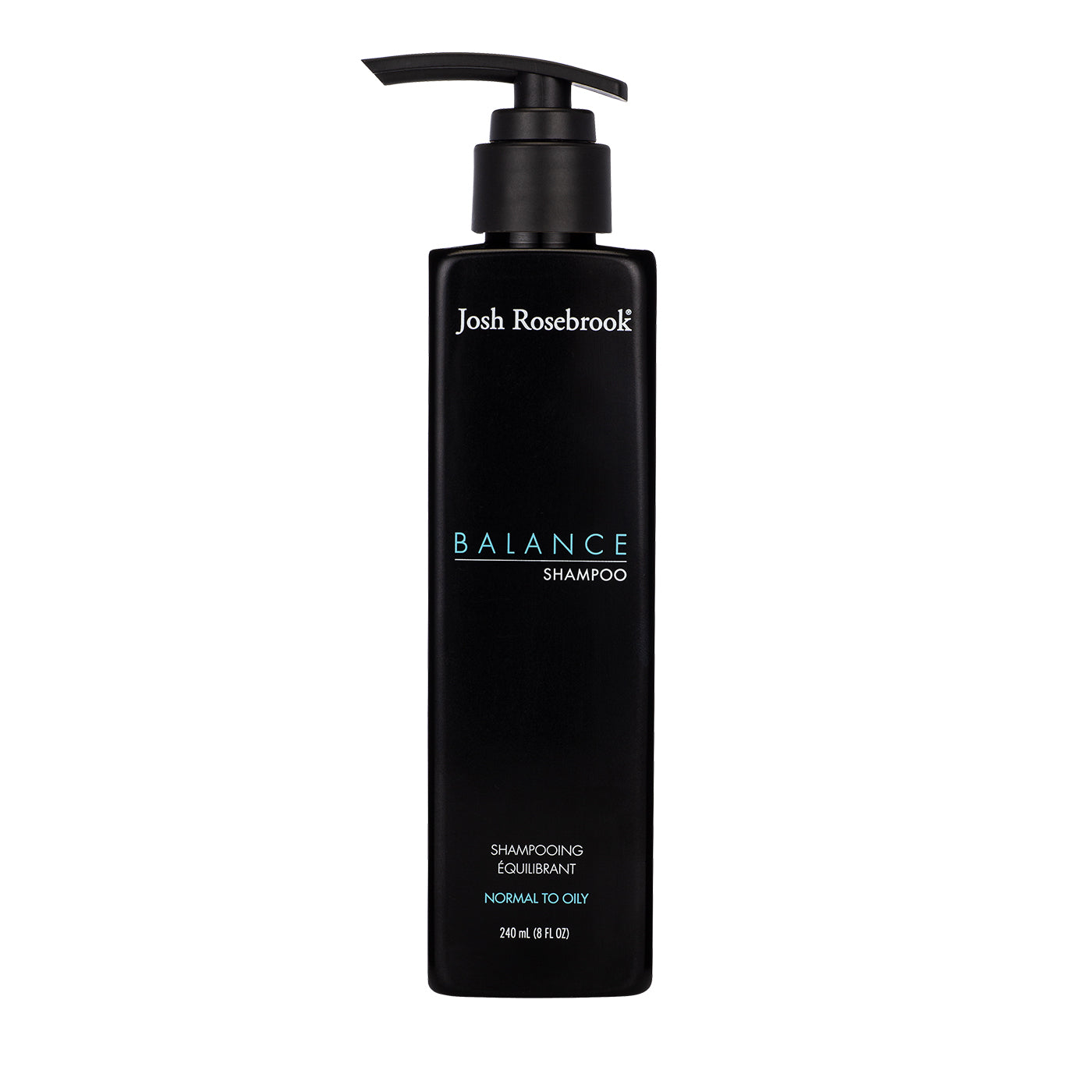 Description
Mildly foaming shampoo for balanced to oily scalps and any type of hair / 8 oz full size
Balance is a mildly foaming shampoo that's ideal for balanced to oily scalps and any type of hair — although it's particularly marvelous on fine, thin hair that needs volume. Our team of oily-scalped staffers loves Josh's original Nourish formula, too, for its pleasantly tingly feel; his newer Balance formula is similar, but left their scalps feeling a little cleaner for a longer period of time. Citrus oils help refresh the scalp and remove just the right amount of excess oil.
For those of you with oily scalps but dry hair lengths, try pairing Balance shampoo paired with Nourish conditioner or EVOLVh's conditioner. If you have fine hair with thin density, Balance shampoo and conditioner together will help it appear fuller and more voluminous. Be sure to take a look at the usage tips under "How to Use" below — they make all the difference.
And for additional advice about shampooing, such as how often to do it and whether you should switch your shampoo from time to time, check out our interview with Josh himself on the topic on our blog. (Did you know he was a celebrity hairstylist in a previous life? He knows what he's talking about.)
How to Use
Divide scalp into four areas: top, sides, and back. Apply a small amount to each area. Massage in thoroughly, adding more water as you massage to help distribute suds. Leave in 1-3 minutes, allowing micronutrients to stimulate follicle circulation and nourish scalp.
Rinse and repeat if necessary.
Ingredients
- African black soap detoxifies, gently cleanses, and moisturizes hair and scalp.
- Nettles encourage hair growth, slow hair thinning, and stimulate scalp and follicle circulation.
- Aloe's anti-pruritic enzymes destroy dead skin cells of the scalp, reducing scaling and relieving irritation and redness.
- Lemon and grapefruit oils help balance oil production.
---
All Ingredients
*Aloe Vera Leaf Juice, Saponified Coconut Oil, *Vegetable Glycerin, §Xanthan Gum, Aqua, *Camelina Oil, *Hemp Seed Oil, *Coconut Oil, *Evening Primrose Oil, *Almond Oil, *Apricot Kernal Oil, *Jojoba Oil, *Grape Seed Oil, *Burdock, *Calendula, *Chamomile, *Cinnamon, *Horsetail, *Nettle, *Ginseng, *Oregano, *Lavender, *Flax, *Goldenseal, *Alfalfa, *Peppermint, *Rosemary leaf, *Catnip, *Cayenne, *Linden flowers, *Thyme, *Dandelion, *Sage, *Rose Hips, Potassium Sorbate, †Rose Essential Oil, †Sweet Orange Essential Oil, †Rosemary Essential Oil, †Lemon Essential Oil, †Grapefruit Essential Oil.

*CERTIFIED ORGANIC

†ORGANIC

‡WILDCRAFTED

§NON-GMO PLANT SOURCED
*Aloe Vera Leaf Juice, Saponified Coconut Oil, *Vegetable Glycerin, §Xanthan Gum, Aqua, *Camelina...
See All
"Balance was a perfect name for this one - it's gently cleansing without ever being drying. The formula hits that sweet spot between soaking up excess oil and drying out your scalp completely, leaving you with effortlessly volumized and manageable hair."
Morgan, Blushing Wit