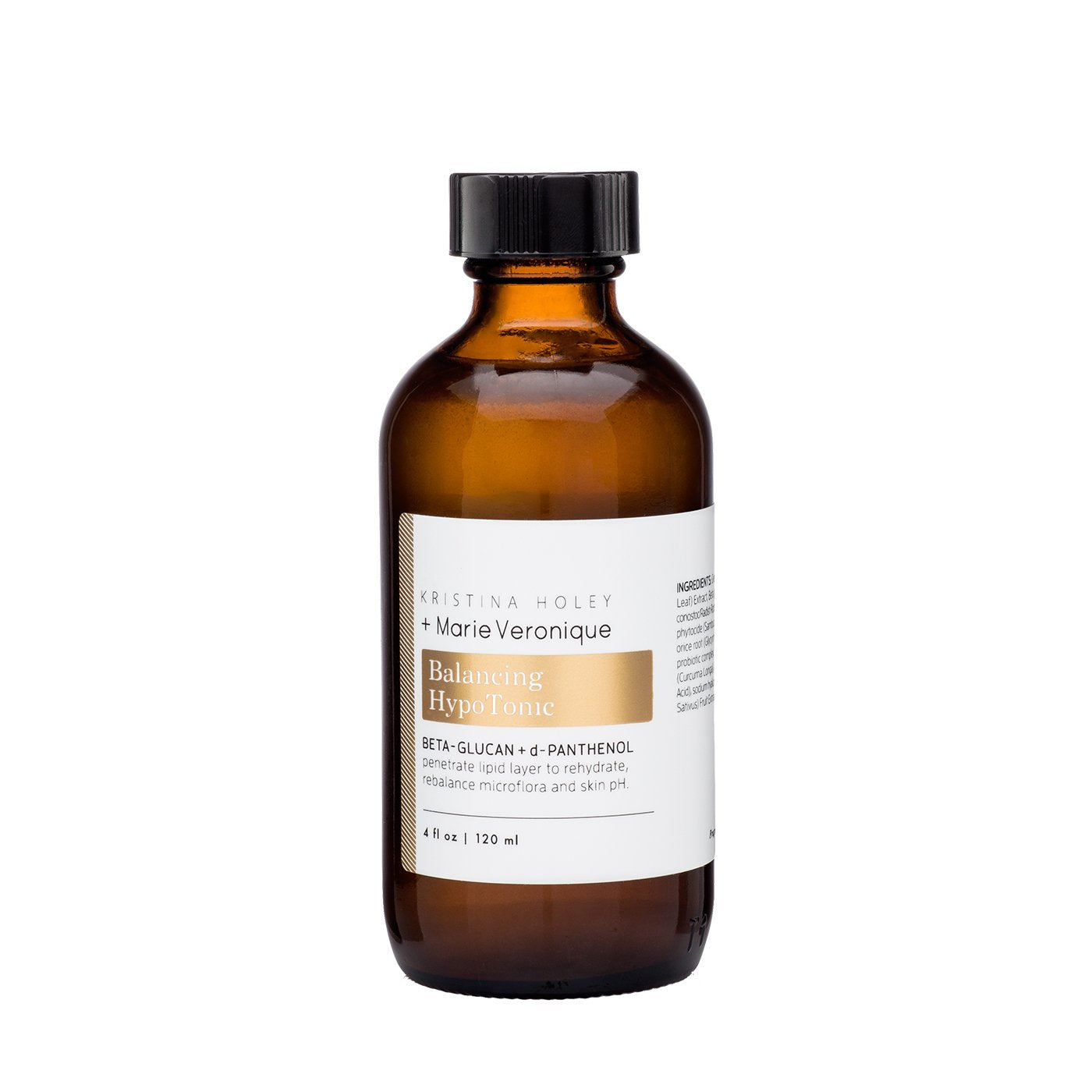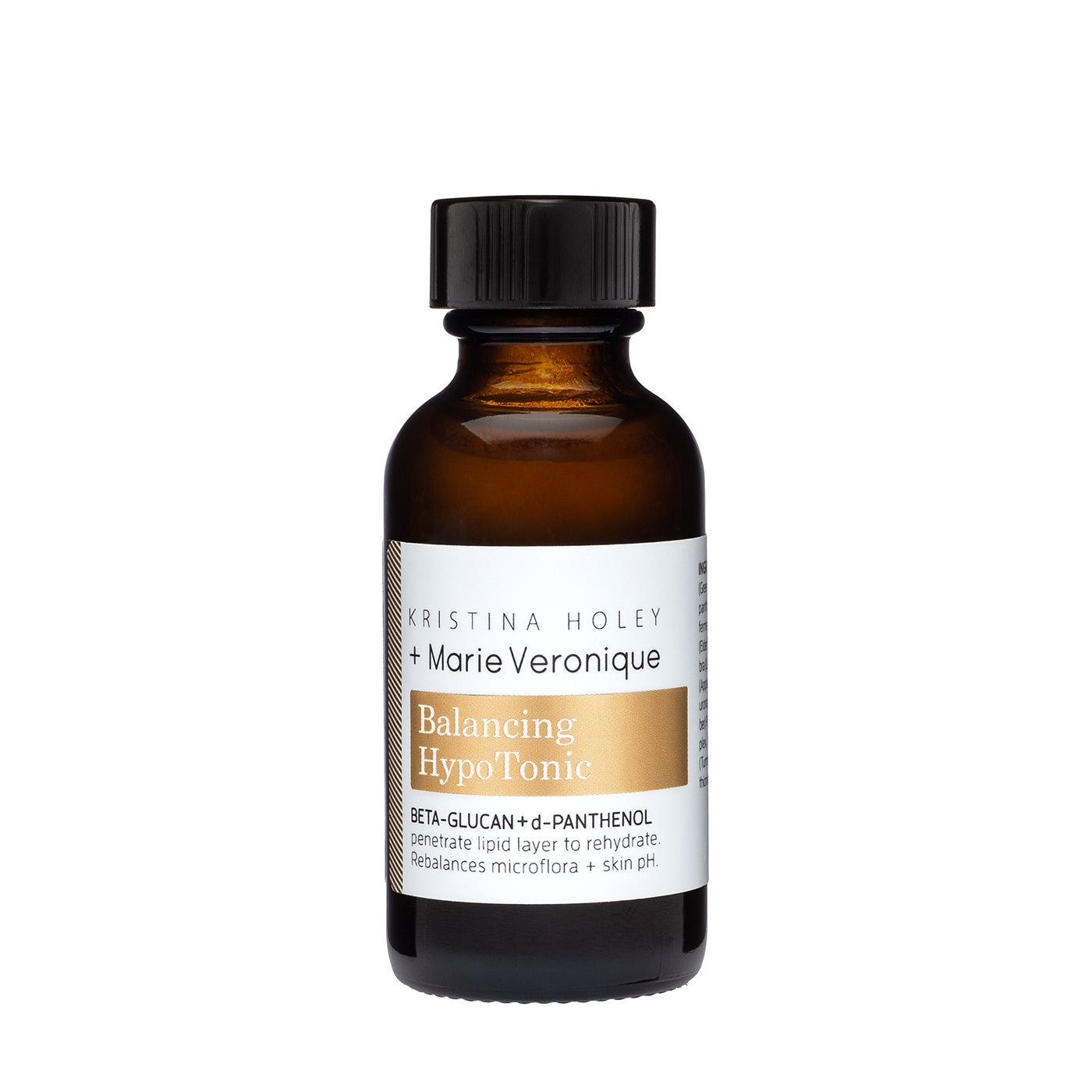 Description
A beautifully rehydrating, rebalancing, and skin-prepping tonic unlike any other / 4 oz and 1 oz
Kristina Holey + Marie Veronique Balancing HypoTonic is right up there with the Barrier Restore Serum as one of our favorite products in the lineup — and one of our favorite products, period. (Strong words; we mean them.) We had no idea we needed this product until we tried it and thought, "Yes. YES! We must all have this slightly strange, absolutely marvelous product with a vaguely kombucha-like scent in our bathroom cabinet at all times."
Here's what's so wonderful about it, especially for combination/confused-about-its-skin-type skin: it strikes the perfect balance between rehydrating and purifying skin. It was created with a blend of humectants (including two of our favorites, sodium hyaluronate and beta glucan) carefully chosen to mimic the protective lamellar layers of the skin — layers that help it prevent water loss — and promote lipid/liquid balance. On top of that, apple cider vinegar rebalances pH while its gentle AHAs provide side benefits for acne prone skin, anti-inflammatories like licorice root soothe, and pre/probiotics help protect the skin microbiome.
And the Balancing HypoTonic does this all while providing you with the satisfaction of an apply-with-a-cotton-pad-and-see-what-comes-off toner, reminding you of the toners of yesteryear — but then showing you how far skincare science has come when you find that your skin, rather than feeling stripped, feels fresher and more perfectly hydrated than it has in recent memory.
Use the HypoTonic as a follow-up to your cleanser. It can also be used on its own in the morning to refresh skin and prepare it for the application of nutrient-rich serums. It works beautifully with any product but fits particularly nicely in with the rest of the products created by celebrated facialist Kristina Holey and renowned formulator Marie Veronique. (To learn more about this very cool collaboration, visit our blog.)
How to Use
Shake well. Saturate cotton pad and swipe over entire neck and face, avoiding eye contour area. Keep in a cool, dry place, out of direct light. Use within 6 months of opening.
Ingredients
- Beta Glucan is an excellent polysaccharide humectant that penetrates into the deeper lamellar structures of the skin's protective top layers.
- d-Panthenol, or Pro-vitamin B5, promotes wound healing, reduces inflammation, improves skin hydration, reduces transepidermal water loss, and helps smooth skin.
- Sodium Hyaluronate is a disaccharide naturally contained in the skin, playing a key role in the maintenance of its moisture and elasticity. A powerful humectant, it holds up to 1000 x its weight in water.
- Licorice Root is an anti-inflammatory botanical with skin-lightening properties.
- Selenium helps safeguard cell membranes by inhibiting lipid peroxidation. It can help prevent hypopigmentation.
---
All Ingredients
Camellia Sinensis (Green Tea) Leaf Infusion, Beta-Glucan, Panthenol (Provitamin B5), Leuconostoc/Radish Root Ferment Filtrate, Sambucus Nigra (Elderberry) Extract, Glycyrrhiza Glabra (Licorice) Root Extract, Acetic Acid (Apple Cider Vinegar), Sodium Hyaluronate, Cucumis Sativus (Cucumber) Fruit Extract, Pre/Probiotic Complex, Curcuma Longa/Xanthorrhiza (Turmeric) Root Extract, Selenomethionine
Camellia Sinensis (Green Tea) Leaf Infusion, Beta-Glucan, Panthenol (Provitamin B5), Leuconostoc/...
See All