Marie Veronique is one of our most beloved brands; Kristina Holey is one of the most celebrated facialists in the country. Anything they do together is bound to be extraordinary.
When we heard they were collaborating on a set of gel-like serums that would address skin barrier malfunction — key to solving issues like perioral dermatitis, rosacea, and adult acne, as well as generally sensitive, unbalanced skin — we immediately thought, "Oooooh!" and started pestering them for more info. After much anticipation, to put it mildly, the sensational serums are finally here.
Of course, we had to dig deeper and pump Marie and Kristina for more info about their products. Read on for interesting tidbits and key tips to getting the most out of these wonder-formulas.
***
Ayla: Tell us how this collaboration came about.
MARIE: Kristina and I are both deeply interested in skin function and care, and we look at treating skin from a functional point of view.  It's not about pampering, it's about addressing skin conditions — especially those that Kristina and I see regularly.  They are often conditions that were pretty much unheard of even 5 years ago, like perioral dermatitis and adult onset acne. These conditions are essentially sourced from an internal imbalance, but by the time they show up at the skin's surface, you cannot just shift diet to see changes. You have to address the skin directly.
Kristina came to me about a year and a half ago when she moved back to the Bay Area from NYC. She was seeking someone who shared her interest in the skin, from a scientific and healing perspective, to discuss her client cases and brainstorm innovative methods of treating the skin. Our relationship happened naturally and the products were just the result of our conversations that we were having about the industry and what she was seeing in her clients. We never had the intention of creating products together, but when it started happening it just made sense.
Ayla: What skin conditions were you looking to address with your first three targeted serums?
MARIE: It all starts with inflammation, of course, but the skin conditions that people want treated are, in general: acne, adult acne, atopic dermatitis (including perioral dermatitis, allergic dermatitis or seborrheic dermatitis), rosacea, and so on.
-              Intensive Repair Serum is for acne. It contains a combination of salicylic and lactic acid, excellent for treating breakouts, reducing pore size, and smoothing the overall texture of the skin. This product can be used to boost exfoliating for anyone either as an overnight treatment or as a mask.


-              Soothing B3 Serum is for rosacea and other inflammatory problems. It contains 10% niacinamide in a hyaluronic acid base — very humectant as well as anti-inflammatory.
-              Barrier Restore is for everyone, since everyone has compromised barrier function, which affects skin health. It contains ingredients that replace components of the stratum corneum that keep skin hydrated.  Barrier Restore will help with irritation, dryness, or redness issues. It is our must-have product: we think of it almost as the "protein" of skin care.
Ayla: These formulas seem different from your core Marie Veronique line — different textures, scents, and ingredients we haven't seen from you before. What sets them apart from your other products?
MARIE: The major difference to note is that these three products specifically address the operation of the top five layers of skin, called the stratum corneum.  Until recently, the cosmetic industry has focused on using cosmeceuticals to stimulate collagen production, meanwhile overlooking the crucial role played by barrier function in maintaining healthy skin. We remedy that oversight via our usual approach, which is to be as biomimetic as possible.  We at Marie Veronique look at what skin needs to function optimally, and endeavor to deliver those crucial ingredients in proportions similar to their occurrence in the skin.
Another difference worthy of note is that as we evolve from natural into functional skin care (where the desired goal is results delivered safely), we will be relying more on academic research and less on market trends.  Research-driven formulations deliver a different experience to the customers, which they may notice as:
-              The products having no scent
-              The textures living up to or even surpassing the extraordinary standards set by previous products
-              The feel being soothing and reparative
-              Results that will speak for themselves
Ayla: You don't use essential oils in these products. Why is that?
MARIE: Historically, we have always used microstatic rather than microcidal preservatives, and our use of essential oils continues to be judicious and sparing.  In these three products, we have taken the extra step of making them essential oil free.  Consequently, their use is universal; they may even be used by people who have developed sensitivities to ingredients/botanicals used in the past.  This makes them a great transition away from harsher, dermatological products. They are active enough to minimize the acclimation period during the transition, they can be used solo by people with very sensitive or sensitized skin, and they can also be used, via layering, to boost the efficacy of products containing bio-active ingredients such as Vitamin A and C.
For example, studies show that using products designed to improve barrier function help increase the skin's ability to tolerate topical retinoids. Using a barrier product like Barrier Restore Serum and or Soothing B3 Serum in combination with a retinoid like Gentle Retinol Serum will hasten the repair process while lessening adverse reactions such as redness and peeling that may occur from facial retinization.
Ayla: How do you suggest using these three products in conjunction with products in your CoreLine or TreatmentLine?
MARIE: Whatever serum or combination of serums you are using can be boosted with one of the three products. For example:
-              Layer Gentle Retinol Night Serum with Intensive Repair to treat acne-prone skin.
-              Layer Gentle Retinol Night Serum with Soothing B3 to treat inflammatory based acne/cystic acne.
-              Layer Intensive Repair with Treatment Oil to treat acne- prone skin.
-              Layer Soothing B3 with Vitamin C+E+Ferulic to treat rosacea.
-              Layer retinol serum with Barrier Restore and Soothing B3 to minimize facial retinization discomfort.
-              Layer Barrier Restore over everything else as the last step in your skin care program to treat compromised, dry, or dehydrated skin. Barrier Restore works great under all the oils.
Ayla: Which product in the collection is your favorite?
MARIE: My favorite is Barrier Restore.  Kristina and Kristy's favorite is Soothing B3 Serum.  It's hard to pick a favorite, but Kristina and Kristy love the Soothing B3 for the luxurious texture and glow it provides.
***
Intrigued? We hope so, because these products are awesome. Just how good are they? Well, when they first gave Dara a full bottle of each serum to test, team KH+MV said, "You're going to want more, but this is all we have until we go into production. People have been getting hostile about that, so we just want to make sure you know." Dara thought, "That's kind of presumptuous. PS: Me, hostile? Never!" But then she understood, because she adored them all and definitely wanted more Barrier Restore, which is full-on addictive. (Worth noting, however, is that she did not get hostile.) Click here to check out the lineup.
About Marie: Marie-Veronique Nadeau founded Marie Veronique over 10 years ago and is a nationally recognized formulator and beauty expert. She collaborates with her daughter, Jay Nadeau, physicist and bio-medical engineer, to carefully choose each ingredient in her products to address the causes of aging at the source. Marie holds a BS in Math and Chemistry as well as an esthetics license from Paris Beauty College. She is a mother of two and a grandmother of one. When she is not developing cutting-edge skincare products, she can be found reading at her local library or foraging for mushrooms with her granddaughter.
About Kristina: Kristina Holey is a skin care specialist who focuses on the scientific and holistic processes of the body. Her unique training includes an apprenticeship with renowned Parisian skin expert Joelle Ciocco and studies at the ISIPCA (Institut Supérieur International des Parfums, Cosmétiques et Arômes Alimentaires), one of the world's most prestigious fragrance and cosmetics schools. She believes that by creating a nourishing environment through internal health, we enable the skin to function both optimally and innately. To book an appointment (it's worth the wait), click here.
Any topic discussed in this article is not intended as medical advice. If you have a medical concern, please check with your doctor.
You May Also like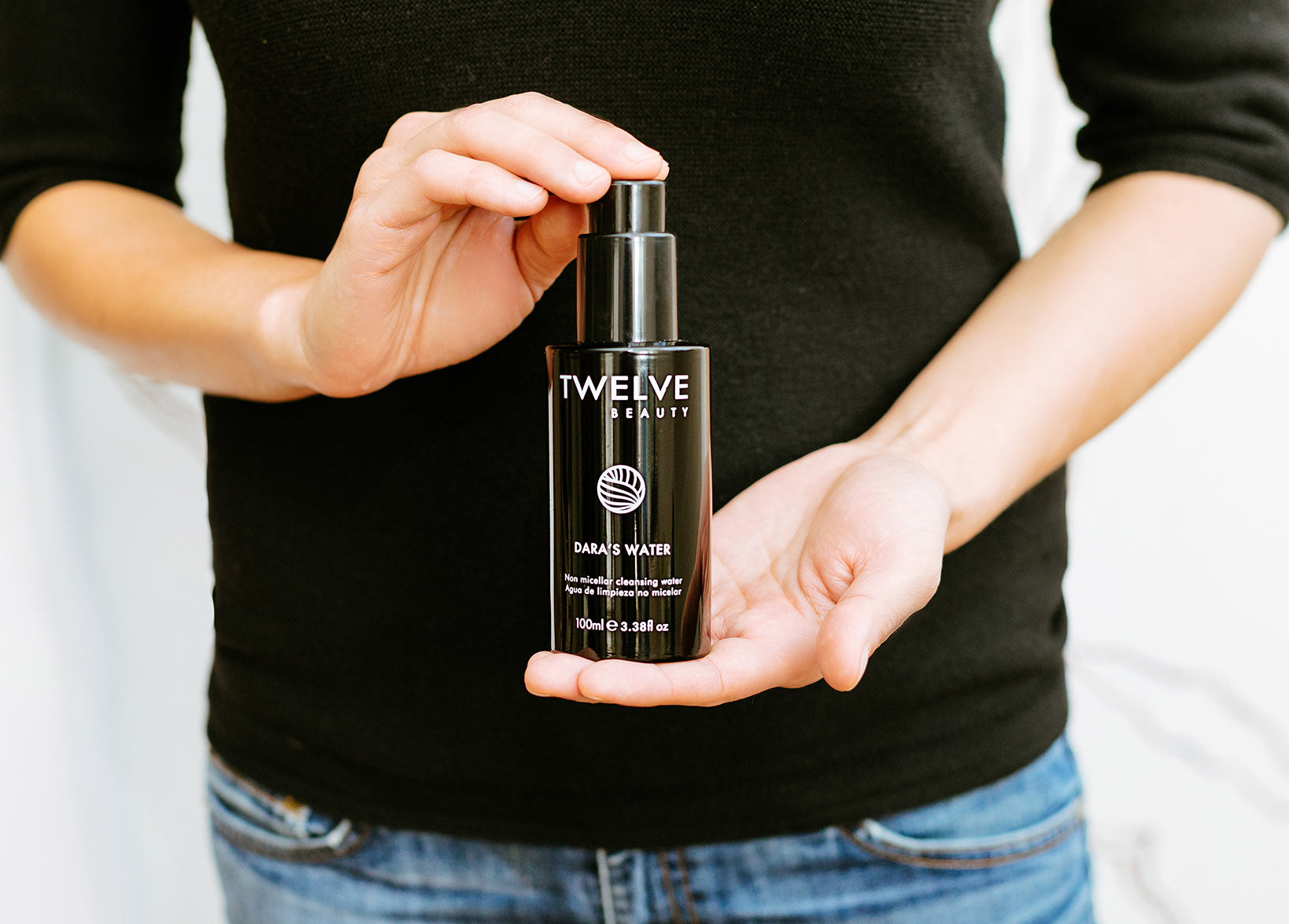 Find out which cleanser is always our first recommendation for removing sunscreen at the end of every day.