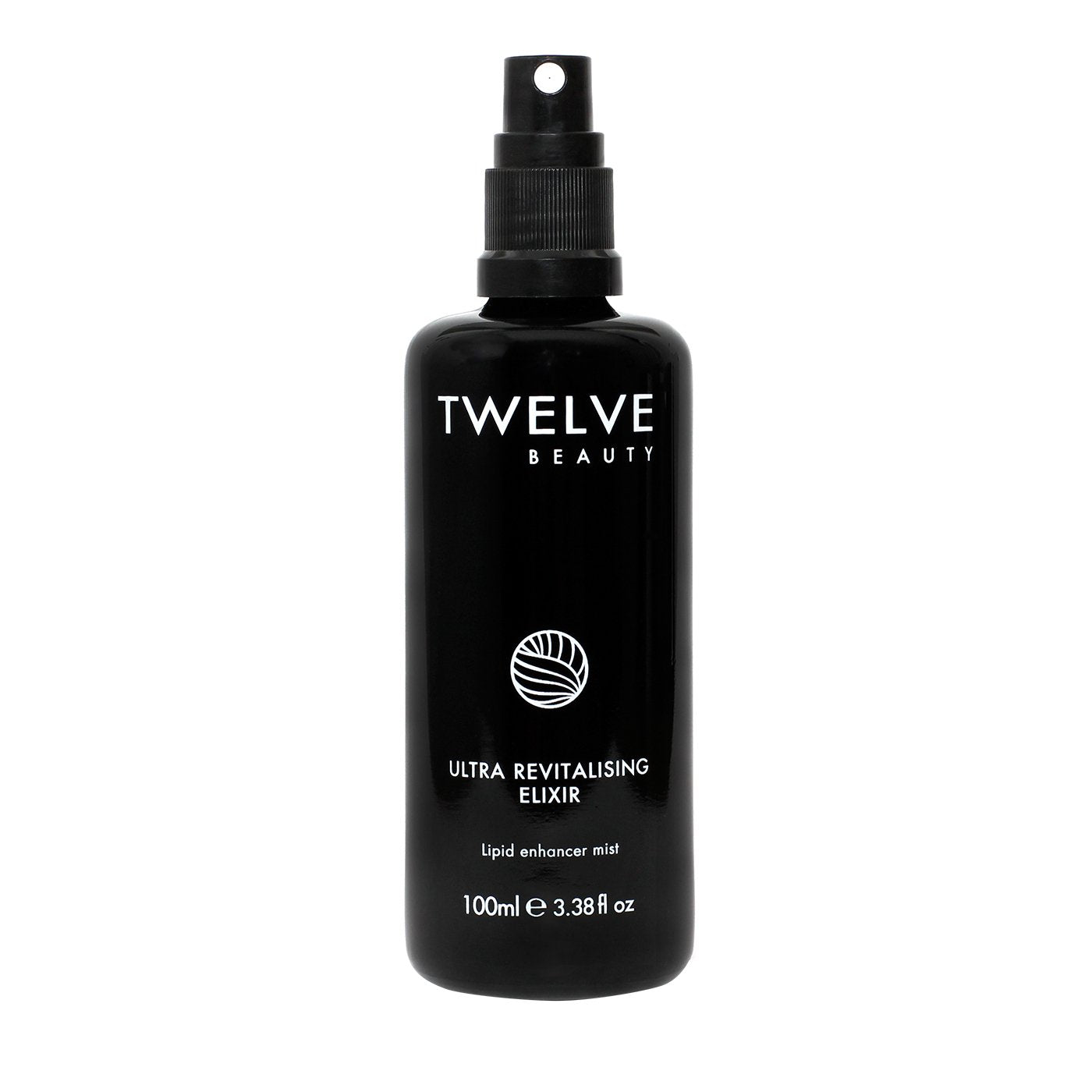 Description
Toning and skin-barrier-supporting must have for fragile and reactive skin / 3.4 oz
TWELVE Beauty's Ultra Revitalising Elixir is a toner that was specifically made for sensitive, reactive, vulnerable skin that has a fragile skin barrier. Its blend of botanical extracts and humectants soothe and protect skin, going beyond a toner's pH-balancing properties to balance moisture levels and keep skin healthy and calm. It also stimulates the production of lipids in the upper layers of the skin, which improves the protective ability of the skin itself.
Those with delicate skin, redness, broken capillaries, and blotchiness will love this spritzed over their face after a cleanse with TWELVE's Purifying Cleansing Beauty Cream; those with combination skin will find that it helps regulate shiny and dehydrated patches; and those whose skin struggles with weather changes or the aftereffects of sun exposure will find it especially refreshing. (It really is a marvel at balancing dehydration: read creator Dr. Pedro Catalá's tips about dehydrated skin here. And in case you were wondering if you reeeeally need a toning step in your routine, we've got you covered with Pedro's expert perspective on it here.)
Like the other items in the TWELVE collection, Ultra Revitalising Elixir is free from parabens, sulfates, silicones, petrochemicals and glycols; this product is also free of essential oils. This product has recently been reformulated, replacing the water content with mallow extract for greater soothing capabilities and a new form of vitamin B3 to more powerfully enhance skin's natural protective barrier.
Formulated and produced in Spain.
How to Use
Mist over clean skin before applying serum/moisturizer. Feel free to mist on skin throughout the day to soothe and refresh.
Ingredients
– Vitamin B5 is a great skin conditioning agent to provide deep penetrating moisture to the skin, stimulating epithelisation which aids wound healing and offers a soothing effect.
– Botanicals including white genepi provide a powerful antioxidant complex. It stimulates the synthesis of lipids which are essential for the skin barrier.
– Niacinamide (vitamin B3) helps strengthen skin's barrier, protects against free radical damage, and even helps repair UV-induced damage to the skin
---
All Ingredients
Mallow Sylvestris Flower/Leaf Extract*, Niacinamide, Panthenol, Saccharide Hydrolysate, Sodium Hyaluronate, Sodium PCA, Saccharide Isomerate, Peucedanum Ostruthium Leaf Extract*, Buddleja Davidii Leaf Extract*, Artemisia Umbelliformis Extract*, Allantoin, Oryza Sativa (Rice) Starch*, Benzyl Alcohol, Glycerin*, Dehydroacetic Acid, Water, Maltodextrin*.
*Organic ingredients
Mallow Sylvestris Flower/Leaf Extract*, Niacinamide, Panthenol, Saccharide Hydrolysate, Sodium Hy...
See All
"I check luggage just to bring this with me when I travel: that's how good it is."
Dara