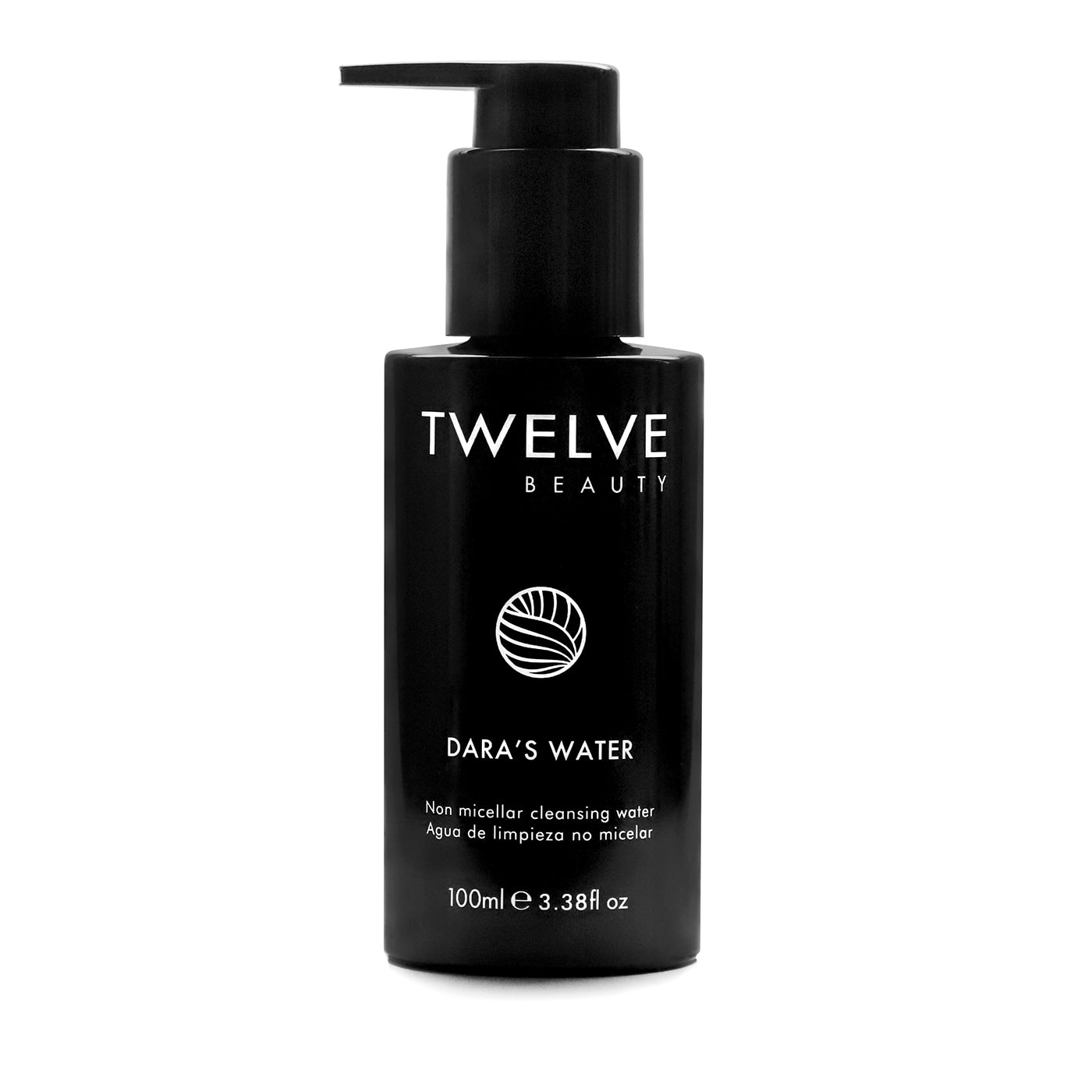 Description
Game-changing cleansing water made just for us — and for all skin types and conditions / 3.3 oz
Dara's Water is a remarkably gentle cleanser that is also unusually effective, effortlessly removing stubborn make-up, pollution, and mineral sunscreen with a unique combination of natural sugars and humectants. Unlike typical micellar waters, its pH is similar to that of the skin, making it suitable even for stressed and reactive complexions.
*New packaging update! See "Packaging notes" below*

Why it's unique
A key to this peerless non-micellar formula is the fact that it is free of the surfactants and glycols typically found even in cleansing waters designed for sensitive skin. This makes it kinder to delicate skin barriers while it whisks away impurities; even the most sensitive skin types are left feeling fresh, clean, and comfortable.
Another key to its kindness: it contains organic rose and oat waters that are made to order for us in Italy, reducing the need for additional preservatives that could irritate skin. These organic botanical waters are then blended into small batches, made to order at TWELVE's studio in Spain. As a result, this might just be the freshest cleanser you'll ever use.
Why we love it
Dara's Water is designed to make the cleansing process simple and easy: due to its works-for-everyone texture, you don't need to wonder if your cleanser is right for your skin type, or if it's cleansing your skin too much — or too little.
You no longer need to use a separate eye makeup remover, either, because it's kind to the eyes and so much easier than working with an oil or balm around the eye area. It's the perfect travel cleanser, too, since it's 100 ml and can replace all of your cleansers and makeup removers in one super-efficient bottle. 
It's also the perfect first skincare product for teens and tweens — or anyone who wants to get into good skincare habits without disrupting their skin's healthy microbiome. And new moms: this product is calling your name. (Check out our Q&A with Pedro about cleansing in general on our blog.)

When to use it
Use it at night to take the day off, either on its own or before you use your cleansing balm or oil (so that you're not massaging mascara or sunscreen residue all over your face!); in the morning to remove any sweat that might have accumulated overnight; or during the day to clean your face before or after a workout. 
Endless thanks to our dear friends at TWELVE for making this magnificent product for us. We're floored by it. There's no other cleanser like this. (And we're thrilled that Dara's Water was chosen as an Editor's Choice for the 2022 Beauty Shortlist Awards!)
Packaging notes
Update: Dara's Water is now available with a leak-proof, travel-friendly cap as well as the new cap plus the original pump (at no additional cost)! If you're planning to take your Dara's Water on the road – which we highly recommend — the travel cap will ensure a leak-free voyage. And if you tend to be more parsimonious with your Dara's Water usage, you'll find that the shaker top that's part of the travel cap allows you to more easily use a little less of this fantastic formula.
How to Use
Saturate a cotton pad or a corner of a muslin cloth (we love the super-soft one from TWELVE) with one pump of Dara's Water. If you're only using it to remove eye makeup, less than a full pump will be plenty. After wiping away any makeup, sunscreen, or end-of-the-day/morning grime, splash your face with cool or lukewarm water.
Ingredients
- Organic, made-to-order oat extract is a fast acting and soothing traditional ingredient
- Organic, made-to-order rose extract naturally regulates excessive oil production and calms sensitive skin
- Maltooligosyl Glucoside is a natural sugar with cleansing properties
- Saccharide Isomerate is a plant derived sugar that works as a water magnet on the skin, leaving it hydrated even after cleansing
- Lactobacillus Ferment is a natural probiotic that is a great alternative to synthetic preservatives
---
All Ingredients
Aqua, Glycerin*, Propanediol, Lactobacillus Ferment, Maltooligosyl Glucoside, Caprylyl/Capryl Glucoside, Hydrogenated Starch Hydrolysate, Rosa Damascena Flower Extract*, Avena Sativa Leaf/Stalk Extract*, Saccharide Isomerate, Polyglyceryl-3 Cocoate, Polyglyceryl-10 Laurate, Levulinic Acid, Citric Acid, Sodium Citrate.
* Organic ingredients
Aqua, Glycerin*, Propanediol, Lactobacillus Ferment, Maltooligosyl Glucoside, Caprylyl/Capryl Glu...
See All