Q&A with Dr. Pedro Catalá, founder of TWELVE Beauty
Dr. Pedro Catalá — founder and formulator of TWELVE Beauty — is one of the most thoroughly educated founder-formulators we know; he has a pharmacy degree, a Master's in Botany, and a PhD in Natural Product Formulation, a subject that he also teaches at the University of Siena. He's often the first person we contact with questions about formulation, and he's particularly talented at crafting effective cleansers that are utterly gentle on the skin.
Here, Pedro and Dara chat about cleansing: why is it necessary, what makes a good cleanser, and what type of cleanser is best? 
***
Dara: What makes a cleanser a "cleanser"?
PEDRO: We need to think beyond the classic concept of a cleanser that removes dirt in general. To me, a proper cleanser should remove all impurities and oxidized sebum, avoid accumulation of bacteria, and preserve the skin in its best condition.
Dara: Take us through the different types of cleansers (balms, milks, gels, micellar waters): from a formulator's perspective, what are the pros and cons of each?
PEDRO: I do not enjoy raining on other people's parade when it comes to their skincare choices — although, secretly, I always have my own opinion! Having said that, the best cleanser is always the one that suits your skin, that you can commit to using daily, and that can fit within your budget.
- The traditional non-foaming cleansing milk or cream is, in general, a crowd pleaser. Rich in oil, these types of formulas can remove makeup, dirt, and pollution in general and are pretty mild to the skin due to the lack of surfactants.
- I also enjoy balms and oils, especially during my own ten-minute evening skincare ritual: they are sensorial and effective, and while their application and removal might be lengthier compared to other products, they tend to penetrate better and perform a natural exfoliation by dissolving the trapped impurities inside the pores.
- I tend to struggle with some gels, as their pH is slightly higher than they should be for the skin and therefore might leave skin slightly dehydrated.
- Micellar waters have been a long-lasting novelty in our bathroom cabinets due the fact that they seem quick and easy to use, and they give us the feeling of purity (from water) and technology (from the world "micellar"). Like many gels, they are formulated with a higher pH than that of the skin (approx. 7.4 to match the eye's pH). I always advise choosing products that will help avoid irritation, which is why I am not keen on their long-term use.
Dara: There is an interesting movement towards not cleaning the skin at all — or just using water. Why do we need to clean the skin? How should we be doing it, ideally?
PEDRO: Years ago, I had a bumpy presentation during an in-store event while I was talking about cleansing and I got this comment from the crowd: "My grandmother only washed her face with water, and she died at 102 years old with great skin!"
What I had to remind her of is the fact that her grandmother lived on an idyllic farm in Wyoming, far away from any main roads — therefore she encountered very little pollution, more rain than sun, and very little stress, which always helps to keep fine lines and wrinkles at bay. Nowadays, unless you live in an isolated environment like grandma Maureen (or was she Doreen?), cleansing is most likely the most significant step in your beauty routine.
Dara: I asked if you could formulate a cleansing water suitable for all skin types, even the most sensitive. What made you excited about tackling this formulation challenge?
PEDRO: Nowadays, especially given the pollutants that can be present in the air, cleansing is the most crucial step in our skincare routine. But at the same time, it causes stress to the skin — so it is paramount to get it right. Because of my pharmacy background, I always formulate with sensitive and reactive skin in mind and I always pay special attention to this product category. I personally think that Dara's Water is so easy to use, suitable for all skin types, and produces such immediate visible results that it will help make it easier for everyone to commit to a proper cleansing routine.
Dara: I feel the same way. It's my favorite cleanser of all time! Thank you so much for making it. I can't believe it's here.
***
Check out Dara's Water here, and learn more about the formula in Dara's Q&A with Pedro here.
Any topic discussed in this article is not intended as medical advice. If you have a medical concern, please check with your doctor.
You May Also like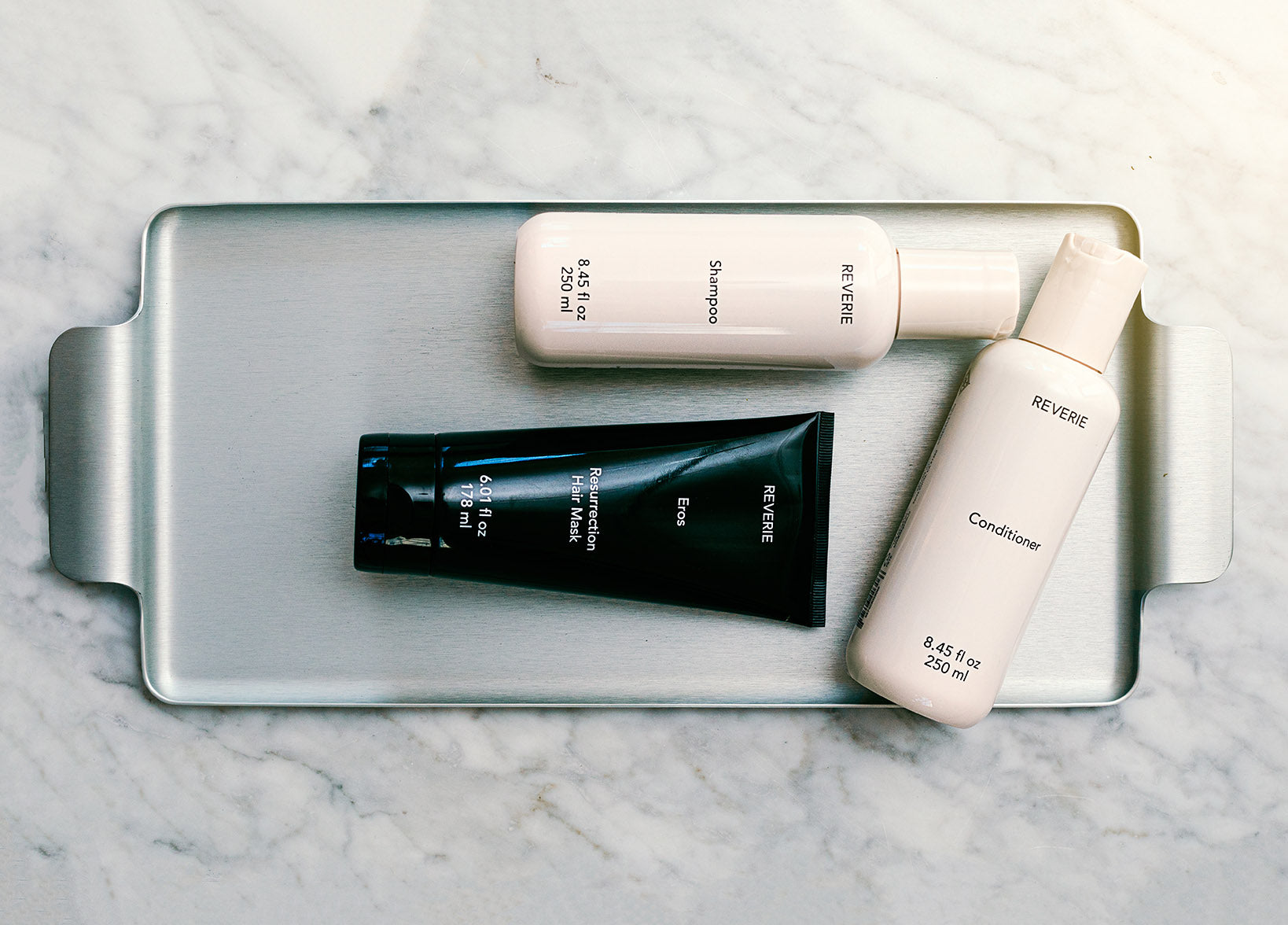 Find out how and why Reverie created their Eros hair mask in our interview with Hillary Markenson.