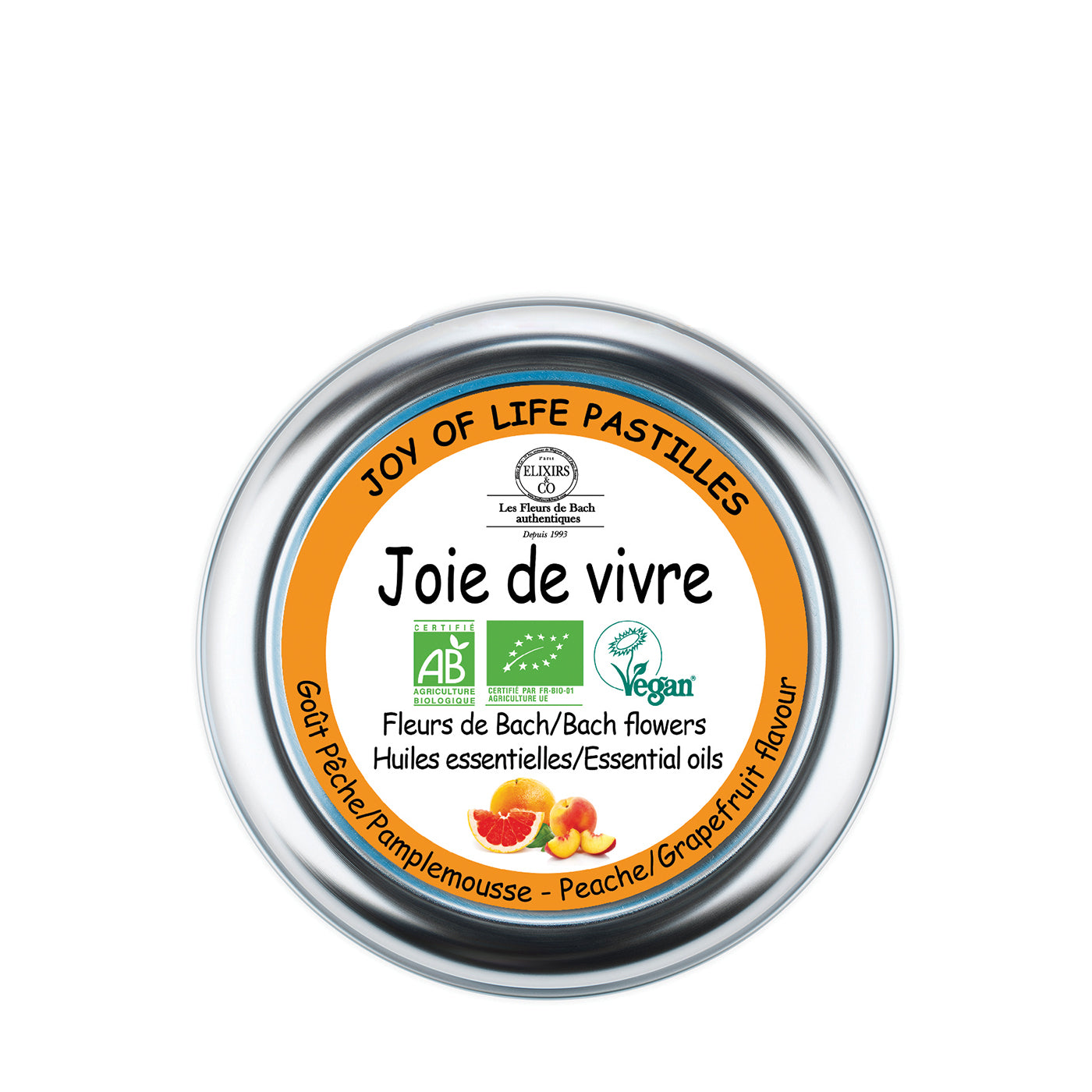 Description
Peach-flavored gummy pastilles made to encourage a shift to an optimistic, joyful attitude / 1.6 oz 
Joie de Vivre Pastilles are the latest must-have created by our friends at Les Fleurs de Bach, a wonderful little company based in Paris that is devoted to the preparation of the most effective Bach flower essences in the world (read about their exacting methods here). Bach flower essences were originally developed by Dr. Edward Bach, a British doctor, homeopath, and bacteriologist. Reflecting Dr. Bach's own medical background, these essences have been clinically proven to help balance emotions, thus allowing the body and mind to focus on healing themselves. 
These Pastilles (and their companion Elixir, Joie de Vivre) immediately captivated us because we think so many of us can use them. The Joie de Vivre blend was created specifically for those who feel a sense of weariness and resignation — it's a little boost to help you regain a positive attitude and a sense of joie de vivre.
Maybe it's Monday morning and you're dragging; maybe your news feed seems particularly dismal; maybe we're two years-plus into a global pandemic and you're over it, and you can't bring yourself to open up your gratitude journal. Or perhaps other crazy things are happening on the local, national, or global stage that are weighing on you. Or (quite likely) you're dealing with all of the above. Whatever the case may be, we suspect you know what we're talking about, and these delicious little gummies — made by a famed confiseur in Alsace, France — might be just the ticket.
Joie de Vivre features a blend of Wild Rose, Gorse, Rock Water, Mustard, and Willow essences mixed with uplifting oils of grapefruit and peach. Check out our descriptions of these essences below, and you'll see why this blend is perfect for those days when your inner cheerleader needs a reminder that there's joy to be found in life — and a little push to look for it.
Available in the US exclusively at Ayla.
How to Use
You may be tempted to empty the entire tin into your mouth at once. Instead, please take 1 or 2 pastilles four times per day, as needed.

Store in a cool, dry place.
Ingredients
Organic Bach flower essences for the following specific situations:
- Gorse for those who feel they're in a hopeless situation and could use a sense of hope and optimism
- Wild Rose for those who feel flat, apathetic, or resigned about their lives and could use a revived sense of drive and enthusiasm
- Rock Water for those who are very hard on themselves and could use a more carefree, positive attitude
- Mustard for those who have fallen into a funk and could use help lifting the clouds away
- Willow for those who feel resentful over misfortune or adversity and could use a sense of positive responsibility for their own fate
---
All Ingredients
Gum arabic*, glucose syrup *, cane sugar*, natural peach flavor*, citric acid, Bach flower essences* (gorse, wild rose, rock water, mustard, willow) purple carrot extract*, grapefruit essential oil*, glazing agent (sunflower oil*, carnauba wax*)
Gum arabic*, glucose syrup *, cane sugar*, natural peach flavor*, citric acid, Bach flower essen...
See All