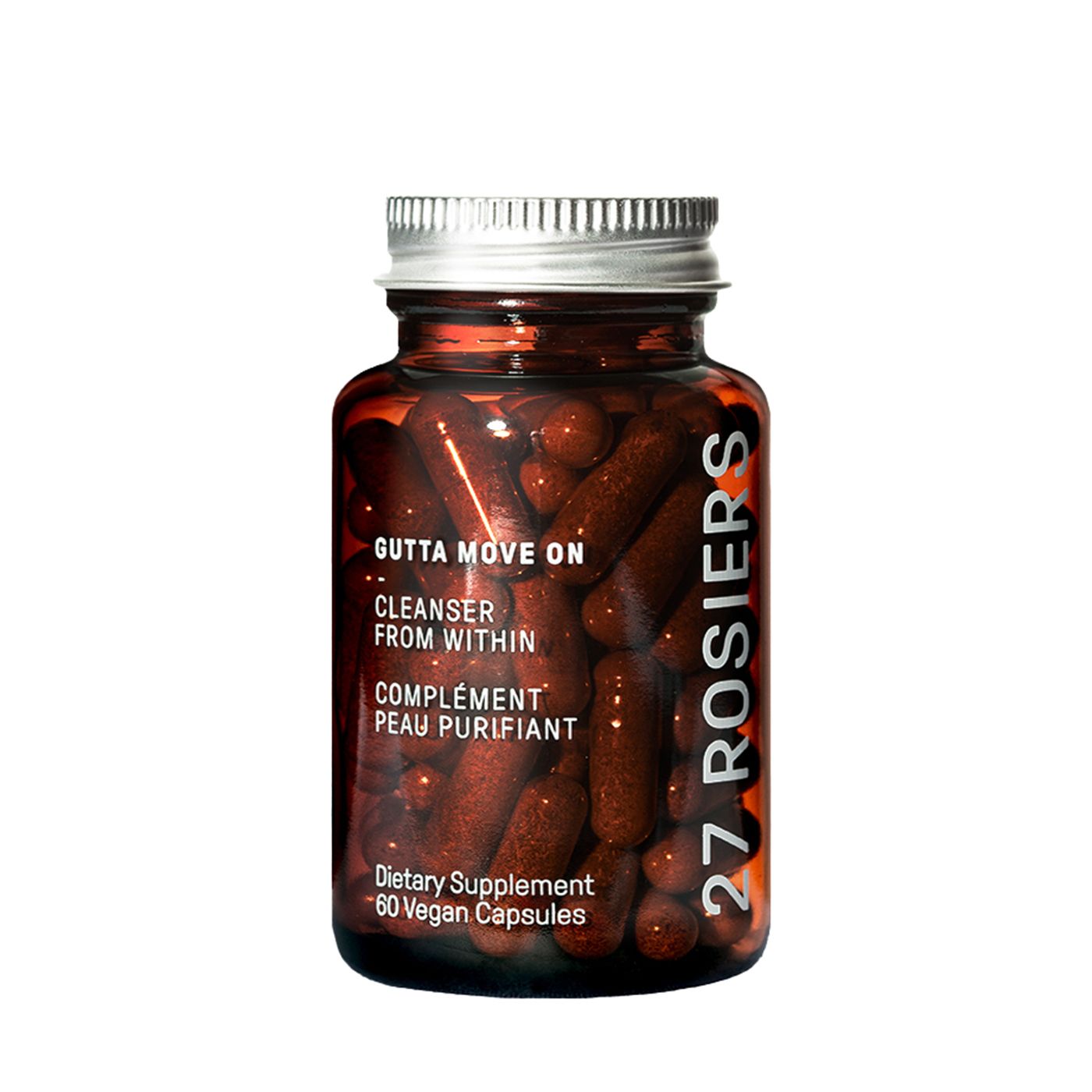 Description
Supplement for a clear, balanced, energized complexion / 60 capsules
27 Rosiers Gutta Move On is described as a "cleanser from within": a supplement that's a perfect partner to Fight Grime, Quench My Thirst, and Ready Selfie Go for skin that struggles with occasional breakouts and congestion.
This vegan formula features a list of proven stars to help kick-start healthy digestion and pull toxins out of the gut, which is helpful for those whose diets sometimes include questionable choices or whose lifestyles sometimes don't provide them with the rest and relaxation they need. (So, perhaps, everyone.) In addition to the 27 Rosiers core blend of ashwagandha, calendula, chamomile, and aloe vera, Gutta Move On's formula contains shelf-stable probiotics for improved digestion, detoxifying chlorella and spirulina, antioxidants like resveratrol and green tea leaf, and a sound suite of vitamins and minerals like A, C, E, a B-complex, and Zinc.  
Intended as a month-long "cure" — the way most supplements are taken in France — it's perfectly safe to use year-round as well. But we appreciate the fact that it's not an "if you stop taking this, you'll immediately break out again" situation: it's more of a supplement to turn to when you're winding down a busy or less-healthy season, or heading into one that's bound to be stressful.
How to Use
Take 2 capsules daily with a main meal.

For maximum results that last, a 30-day full-on plan is recommended.

While this supplement can be taken by those who are pregnant or nursing, we recommend checking with your doctor first.
Ingredients
- Chlorella binds to lingering heavy metals, chemicals and pesticides accumulated and found in the digestive tract. When ingested, it helps the body eliminate unwanted metals and toxins, which makes it a powerful cleanser from within.
- Vitamin A contributes to an even complexion by boosting skin cell renewal and the immune system.
- Vitamin B3 (Niacin) helps protect skin cells from sun damage.
- Zinc contributes to the protection of cells from oxidative stress and damage caused by UVA rays. A lack of zinc can play a role in breakouts and dark spots.
- Ashwagandha can boost cellular energy and dynamism, as well as restore skin vitality.
---
All Ingredients
Vitamin A, Vitamin C, Vitamin E, Thiamine (Vitamin B1), Riboflavin (Vitamin B2), Niacin (Vitamin B3), Vitamin B6, Folate from Folic Acid (Vitamin B9), Vitamin B12, Biotin (Vitamin B7), Pantothenic Acid (Vitamin B5), Zinc, Ashwagandha Extract, Calendula Extract, Chamomile Extract, Aloe Vera 200:1 Extract, Green Tea Leaf Extract, Chlorella, Resveratrol Extract, Lactobacillus Acidophilus, Bifidus Bifidum Breve, Bifidus Bifidum Infantis, Bifidus Bifidum Longum, Spirulina.
Vitamin A, Vitamin C, Vitamin E, Thiamine (Vitamin B1), Riboflavin (Vitamin B2), Niacin (Vitamin ...
See All