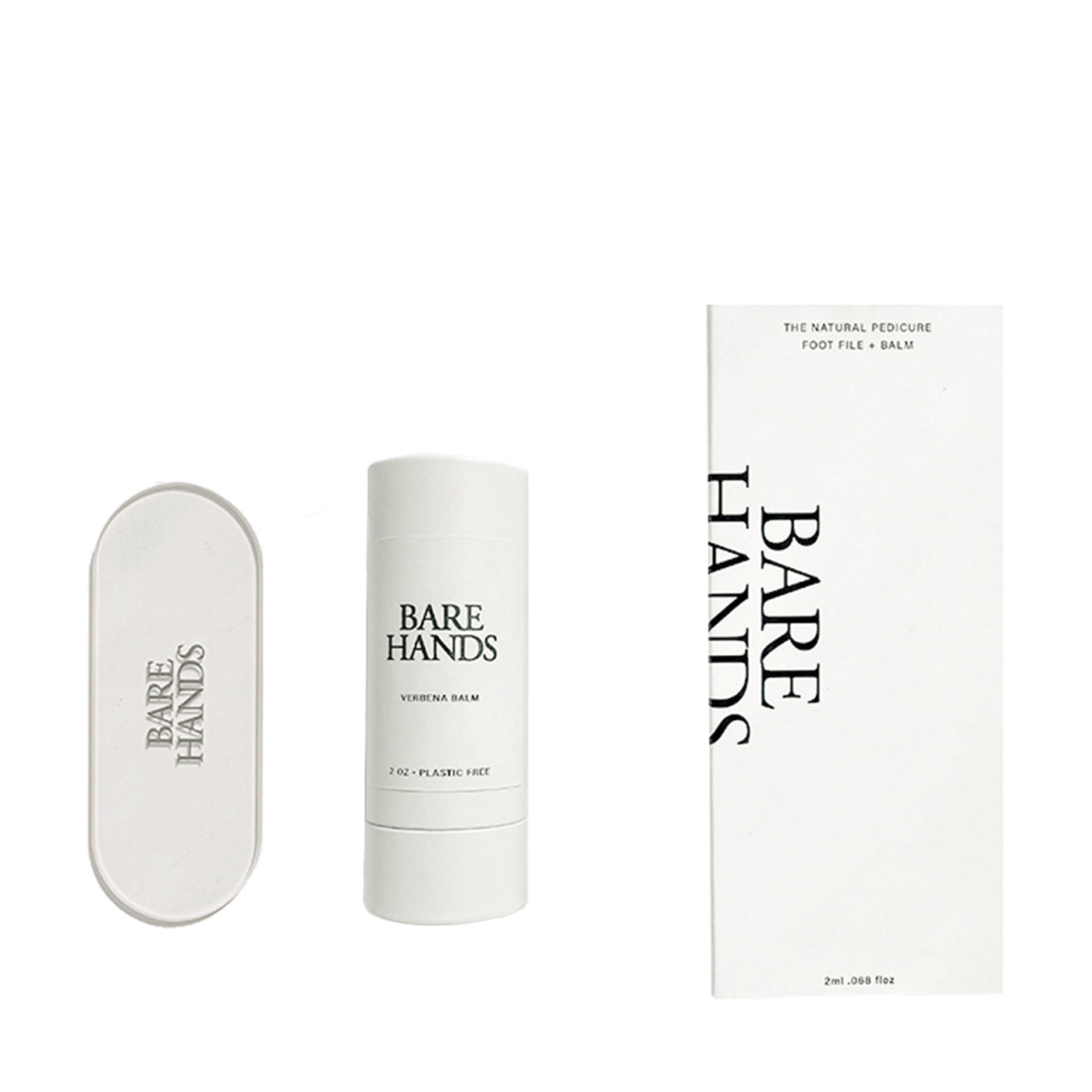 Description
Elegant, perfectly-thought-through pedicure set  / 1 kit
Bare Hands' Natural Pedicure is exactly what we had hoped to see next from the brilliant creator of the Dry Gloss Manicure Kit.
Like the buffer in the manicure kit, Bare Hands' foot file has a unique glass surface — in this case, one made specifically for rough skin on the feet. It's perfectly scrubby, yet it feels far more civilized than the harsh graters of yesteryear; it also looks a lot more put-together than the curiously ineffective pumice stones that tend to languish in various bathroom corners.
It's versatile, too: the file can be used on dry feet for a quick clean-up, and it's equally great on damp feet — perhaps after a Sea Soak — on those occasions when you feel that your heels are calling out for a deeper treatment.
Also in the kit is a beautiful balm with a light verbena scent, packaged in a plastic-free push-up tube we love for its recyclability and ease. The balm melts into a rich oil that's just the thing for freshly exfoliated feet, and it can also be used on hands and elbows.
(Looking for fresh, glossy toenails to go with your fresh new feet? Use the polisher from the Dry Gloss Manicure kit: it works on toenails, too.)
PS Want to learn more about the story behind the Natural Pedicure and Bare Hands' massive success with its first product? Check out Dara's interview with founder Suzanne Shade on our blog.

How to Use
On dry or wet feet, scrub with the rough side of the file as needed. Use it dry for a quick 10-minute clean-up, or after a foot soak for an extra deep treatment. After filing, apply the balm; cover with socks to hold in additional moisture. Clean the file with soap and water. (Please note the foot file does not polish the nail).
Ingredients
- Cocoa butter is high in tocopherol content.
- Calendula extract helps draw moisture into the skin.
- Beeswax's soothing properties come from esters and free fatty acids
- Castor oil is high in oleic acid and works as both an emollient and an occlusive to soften skin texture.

Full Ingredient List:
Theobroma cacao (Cocoa) Seed Butter, Cera Alba (Beeswax), Cocos nucifera (Coconut) Oil, Simmondsia Chinensis (Jojoba) Seed Oil, Ricinus communis (Castor) Seed Oil, Vitamin E (dl-Alpha Tocopheryl Acetate), Calendula officinalis Flower Extract, Cymbopogon schoenanthus (Lemongrass) Oil, Ocimum Basilicum (Basil) Oil, Piper nigrum (Black pepper) Seed Oil.
---
All Ingredients