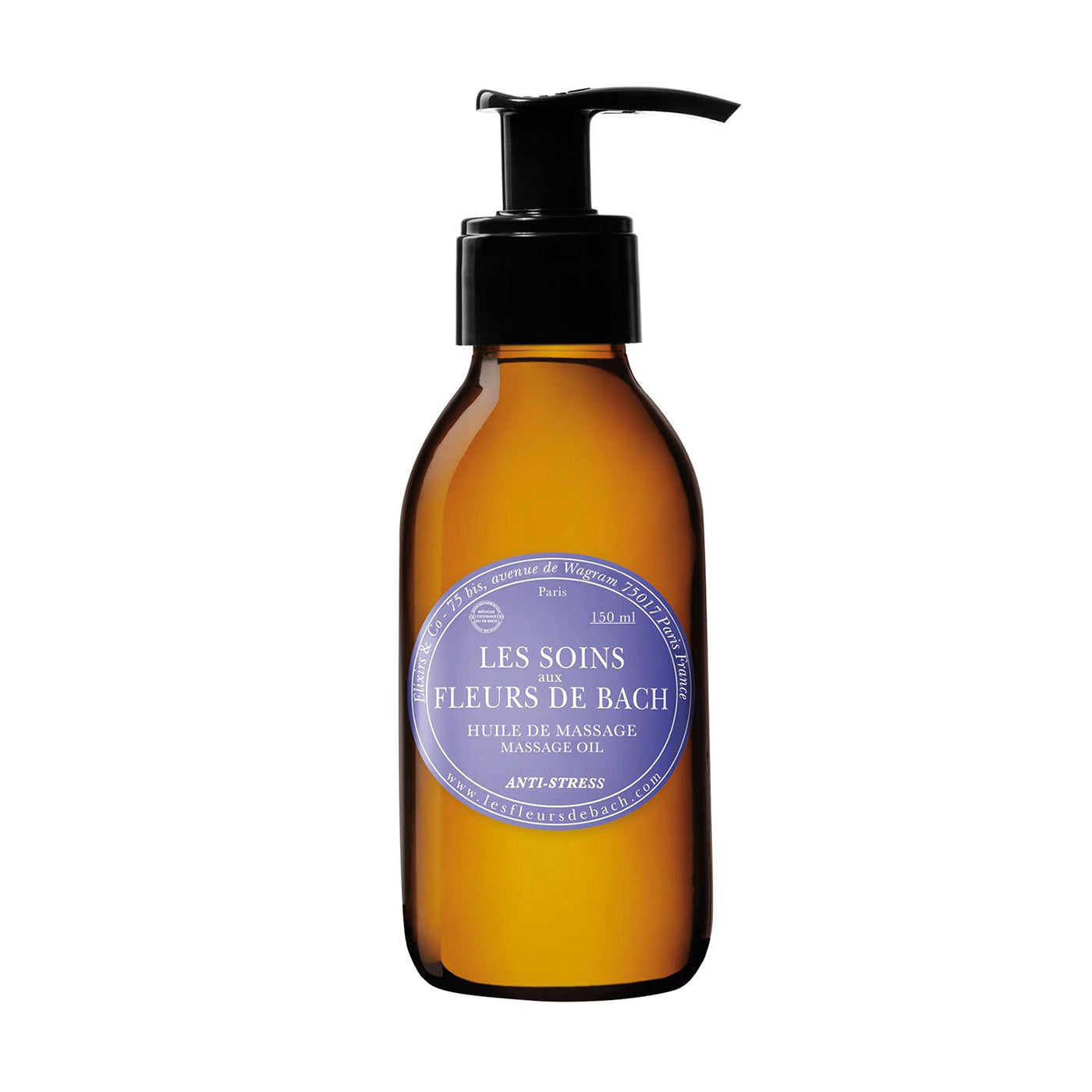 Description
Heavenly-scented, lightweight body and massage oil with anti-stress Bach flower essences / 5 oz.
We've been asked by a number of customers to recommend our favorite fast-absorbing body oil, and here it is. If you love body oils but don't love having to wait several minutes to get dressed after you apply them, this is your winner.
Like the magical Les Fleurs de Bach Body Lotion, the Anti-Stress Massage Oil — which includes a blend of organic argan, calendula, coconut, and sunflower oils — manages to deeply hydrate and replenish skin without greasiness, instead leaving skin soft, smooth, and silky. We're not sure how to explain it except to say that it's French, and the French seem to have a remarkable ability to make perfectly-textured products in a way that can't be explained by anyone else.
And on top of that, this massage oil actually helps to ease stress and encourage the body to achieve deep relaxation with its carefully crafted blend of 7 anti-stress Bach flower essences, which makes it perfect for massage, too. Like the other Anti-Stress products from Les Fleurs de Bach, it also features a subtle, natural essential oil fragrance with top notes of bergamot and orange, a soothing base of lavender and sage, and a final, addictive chord of patchouli and eucalyptus.
Finally, it's packaged in a beautiful brown glass bottle — making it a very chic gift for yourself or a loved one. Particularly a loved one who enjoys a good massage and could use a little de-stressing.
Available in the US exclusively at Ayla.
How to Use
Smooth over damp skin after bath or shower.
Ingredients
Organic Bach flower essences for the following specific situations:
- Agrimony for those who hide discomfort, pain, difficult feelings, or suffering behind a cheerful face. Here, it's included to help you find the right words to express your feelings.
- Oak for the stoic, who often just keep going out of duty until they wear themselves out. Here, it's included to aid in the process of letting go.
- Impatiens for those who move quickly and get frustrated by those who don't. Here, it's included to help calm tightly-wound nerves.
- White Chestnut for spinning thoughts that you can't switch off. Here, it's included to help bring the ticker-tape to a stop.
- Pine for feelings of guilt, even when it's not really your fault. Here, it's included to bolster self-esteem.
- Crab Apple for perfectionists and those who feel shame around their appearance. Here, it's included to encourage you to stop the exhausting effort for perfection.
- Vervain for the enthusiasts who want to "convert" others to their point of view and find it hard to unwind and relax. Here, it's included to encourage a sense of calm and peacefulness, particularly when you're overworked.
---
All Ingredients
Caprylic/Capric Triglyceride, Helianthus Annuus (Sunflower) Seed Oil*,Cocos Nucifera (Coconut) Oil*, Argania Spinosa Kernel Oil*,Calendula Officinal is Flower Extract *, Cananga Odoratat Flower Oil*,Pelargonium Graveolens Oil*, Aniba Rosaeodora (Rosewood) Wood Oil*, Lavandula Angustifolia (Lavender) Oil*, Aesculus Hippocaocastatanum Flower Extract *, Agrimonia Eupatoatoria Flower Extract*, Impatiens glandulifera Flower Extract*,Malus Sylvestris Flower Extract*,Pinus Sylvestris Bud Extract*,Quercus Robur Bud Extract*,Verbena Officinalis Flower Extract*,Aqua (Water), Tocopherol ,Helianthus Annuus (Sunflower) Seed Oil, Parfum (Fragrance), Alcohol *, Limonene, Linalool , Citronellol , Geraniol , Benzyl, Benzoate, Benzyl Salicylate, Farnesol , Citral.
*organic
This formula is certified organic by ECOCERT.
Caprylic/Capric Triglyceride, Helianthus Annuus (Sunflower) Seed Oil*,Cocos Nucifera (Coconut) Oi...
See All