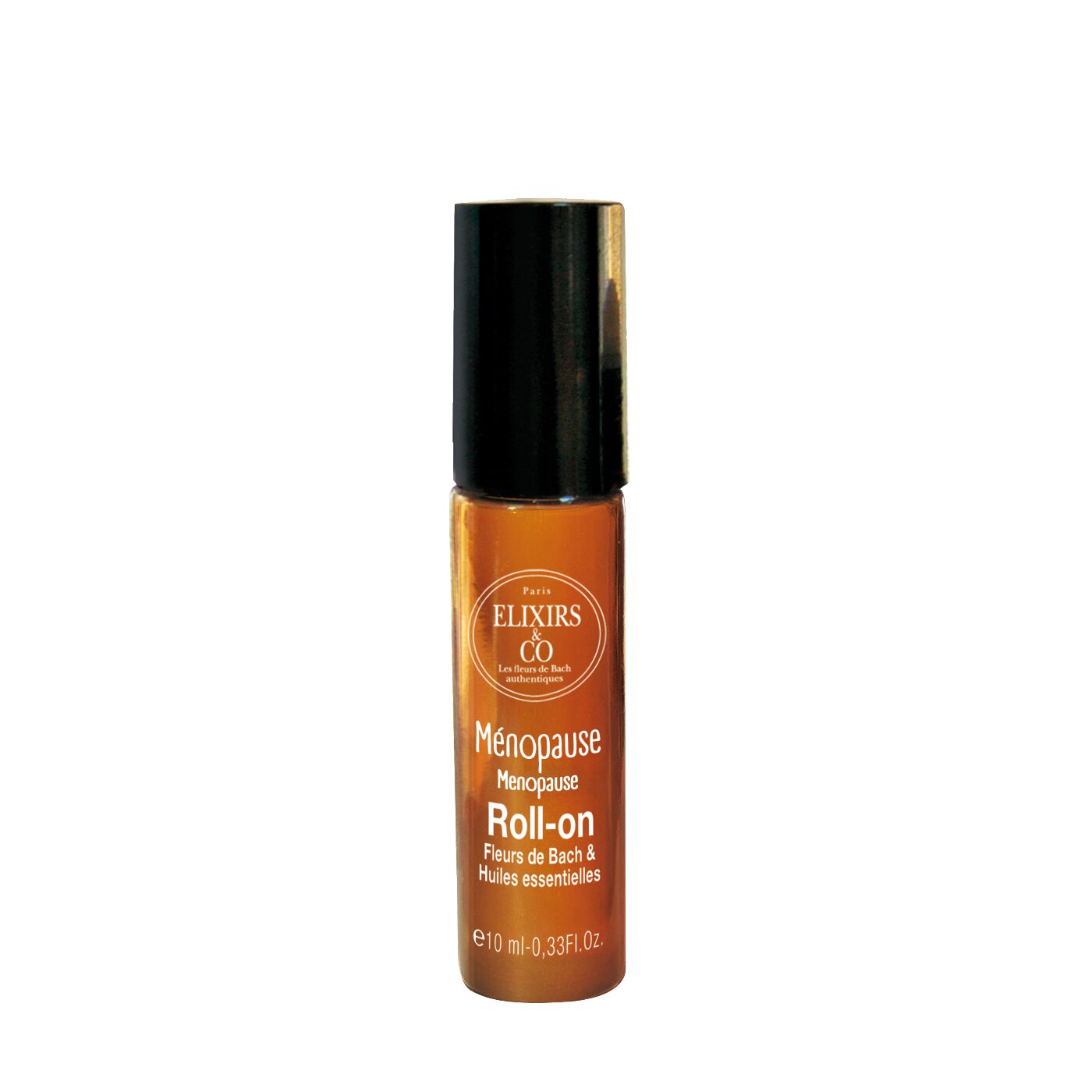 Description
Topical roll-on to help those with irregular sleep patterns and hot flashes / 0.33 oz
Les Fleurs de Bach Menopause Roll-On was created by our friends at a wonderful little company based in Paris that is devoted to the preparation of the most effective Bach flower essences in the world (read about their exacting methods here). Bach flower essences were originally developed by Dr. Edward Bach, a British surgeon, homeopath, and bacteriologist. Reflecting Dr. Bach's own medical background, these essences have been clinically proven to help balance emotions, thus allowing the body and mind to focus on healing themselves. 
Menopause Roll-on, the perfect companion to the Menopause Elixir, features a blend of Honeysuckle, Scleranthus, Larch, Walnut, Elm, and Cerato Bach flower essences mixed with refreshing essential oils of Clary Sage, Litsea Cubeba, Peppermint, and Mint Bergamot. 
This certified organic blend can be applied as needed to the solar plexus or wrist as often as needed during times of sleep disturbances, hot flashes, and hormonally-induced mood swings. In roll-on form, the essences aren't delivered as directly as they are in the Elixir — but we love the ease and practicality of this use-it-anytime, bring-it-anywhere form factor, whose aromatherapeutic benefits add to the experience. The team at Les Fleurs de Bach mentions that it also "can help stop snacking," too, which we find quite intriguing!
Available in the US exclusively at Ayla.
How to Use
Apply on solar plexus or on the wrists. Avoid lips and eyes.
Ingredients
Organic Bach flower essences with the following characteristics:
- Honeysuckle helps to act in the present
- Scleranthus helps to feel balanced
- Larch promotes self-confidence
- Elm helps to not to feel overwhelmed by emotion

Essential oils bring their own benefits, too:
- Clary Sage helps to regain its balance in the feminine
- Litsea Cubeba promotes relaxation
- Peppermint provides immediate refreshment
- Mint Bergamot helps to restore harmony and balance

---
All Ingredients
Alcohol**, propanediol dicaprylate, ricinus communis seed oil*, glycerin, mentha citrata leaf extract, parfum, mentha piperita oil*, lavandula angustifolia oil*, aqua, salvia sclarea oil*, litsea cubeba fruit oil*, lonicera caprifolium flower extract*, juglans regia flower extract*, larix decidua flower extract*, scleranthus annuus flower extract*, ceratostigma wilmottiana flower extract*, ulmus procera flower extract*, citral, citronellol, geraniol, limonene, linalool.

* Ingredients from organic farming
** Processed from organic ingredients
100% of ingredients are from a natural origin, 60% of ingredients are from organic agriculture
Alcohol**, propanediol dicaprylate, ricinus communis seed oil*, glycerin, mentha citrata leaf ext...
See All
"I hadn't gotten a good night's sleep in over two weeks and was at my wits' end. I kept waking up after 4-5 hours and unable to get back to sleep. I felt terrible. Last night I took the Sleep Elixir and Stress Elixir with water before bed. I slept deeply and awoke feeling refreshed and full of energy!"
Andrew