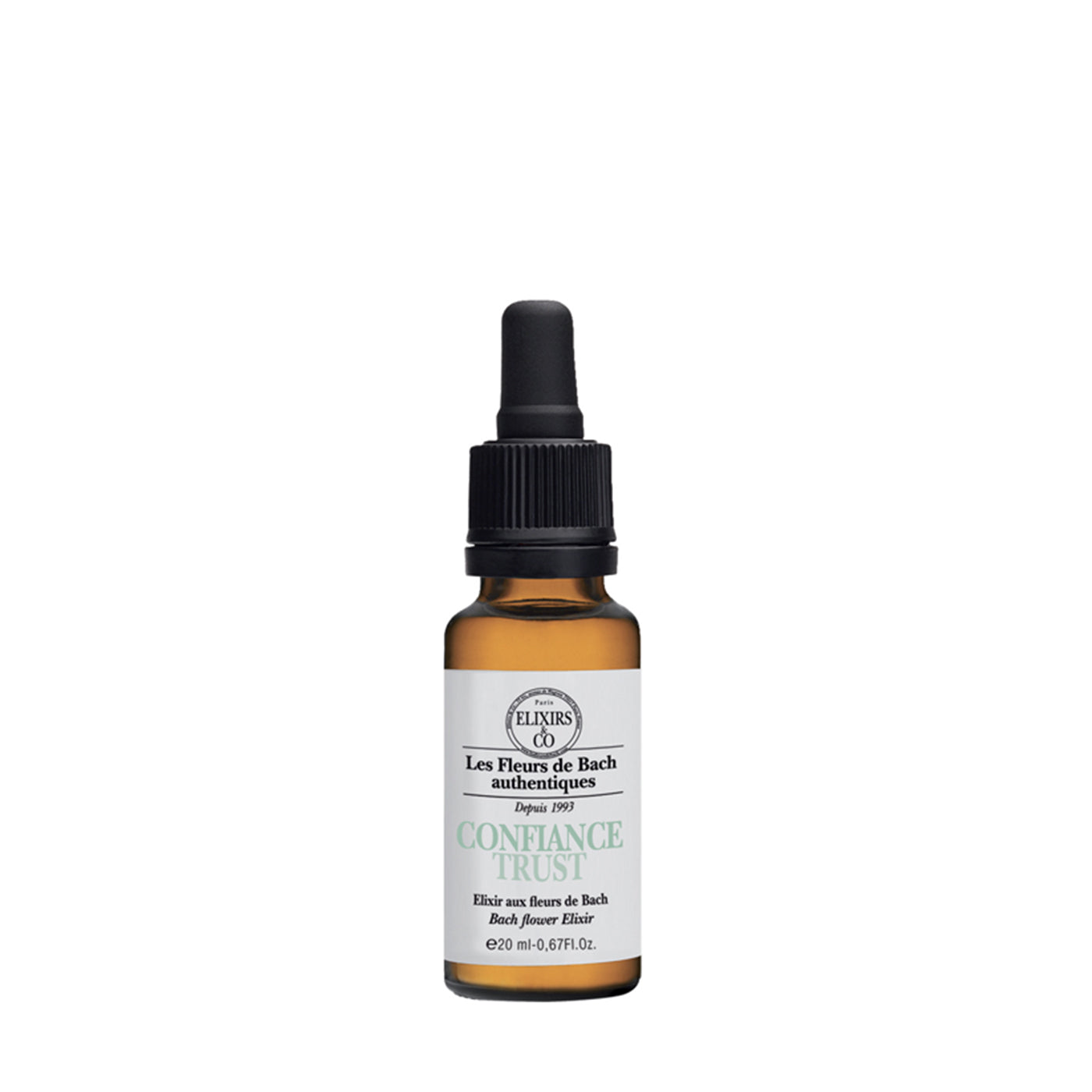 Description
Ingestible elixir designed to enhance feelings of self-worth and self-confidence / 0.67 oz
Les Fleurs de Bach Self-Confidence Elixir was created by our friends at Les Fleurs de Bach / Elixirs & Co, a wonderful little company based in Paris that is devoted to the preparation of the most effective Bach flower essences in the world (read about their exacting methods here).
Bach flower essences were originally developed in the 1930s by Dr. Edward Bach, a British doctor, homeopath, and bacteriologist. Reflecting Dr. Bach's own medical background, these essences have been clinically proven to help balance emotions, thus allowing the body and mind to focus on healing themselves. Our customers who were already familiar with Bach flower remedies have found this French company's blends to be the best they've ever tried.
Self-Confidence Elixir features a blend of certified organic Wild oat, Centaury, Gentian, Scleranthus, Elm, Larch, and Cerato essences. We fell in love with this particular Elixir because it has been designed to help boost your self-confidence at a deeper level than the typical topical product can. After all, you can be using the very best products in the world and have fabulous skin and hair to show for it, yet still not believe that the light inside of you is worth sharing with the world. We know it is; we want you to know it, too.
Sure, it all may sound a little out there. And no, we don't have a dossier explaining the mechanisms behind this product's inner workings. But we've been blown away by the efficacy of Les Fleurs de Bach's Elixirs, and this one is no exception. 
PS This is one of our favorite gifts for good friends who could use a little boost.
Available in the US exclusively at Ayla.
How to Use
Dilute 4 drops of the Elixir in a glass of water and drink as often as needed, up to 4 times per day. May be used in conjunction with other Elixirs (we love this one with the Letting Go Elixir!)
Ingredients
Bach Flower Essences: :
- Wild Oat is for those who are driven by a deep desire for accomplishment but feel uncertain about their purpose, path, or calling. Here, it is included to encourage us to find the meaning we seek inside ourselves.
- Centaury is for those who have a hard time saying no to others and give of themselves too freely. Here, it is included to help restore our ability to establish healthy boundaries and our awareness of our self-worth.
- Gentian is for those who feel discouraged after setbacks. Here, it is included to help strengthen our resolve and restore our faith in a positive future.
- Scleranthus is for those who may know their eventual goal but aren't sure how to get there. Here, it is included to help us trust ourselves to make commitments and decisions more fearlessly.
- Elm is for those who take their responsibilities very seriously but may find themselves in a temporary state of despair or lowered confidence due to all they've taken on. Here, it is included to help reduce stress.
- Larch is for those for whom a sense of inadequacy or self-doubt undermines attempts at specific goals. Here, it is included to encourage us to see that we are no better or worse than anyone else, and to remind us that what we may perceive as failure may be seen as success by others.
- Cerato is for those whose lack of faith in their own intuition leads to a frequent search for confirmation from others. Here, it is included to encourage a sense of quiet certainty in ourselves.
---
All Ingredients
Organic Brandy (99.6%) 40% vol, Plant extracts 0.4% (1/250) : Bromus ramosus, Centaurium erythraea, Gentianella amarella, Scleranthus annuus, Larix decidua, Ulmus procera, Ceratostigma wilmottiana
Organic Brandy (99.6%) 40% vol, Plant extracts 0.4% (1/250) : Bromus ramosus, Centaurium erythrae...
See All