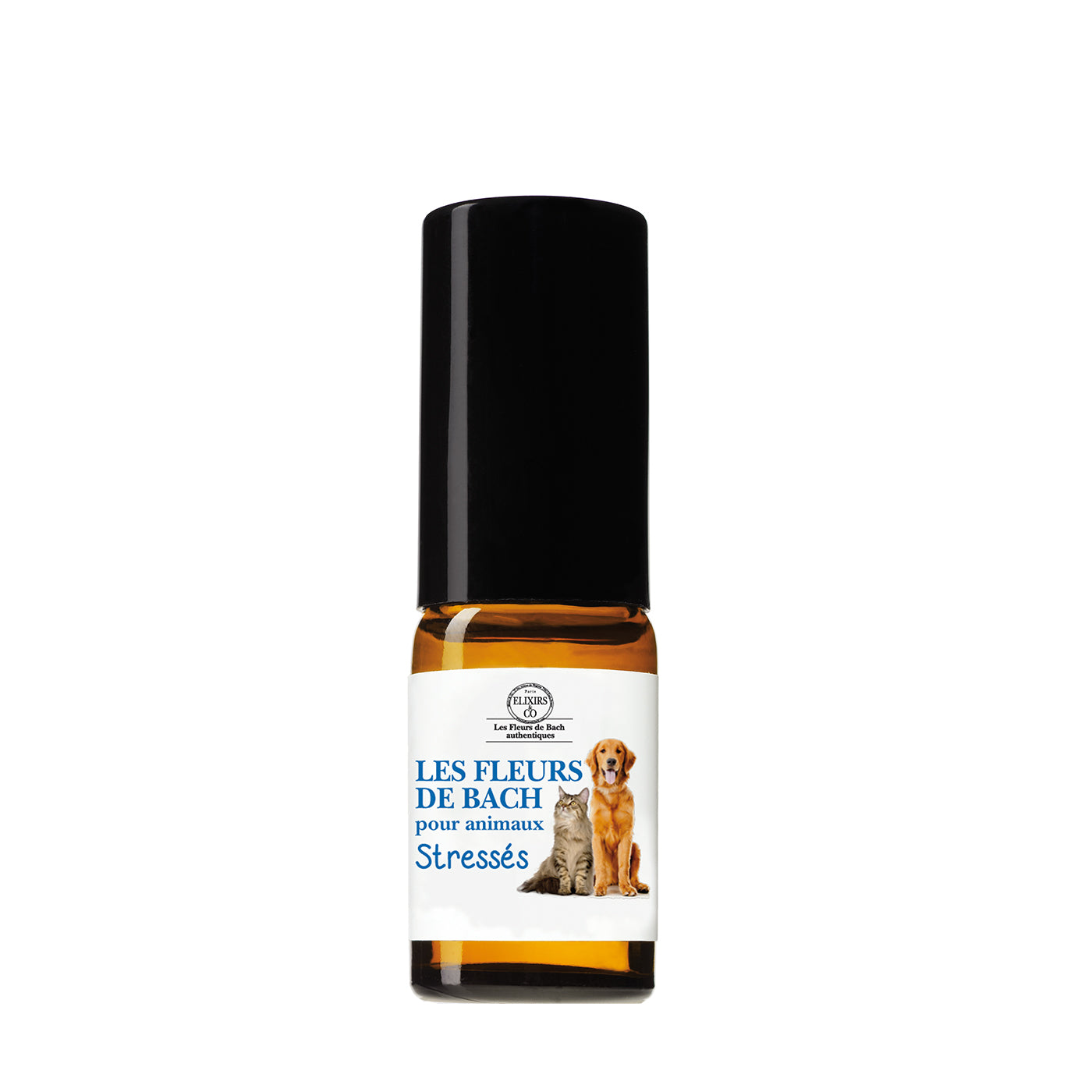 Description
Natural, stress- and tension-relieving remedy for pets of all kinds / 0.34 oz 
Les Fleurs de Bach Stressed Pets Elixir was created by our friends at Les Fleurs de Bach / Elixirs & Co, a wonderful little company based in Paris that is devoted to the preparation of the most effective Bach flower essences in the world (read about their exacting methods here). If you've been curious but somewhat skeptical about Bach flowers, we think this just-for-pets blend may be one of the best ways to see just how effective these emotion-balancing remedies can be.
For their pet-specific solutions, the team at Les Fleurs de Bach worked with a well-known veterinarian in France to identify archetypal emotions shared by all kinds of animals and create effective treatments to soothe the most common conditions naturally — and Stressed Pets is by far their most popular blend.
Designed for pets that might be dealing with a change in living space, adjustments to daily routines (holidays, for example), the departure of a family member, or anxiety-producing forms of transportation, the Stressed Pets blend is similar to the Rescue blend for pets that is popular worldwide, but we think it's better for two reasons. First, it's made with flower extracts of unmatched quality. And secondly, the blend includes additions that we think are particularly smart: Vervain, to bring a sense of peace to pets that may find it hard to relax, and Rock Water, to encourage a sense of flexibility. These additional ingredients can help pets not only deal with a stressful situation in the moment, but also more easily transition to a less-stressed attitude over time.
Our Guide, Emi, first gave it to her dog to help him through the move to a new apartment and found that he was notably calmer: "Taso is easily startled by noises, including the various city sounds around our home, and can become anxious throughout the day — but the Bach Flower Remedy has really helped him settle! We add a few sprays to his food or his water bowl as needed. He is a very emotive pup and I have genuinely seen him take a big sigh of relief afterward, followed by a general sense of calm & comfort and decreased reactivity to noises outside." 
We're huge fans of Bach flowers in general, especially the Stress Elixir for humans. If you're new to these gentle, non-habit forming remedies and you think your pet might benefit from these drops, it may be the best introduction to Bach flowers that we can think of.
Available in the US exclusively at Ayla. 
How to Use
Spray in your pet's water and/or food several times a day, as needed.
Ingredients
Organic Bach flower essences for the following specific situations:
- Clematis to help pets regain their sense of the present moment
- Rock Rose to help overcome feelings of terror or panic
- Star of Bethlehem to offset the impact of any shock or suffering (like a healing hug for your pet)
- Impatiens to soothe the nerves of pets that may be anxious and frustrated
- Vervain to bring a sense of peace and quiet to pets that may find it hard to unwind and relax
- Cherry Plum to help nervous pets regain a sense of self-control
- Rock Water to encourage a sense of flexibility and a more carefree attitude
---
All Ingredients
Organic brandy (99.6%) 20% vol. Plant extracts: Clematis vitalba, Helianthemum nummularium, Ornithogalum umbellatum, Impatiens glandulifera, Verbena officinalis, Prunus cerasifera, Aqua petra
Organic brandy (99.6%) 20% vol. Plant extracts: Clematis vitalba, Helianthemum nummularium, Ornit...
See All