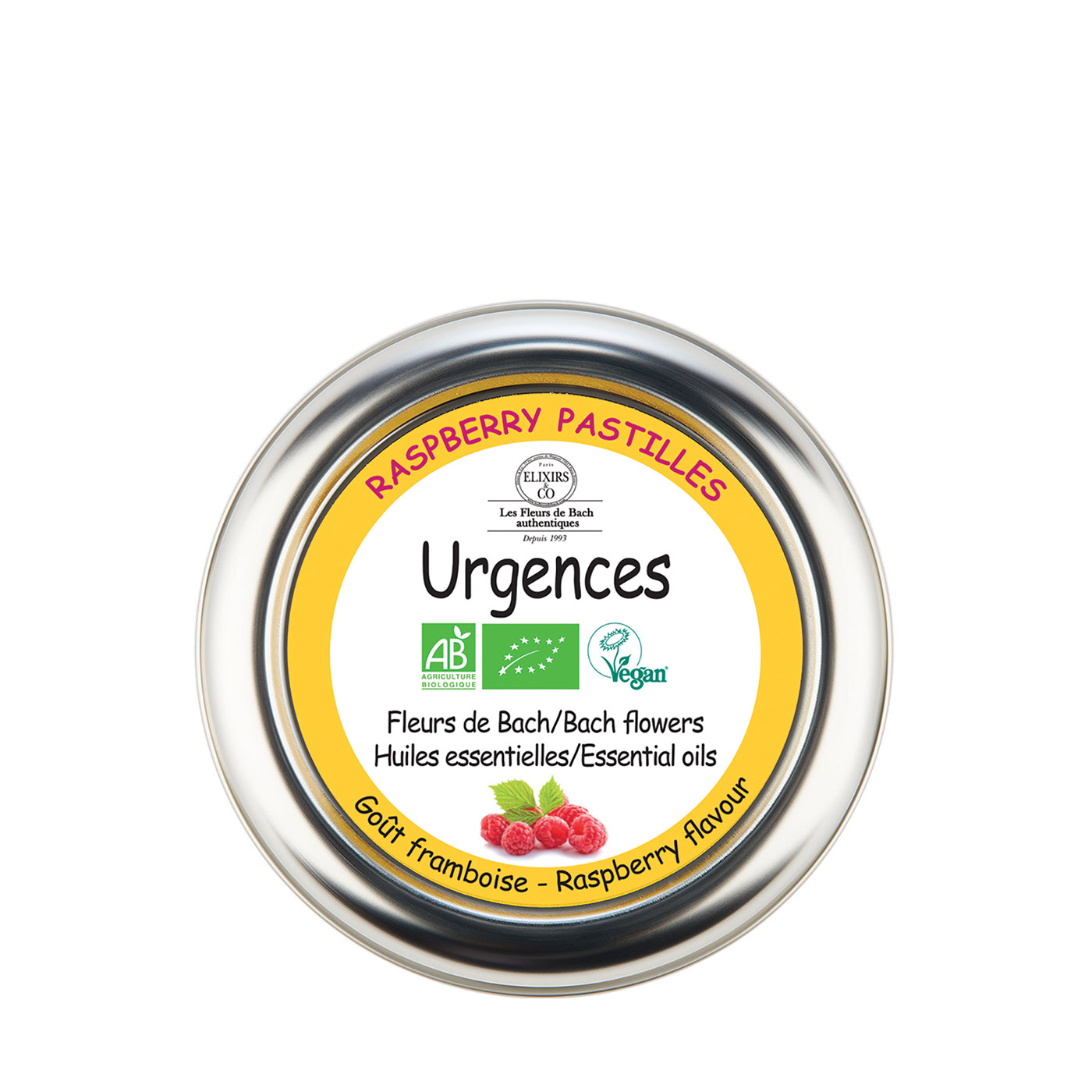 Description
Organic raspberry flavored chews with Bach flower essences designed to rapidly bring comfort and relief in moments of shock or crisis / 1.6 oz
Urgency Pastilles are the latest must-have created by our friends at Les Fleurs de Bach, a wonderful little company based in Paris that is devoted to the preparation of the most effective Bach flower essences in the world (read about their exacting methods here). Bach flower essences were originally developed by Dr. Edward Bach, a British surgeon, homeopath, and bacteriologist; reflecting Dr. Bach's own medical background, these essences have been clinically proven to help balance emotions, thus allowing the body and mind to focus on healing themselves. 
These Pastilles are the ones to go with if you struggle with anxiety. Urgency is Les Fleurs de Bach's organic and super-effective version of Rescue Remedy, the famous Bach flower blend relied upon by Van Morrison and Cate Blanchett before performances. A perfect companion to the Urgency Elixir, it features a blend of Clematis, Star of Bethlehem, Scleranthus, Rock Rose, Impatiens, Crab Apple, and Cherry Plum essences in raspberry-flavored gummies so delicious, you may actually look forward to those moments of anxiety just so you can take them. (Not really. But they certainly might make them easier to bear.)
This is also a great one to keep on hand for moments when you need quick action — after a tough phone call, email, or argument, for example, or before an exam or high-pressure situation. And nervous drivers, we couldn't think of a better "just in case" emotional booster to keep in your car.
Made by a famed confiseur in Alsace, and available in the US exclusively at Ayla.
How to Use
You may be tempted, at times, to empty the entire tin into your mouth. Instead, please take 1 or 2 pastilles four times per day, as needed.

Store in a cool, dry place.
Ingredients
Bach flower essences with the following characteristics:
- Clématis (a "back-to-reality" essence) helps bring focus and efficiency.
- Star of bethlehem consoles and brings moral comfort, balance and harmony.
- Scleranthus balances emotional and physical states and gives the strength to make tough decisions.
- Rock rose brings back calm, gives the strength to face an emergency.
- Impatiens helps regain a gentle, tolerant and forgiving attitude.
- Crab apple, the cleansing remedy, helps put things in perspective.
- Cherry plum brings calm, inner peace, and sanity. Helps put things in perspective.

Essential-oil flavorings bring their own benefits, too:
- Verbena helps calm nervous agitation
---
All Ingredients
Acacia gum, wheat syrup, cane sugar, raspberry natural flavor, acidifier: citric acid, Bach flowers essences (0.4%), concentrated black carrot juice, verbena essential oils 0.0001%, glazing agent: sunflower oil, carnauba wax


May contain eggs, flour, nuts.
Acacia gum, wheat syrup, cane sugar, raspberry natural flavor, acidifier: citric acid, Bach flowe...
See All