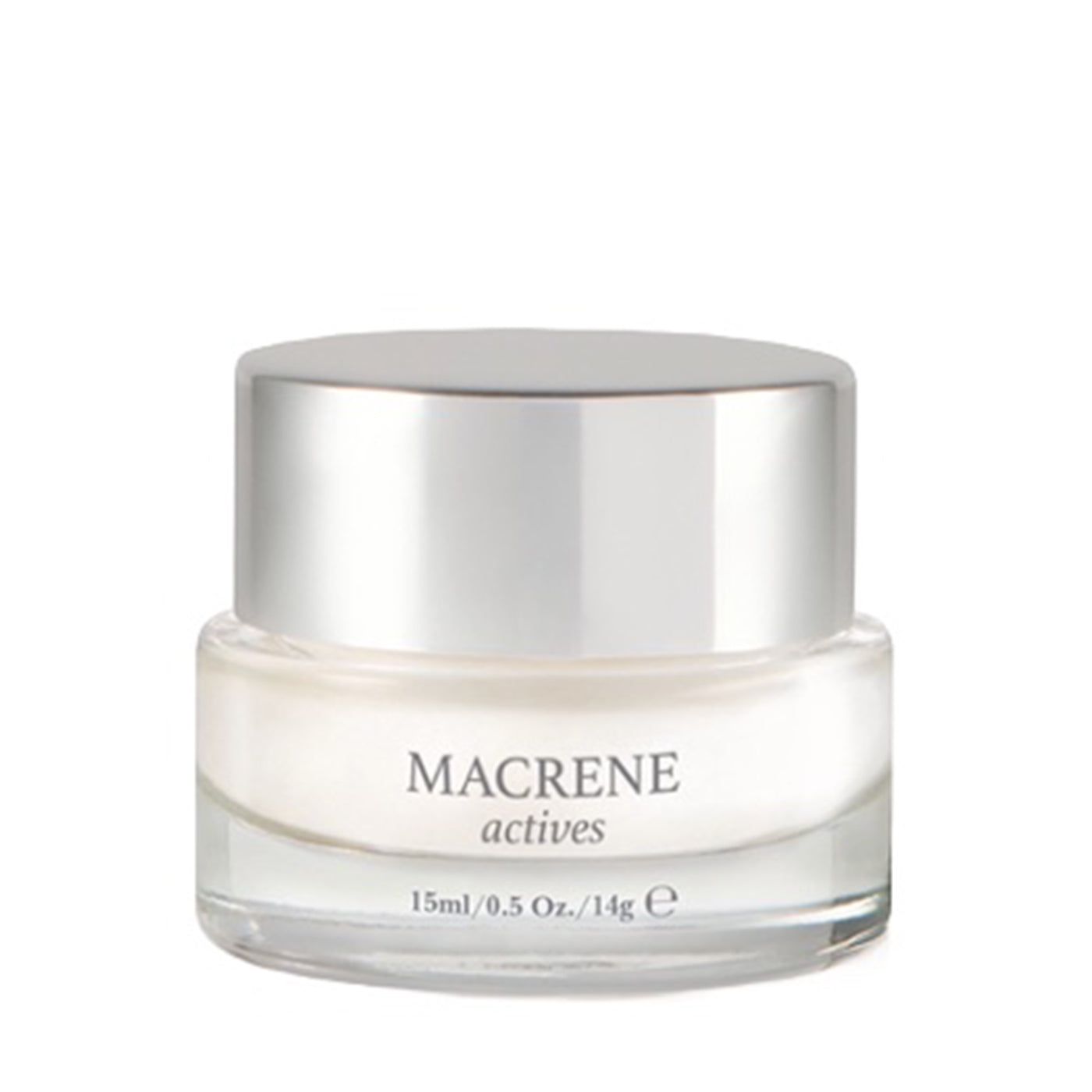 Description
Delightfully complete eye area treatment for puffiness, dark circles, loss of firmness, and fine lines / 0.5 oz
Macrene Actives High Performance Eye Cream is the most popular product yet from this brand we've loved since its earliest days: it sold out within 24 hours. Which made us all want it even more, obviously, and we suspect you'll be similarly smitten.
First of all, the answer to the question, "Do I really need an eye cream?" is, "Sooner or later…yes." In the video Dr. Macrene created for us on our blog, she mentions — in her characteristically impossible-to-argue-with way — that the eye area simply has its own set of challenges that require specific actives. (Puffiness, dark circles, and fine lines, we're talking about you.)
Also characteristically, Dr. Macrene put all the actives she could find to address all of these challenges — in addition to thoroughly moisturizing, firming, brightening, soothing, and illuminating the eye area — in one pot. Peptides, amino acids, hyaluronic acid, caffeine, bisabolol, jojoba, squalane, rice bran: they're all here, and they brought friends. It's quite an ingredient list.
For those of you wondering what it feels like, the High Performance Eye Cream will thrill fans of creamy, almost balm-like textures, yet it's easy to spread on delicate eye-area skin; it melts in beautifully, too. And, in keeping with the rest of the Macrene Actives lineup, its unscented formula is kind to sensitive skin.  
It's an all-around winner. (Be sure to watch that video we mentioned, by the way: she shares a hot tip about application that might surprise you.)
How to Use
Apply Macrene Actives High Performance Eye Cream twice daily around the eyes, after cleansing. Gently massage and pat in using circular motions; Dr. Macrene suggests applying to the brow bone and the undereye area, starting at the outer corner and moving towards the nose.
Ingredients
- Peptides, hyaluronic acid, proline, and organic plant sterols help reduce the appearance of fine lines and wrinkles while firming the skin
- Arginine, aspartic acid, alanine, and gluconolactone help brighten and increase radiance
- Organic Theobroma cacao, rosemary officinalis, and bisabolol help boost undereye luminosity
- Organic coffea robusta, natural caffeines, and organic yerba mate tea target undereye puffiness
- Olive and coconut derivatives, helianthus anuus, and squalane maintain hydration and skin texture
---
All Ingredients
Water (Aqua), Glycerin1, Hydrogenated Ethylhexyl Olivate1, Stearic Acid1, Cetearyl Alcohol1, Theobroma Cacao (Cocoa) Seed Butter1, Cetyl Alcohol1, Hydrogenated Coco-Glycerides1, Jojoba Esters1, Sorbitan Stearate, Palmitoyl Hexapeptide-12, Hydrolyzed Hyaluronic Acid, Rosmarinus Officinalis (Rosemary) Leaf Extract1, Coffea Robusta Seed Extract 1,2,3, Ilex Paraguariensis Leaf Extract 1,2, Helianthus Annuus (Sunflower) Seed Extract1, Oryza Sativa (Rice) Bran Extract1, Hydrogenated Olive Oil Unsaponifiables 1,3, Squalane 1,2,3, Sodium Lactate, Proline1, Bisabolol1, Tocopherol, Aspartic Acid, Glycine, Alanine, Serine, Valine1, Isoleucine1, Threonine1, Histidine1, Phenylalanine Arginine1, Caffeine1, Calcium Gluconate 1,3, Gluconolactone 1,3, Sodium Phytate 1, Alcohol 1, Hydrogenated Lecithin3, PCA1, Sodium PCA1, Sodium Benzoate3, Sodium Stearoyl Glutamate1, Hydroxypropyl Methylcellulose Stearoxy Ether, Sodium Methyl Stearoyl. Taurate, Limonene, Sodium Hydroxide.
1Plant-Derived
2USDA-Certified Organic
3Third Party-Certified
Water (Aqua), Glycerin1, Hydrogenated Ethylhexyl Olivate1, Stearic Acid1, Cetearyl Alcohol1, Theo...
See All