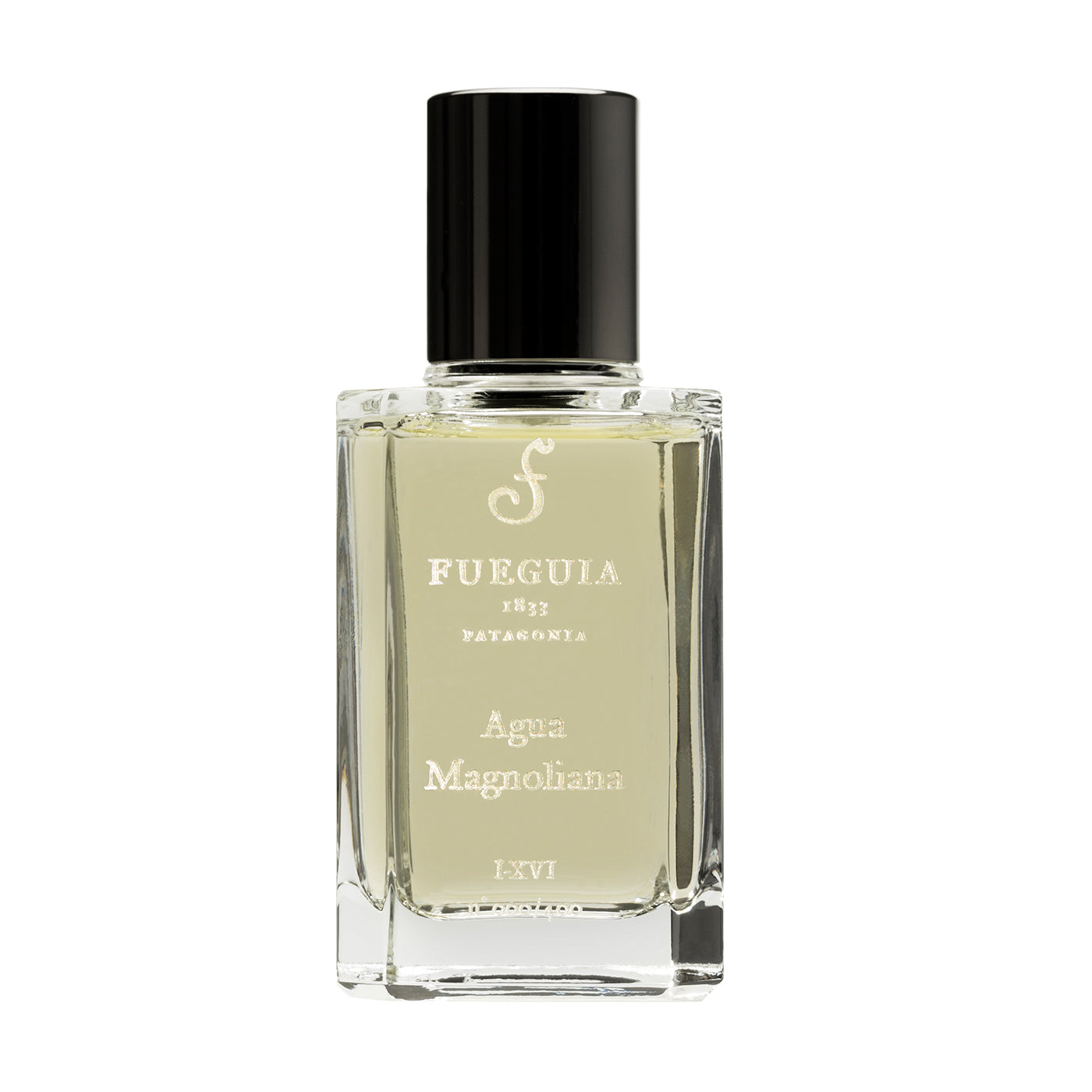 Description
Delicate floral fragrance with magnolia, jasmine, sandalwood / 1.7 oz
Fueguia 1833 Agua Magnoliana is a delicate, feminine floral fragrance that is a best seller for the brand worldwide — something that we understood immediately when we first smelled it. It is a crowd pleaser in the best way possible: not because it's least-common-denominator, but because it is so beautifully surprising, appealingly sophisticated, and undeniably lovely.
Agua Magnoliana's main note and inspiration is the subtle, graceful scent of the magnolia, a gigantic tree in the Amazon: the guardian of the rainforest. The genus Magnolia includes about 100 deciduous or evergreen trees and shrubs that grow in South America, Central America, and the eastern US. Its delicately scented flowers bloom in early to late spring, either while its large green leaves are emerging or once the trees are fully leaved.
This is gorgeous fragrance captures the beauty of this Amazonian plant and the freshness of that moment in time; middle and initial notes of jasmine and sandalwood add complexity without headiness or heaviness. It's purely, simply beautiful — and so objectively lovely that it makes a wonderful gift.
The full size (50 ml) is hand-filled in glass in Italy, then packaged by hand in Fueguia's iconic wooden box. Each limited-edition batch of Agua Magnoliana is unique, and your bottle — one of only 400 just like it — will be engraved with a specific year and batch number.
Family: floral citric
Note 1: Magnolia (magnolia amazonica)
Note 2: Jasmine (jasmine grandiflorum)
Note 3: Sandalwood (santalum album)
Like all Fueguia 1833 perfumes, Agua Magnoliana is made using biodegradable, plant based ingredients whose blends undergo long maceration processes. It is free of polycyclic musk compounds, phthalates, synthetic preservatives, synthetic dyes, and ingredients of animal origin. Like all products we carry, these fragrances have not been tested on animals.
Fueguia's perfumes are concentrated, lasting and evolving in a way that we think is just perfect both on the skin and in the bottle. There's nothing like these beautifully sophisticated fragrances — we've found that they have the ability to transform those who don't typically wear fragrance into devoted fans. Learn more about Fueguia 1833 in our Brand Spotlight.
How to Use
Spritz onto skin, focusing on pulse points.
Ingredients
Alcohol denat*., Parfum, Alpha-Isomethyl Ionone*, Amyl Cinnamal*, Amylcinnamyl Alcohol*, Anise Alcohol*, Benzyl Alcohol*, Benzyl Benzoate*, Benzyl Cinnamate*, Benzyl Salicylate*, Butylphenyl methylproprional*, Cinnamal*, Cinnamyl Alcohol*, Citral*, Citronellol*, Coumarin*, Eugenol*, Evernia Prunastri Extract*, Evernia Furfuracea Extract*, Farnesol*, Geraniol*, Hexyl Cinnamal*, Hydroxycitronellal*, Isoeugenol*, Limonene*, Linalool*, Methyl-2-octynoate*.

*Vegetal origin ingredients. Part of the natural extracts.
---
All Ingredients