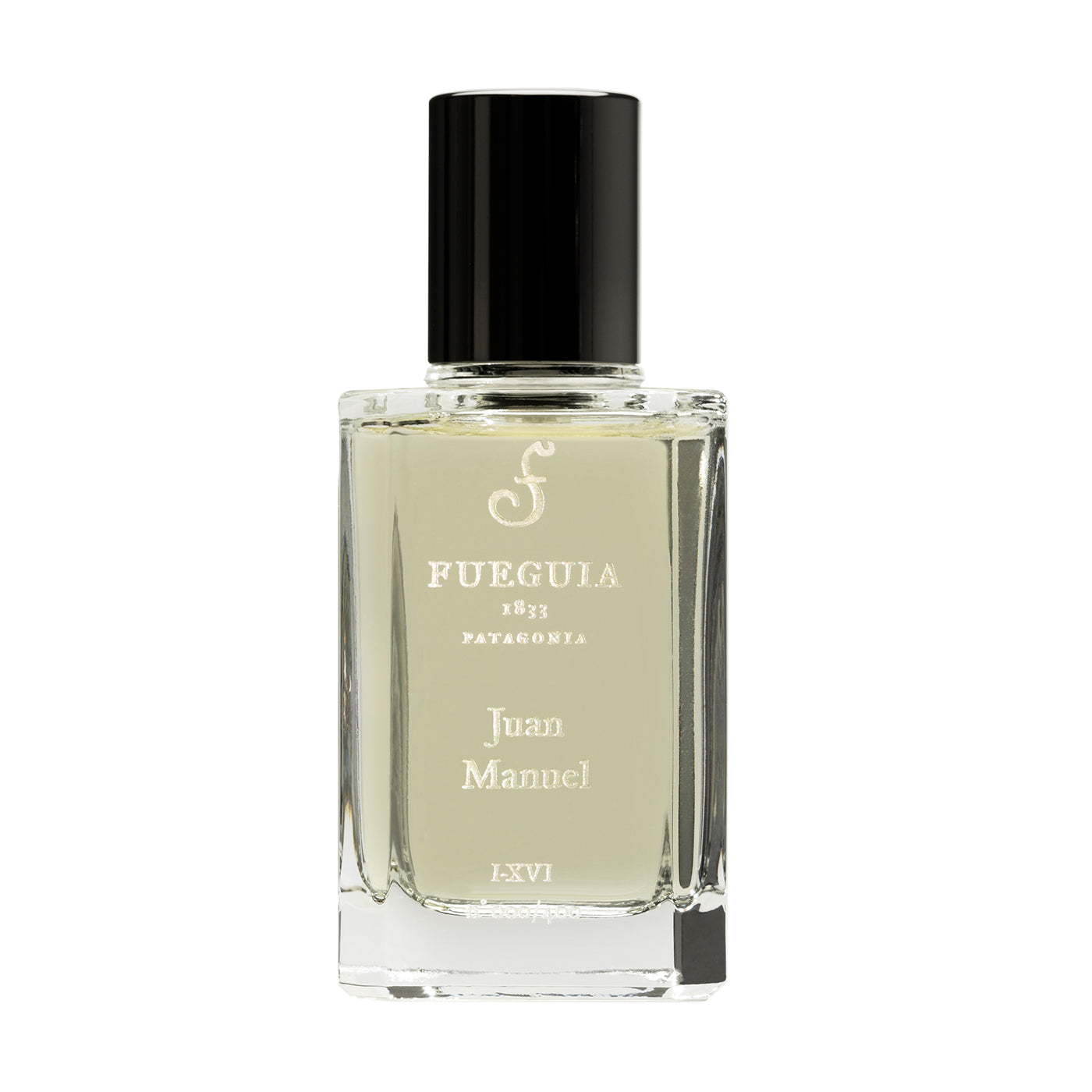 Description
Conflicting, controversial: not your usual rose / 1.7 oz
Fueguia 1833 Juan Manuel is a captivating, highly unusual rose scent beloved by men and women alike.
In developing Juan Manuel, creator Julian Bedel was inspired by the controversial and conflicting rule of his favorite tyrant, Juan Manuel de Rosas. This dictatorial governor of the young Argentinian republic from 1829-1852 was an authoritarian ruler; at the same time, he also halted the seemingly endless inter-provincial civil wars, providing the stability that the country needed to experience significant economic growth. The rose-forward fragrance is a wink between his surname, Rosa, and the rose notes used in the formula.
Juan Manuel's key note is a variety of antique rose that provides the perfume with a smooth, honeyed finish, while alba rose adds gentle spiciness that's enhanced by pink pepper. This is by no means a straightforward rose scent, though: many visitors to the Fueguia table in our San Francisco studio have smelled it, intrigued, without realizing that it contained any rose at all. 
Controversial and conflicting, indeed. Mysterious and intriguing, too. "Not your Grandma's rose"? Perhaps. But maybe your Grandma was a pistol; we won't assume. If you feel conflicted about rose, we hope you, too, won't assume things and will give it a try. This is one of those fragrances that truly inspires awe.
The full size (50 ml) is hand-filled in glass in Italy, then packaged by hand in Fueguia's iconic wooden box. Each limited-edition batch of Juan Manuel is unique, and your bottle — one of only 400 just like it — will be engraved with a specific year and batch number.
Family: floral
Note 1: Patagonian Rose (rosa eglanteria)
Note 2: Geranium
Note 3: Pink pepper
Like all Fueguia 1833 perfumes, Juan Manuel is made using biodegradable, plant based ingredients whose blends undergo long maceration processes. It is free of polycyclic musk compounds, phthalates, synthetic preservatives, synthetic dyes, and ingredients of animal origin. Like all products we carry, these fragrances have not been tested on animals.
Fueguia's perfumes are concentrated, lasting and evolving in a way that we think is just perfect both on the skin and in the bottle. There's nothing like these beautifully sophisticated fragrances — we've found that they have the ability to transform those who don't typically wear fragrance into devoted fans. Learn more about Fueguia 1833 in our Brand Spotlight.
How to Use
Spritz onto skin, focusing on pulse points.
Ingredients
Alcohol denat*., Parfum, Alpha-Isomethyl Ionone*, Amyl Cinnamal*, Amylcinnamyl Alcohol*, Anise Alcohol*, Benzyl Alcohol*, Benzyl Benzoate*, Benzyl Cinnamate*, Benzyl Salicylate*, Butylphenyl methylproprional*, Cinnamal*, Cinnamyl Alcohol*, Citral*, Citronellol*, Coumarin*, Eugenol*, Evernia Prunastri Extract*, Evernia Furfuracea Extract*, Farnesol*, Geraniol*, Hexyl Cinnamal*, Hydroxycitronellal*, Isoeugenol*, Limonene*, Linalool*, Methyl-2-octynoate*.

*Vegetal origin ingredients. Part of the natural extracts.
---
All Ingredients