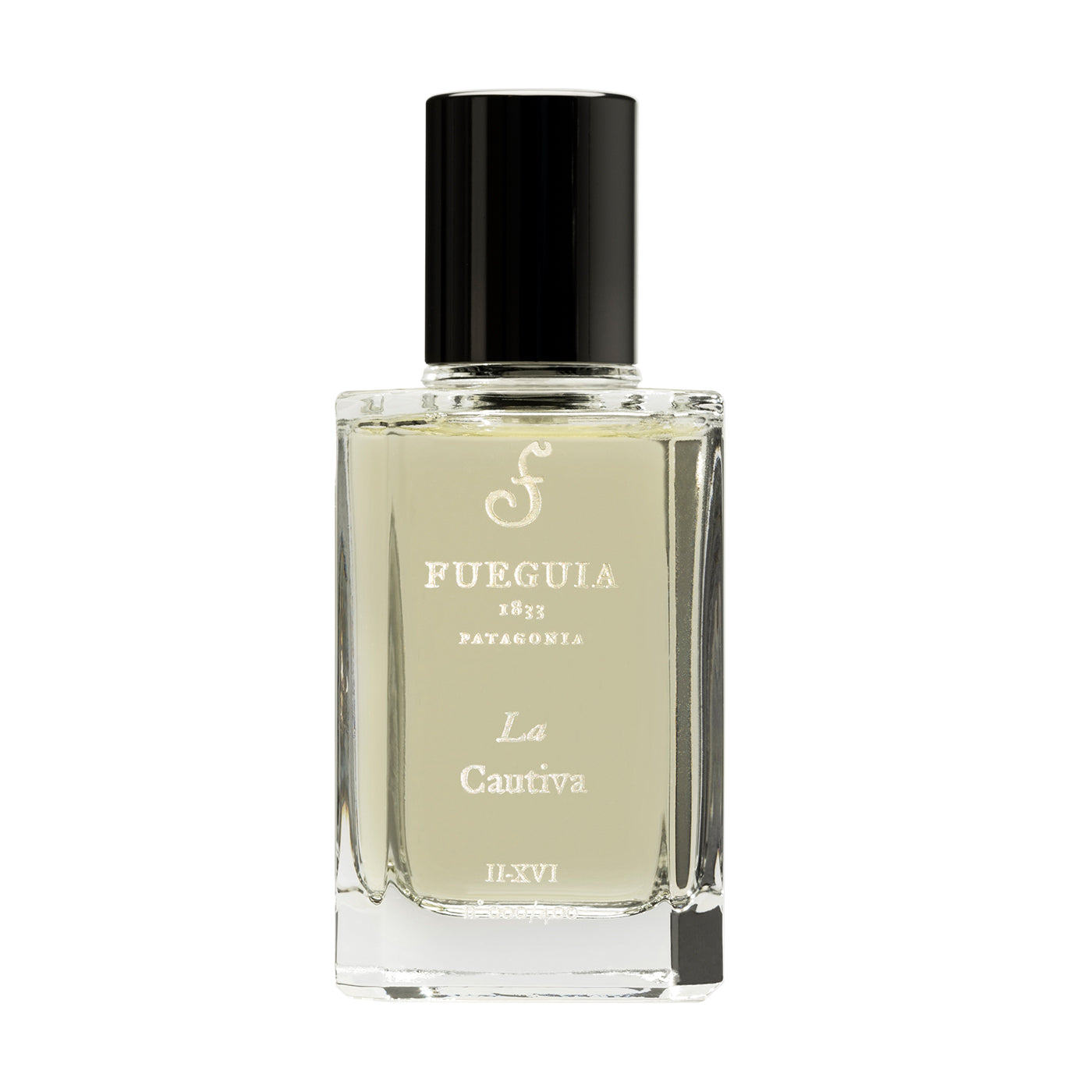 Description
Very feminine blend of cassis, natural vanilla, & musk / 1.7 oz
Fueguia 1833 La Cautiva is a very feminine fragrance that blends cassis (black currant) fruit with natural vanilla and a bit of musk, adding gorgeous complexity to the typical vanilla scent one might expect. Of all the fragrances in the Fueguia 1833 collection at Ayla, it is probably the sweetest, though it stops well short of being heady. "Ooh, yummy" is what we often hear when people first smell it.
This fragrance's main notes of cassis, vanilla, and civettone may sound fun and flirty, but there's more to this story. Its inspiration is a famous Argentinian epic poem written by Esteban Echeverria in 1837 of the same name: "La Cautiva" describes a conflict between a group of Indigenous peoples and a group of European descent. In the melee, a woman named Maria and her husband, Brian, are captured; they escape to the desert, where Brian eventually succumbs to their obstacles — and when Maria discovers that her son has been beheaded on top of it all, she dies of sadness.
Heavy, no? The sweet vanilla and cassis scent is tinged with poetic tragedy. Well, nothing is quite as simple as it may first seem. What we've noticed in our SF studio is that even those who don't usually like fruity fragrances go for this one; there's just something about it.
The full size (50 ml) is hand-filled in glass in Italy, then packaged by hand in Fueguia's iconic wooden box. Each limited-edition batch of La Cautiva is unique, and your bottle — one of only 400 just like it — will be engraved with a specific year and batch number. 
Family: musk fruit
Note 1: Cassis
Note 2: Vanilla (vanilla planifolia)
Note 3: Civettone
Like all Fueguia 1833 perfumes, La Cautiva is made using biodegradable, plant based ingredients whose blends undergo long maceration processes. It is free of polycyclic musk compounds, phthalates, synthetic preservatives, synthetic dyes, and ingredients of animal origin. Like all products we carry, these fragrances have not been tested on animals.
Fueguia's perfumes are concentrated, lasting and evolving in a way that we think is just perfect both on the skin and in the bottle. There's nothing like these beautifully sophisticated fragrances — we've found that they have the ability to transform those who don't typically wear fragrance into devoted fans. Learn more about Fueguia 1833 in our Brand Spotlight.
How to Use
Spritz onto skin, focusing on pulse points.
Ingredients
Alcohol denat*., Parfum, Alpha-Isomethyl Ionone*, Amyl Cinnamal*, Amylcinnamyl Alcohol*, Anise Alcohol*, Benzyl Alcohol*, Benzyl Benzoate*, Benzyl Cinnamate*, Benzyl Salicylate*, Butylphenyl methylproprional*, Cinnamal*, Cinnamyl Alcohol*, Citral*, Citronellol*, Coumarin*, Eugenol*, Evernia Prunastri Extract*, Evernia Furfuracea Extract*, Farnesol*, Geraniol*, Hexyl Cinnamal*, Hydroxycitronellal*, Isoeugenol*, Limonene*, Linalool*, Methyl-2-octynoate*.

*Vegetal origin ingredients. Part of the natural extracts.
---
All Ingredients