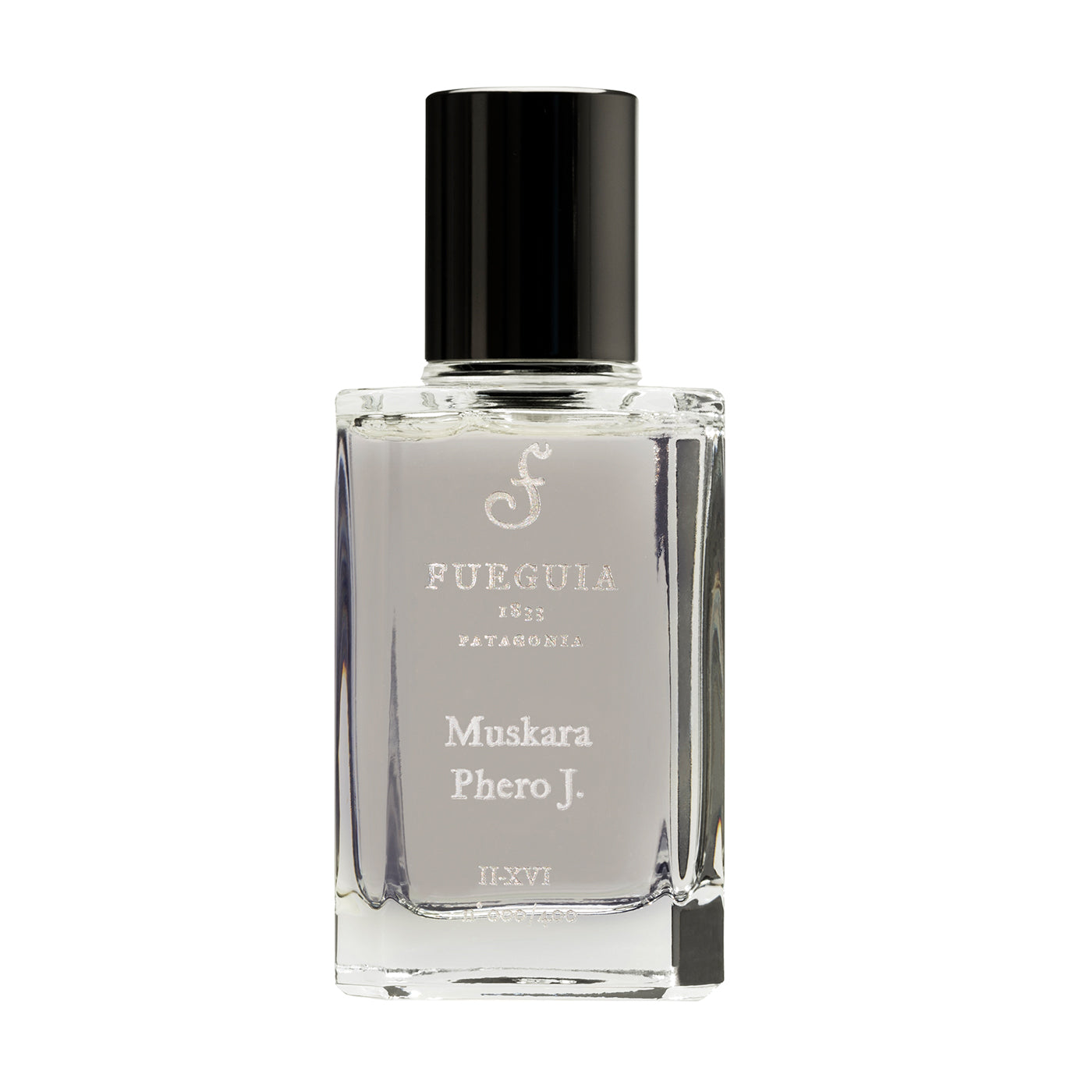 Description
"Anti-perfume" designed to interact with your skin's natural smell  / 1.7 oz
Fueguia 1833 Muskara Phero J is the fragrance on the Fueguia table in our San Francisco studio that never fails to elicit an intrigued, "Ooh." You're not quite sure what to think, but you're fascinated. And with good reason: creator Julian Bedel defines Muskara Phero J as an "anti-perfume" due to its ability to interact with the natural smell of the skin, enhancing the olfactory identity of the wearer.
Fueguia's Muskara collection was designed to capture the power of pheromones; this very mild musk is the fragrance that defines the collection. In creating Muskara Phero J, Julian selected a unique blend of concentrated fragrance molecules, derived from the synthesis of natural oils and chosen to create an olfactory mask.
The name "Muskara" combines the word "musk" — an ingredient widely used in perfumery to create a sensual effect — and "mascara," which means "mask" in Spanish and describes an artifact used by native South Americans to get in touch with the gods: Muskara is an elixir that connects ancient instincts with contemporary fragrance.
Reflecting this connection, Muskara Phero J was also inspired by the traditional medicine of the Amazon and the Andes, areas where plants carrying an aphrodisiac effect can be found, and the work of three Nobel Prize winners: Leopold Ruzicka, whose work focused on the chemistry of hormones and Richard Axel and Linda Buck, who specialized in the functioning of the olfactory system. Julian then conducted studies in the pharmaceutical field in order to understand exactly how certain molecules can stimulate the nervous system.
The full size (50 ml) is hand-filled in glass in Italy, then packaged by hand in Fueguia's iconic wooden box. Each limited-edition batch of Muskara Phero J is unique, and your bottle — one of only 400 just like it — will be engraved with a specific year and batch number. 
Family: musk
Note 1: Pheromone family
Like all Fueguia 1833 perfumes, Muskara Phero J is made using biodegradable, plant based ingredients whose blends undergo long maceration processes. It is free of polycyclic musk compounds, phthalates, synthetic preservatives, synthetic dyes, and ingredients of animal origin. Like all products we carry, these fragrances have not been tested on animals.
Fueguia's perfumes are concentrated, lasting and evolving in a way that we think is just perfect both on the skin and in the bottle. There's nothing like these beautifully sophisticated fragrances — we've found that they have the ability to transform those who don't typically wear fragrance into devoted fans. Learn more about Fueguia 1833 in our Brand Spotlight.
How to Use
Spritz onto skin, focusing on pulse points.
Ingredients
Main fragrance notes: Pheromone Family
---
All Ingredients