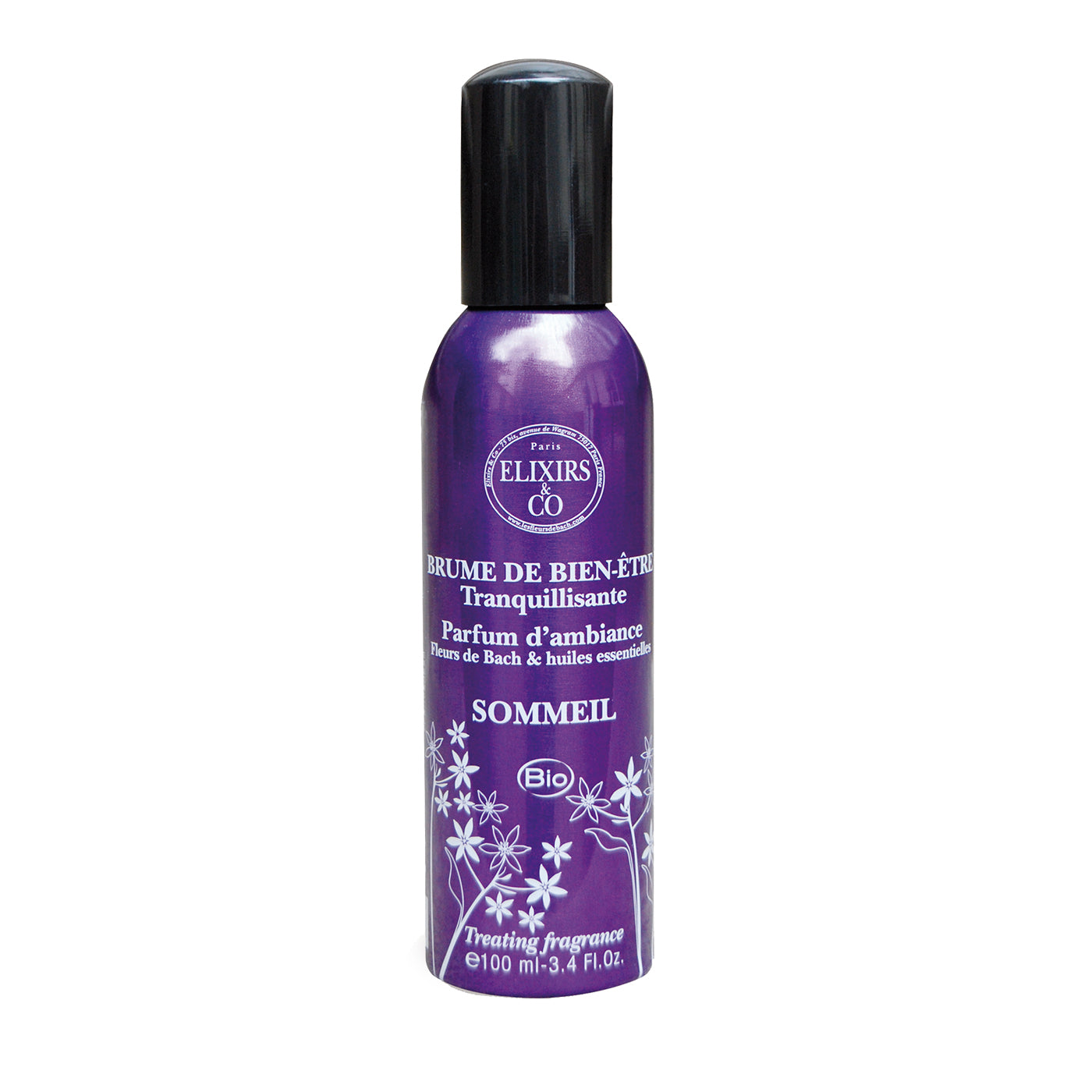 Description
Wellbeing mist to help you get your beauty sleep  / 3.4 oz
Les Fleurs de Bach Sleep Room Treatment Spray is the perfect companion to the Sleep Elixir, one of our favorite and most popular ingestible elixirs (it's even been featured in The New York Times).
Created by Les Fleurs de Bach, a team of Parisians deeply devoted to creating mood-balancing Bach flower remedies with true integrity and efficacy, the Room Treatment Spray's certified organic formula is infused not only with organic Bach flower essences to encourage peaceful slumber, but also a beautiful blend of neroli, amyris and sweet orange essential oils for a wave of aromatherapy that brings a sense of comfort and harmony to the mind and calms frayed nerves.
Bach flower essences in this treatment spray include a mix that help you feel a moral balance, comfort and harmony, a clear mind and a sense of calm.
If your mind tends to be busy at night, here's a wonderful recipe for a good night's sleep from Les Fleurs de Bach: try taking 4 drops of the Sleep Elixir each night for a clearer mind, a sense of calmness, and a more peaceful, deeper sleep. Then, complete the effect of this elixir is by also taking 4 drops of the Stress Elixir each night to reduce the nervous tension of the day. Finally, for a sense of even greater calmness and clarity, spray this Sleep Room Treatment Spray all around your bed before retreating for the night. 
And please read more about the astounding level of devotion behind this brand, and the lengths they go to in order to create their products, on our blog. Theirs is a truly remarkable story.

Available in the US exclusively at Ayla.
How to Use
For general use, spray about 4 sprays around the room when you want to wind down for bed.


Ingredients
- Amyris, Sweet Orange, Petitgrain, Litsea Cubeba, Neroli and Magnolia essential oils
- Bach flower essences of Star of Bethlehem, White Chestnut, Red Chestnut, Vervain and Aspen
---
All Ingredients
ALCOHOL DENAT, WATER (AQUA), FRAGRANCE (PARFUM), ALCOHOL, AESCULUS HIPPOCASTANUM (CHESTNUT BUD) BUD EXTRACT, AESCULUS CARNEA (RED CHESTNUT) FLOWER EXTRACT, ORNITHOGALLUM UMBELLATUM (STAR OF BETHLEHEM) FLOWER EXTRACT, POPULUS TREMULA (ASPEN) FLOWER EXTRACT, VERBENA OFFICINALIS (VERVAIN) FLOWER EXTRACT, LIMONENE, LINALOOL, CITRAL, CITRONELLOL, BENZYL SALICYLATE, FARNESOL, GERANIOL.
ALCOHOL DENAT, WATER (AQUA), FRAGRANCE (PARFUM), ALCOHOL, AESCULUS HIPPOCASTANUM (CHESTNUT BUD) B...
See All