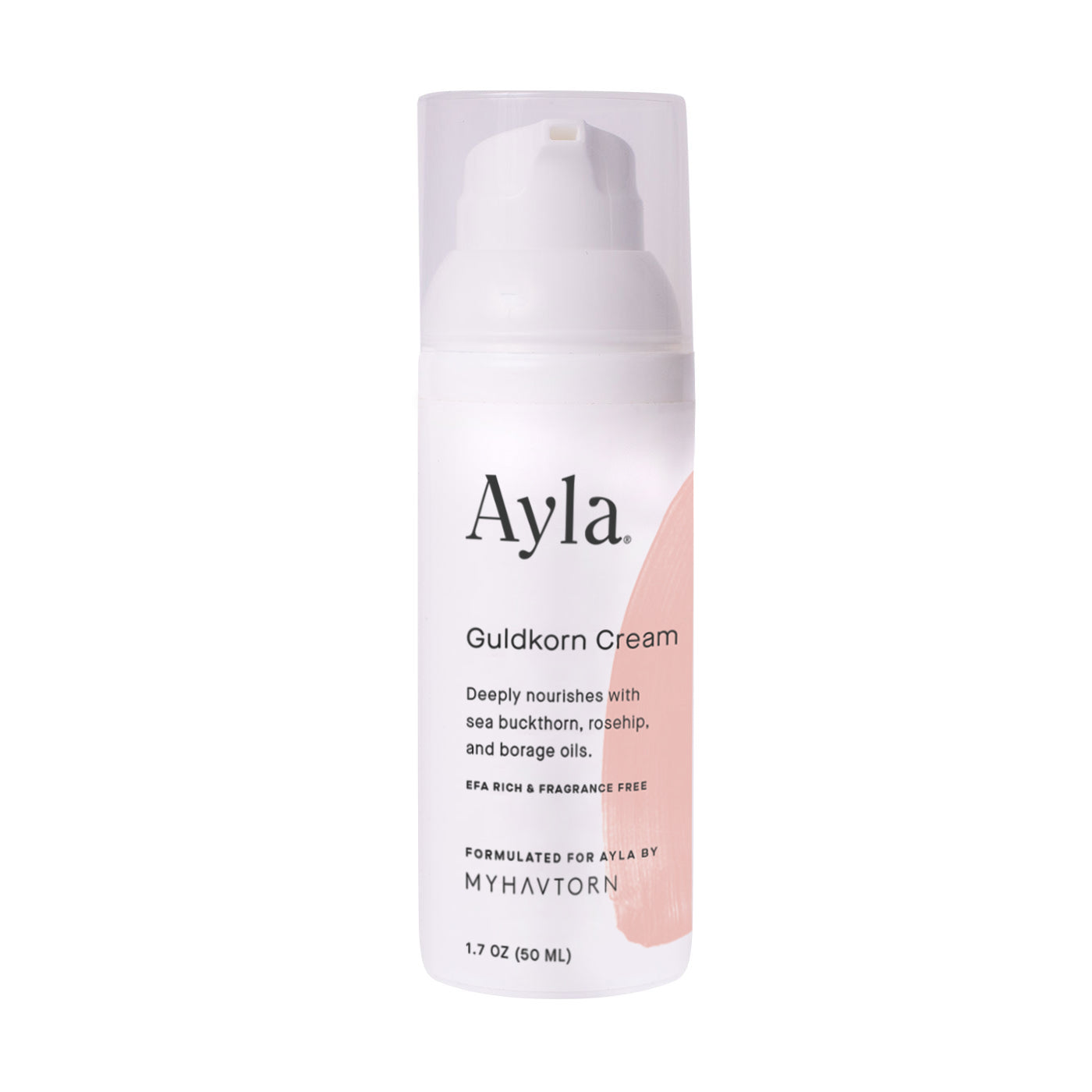 Description
Nourishing face cream with sea buckthorn, borage, & rosehip oils / 1.7 oz 
Guldkorn Cream was created just for us in Sweden by our wonderful friends at MyHavtorn. We adore their original Face Cream for its lightweight but cushy texture and nourishing ingredients, including MyHavtorn's signature sea buckthorn oil; over the years, we found that our clients also craved something just a little richer but still soothing and comforting for a broad range of skin types. Luckily for us, they had one at the ready — a formula they had mixed up for their own family that had become a mainstay during the cooler months in Sweden. As they put it, "it's one of our golden grains."
"Golden grains?" we asked. The Swedish term, guldkorn, is used to describe something very special that's been hidden away — like this formula. MyHavtorn adjusted it for us by removing the essential oils in the formula, letting the subtle scent of its natural plant oils shine through. Like the original Face Cream, it has a yellow-orange color from its high concentration of pure sea buckthorn oil, which has a host of soothing benefits, especially for those with rosacea. But instead of the original formula's safflower and argan oils, this blend features borage and rosehip oils for their ability to nourish and promote skin's elasticity, along with anti-inflammatory shea butter. It's just a touch richer than the original, by the most subtle and absolutely perfect amount.
Thank you, MyHavtorn friends, for sharing this guldkorn with us. (Read more about its creation on our blog!)
Works particularly well on top of 1-2 drops of MyHavtorn Organic Facial Oil for extra nourishment and hydration.
How to Use
- Smooth a pea-sized amount onto damp skin. Can be used morning and night.
Ingredients
- Sea Buckthorn Oil is a vitamin- and essential fatty acid-rich oil pressed from hand-picked Sea Buckthorn plants in Sweden. Used for centuries to treat sunburns and eczema.
- Rosehip seed oil is a powerful and active oil that is excellent for sensitive skin. Naturally rich in retinoic acid, rosehip oil is easily absorbed and works nicely on a wide range of skin types, but it particularly shines on combination-dry and dry complexions.
- Borage oil contains GLA, a type of Omega 6 fatty acid that can help stimulate cell renewal. It is easily absorbed by the skin and promotes elasticity. This oil is very gentle and mild: it can even be used close to the eye area.
- Shea Butter contains vitamins and minerals such as Vitamins A and E, as well as essential fatty acids. Shea Butter has been a skincare fixture for centuries due to its moisturizing, anti-inflammatory and anti-aging properties. It provides richness to the texture of Guldkorn Cream.
---
All Ingredients
Water (aqua purificata), Shea butter (butyrospermum parkii oil), Jojoba (simmondsia chinensis seed) oil, Avocado (persea gratissima) oil, Glycerin, Tapioca starch, Sea buckthorn (Hippophae rhamnoides) oil, Cetaryl alcohol, Glyceryl stearate, Borage (Borago officinalis seed) oil, Sodium levulinate, Sodium anisate, Caprylic / capric triglycerides, Rosehip (rosa canina) fruit oil, Xanthan gum, Cetearyl glucoside, Lactic acid, Rosemary antioxidant (rosmarinus officinalis).
Natural and organic origin.
Water (aqua purificata), Shea butter (butyrospermum parkii oil), Jojoba (simmondsia chinensis see...
See All
"Just what we all wanted!"
Dara