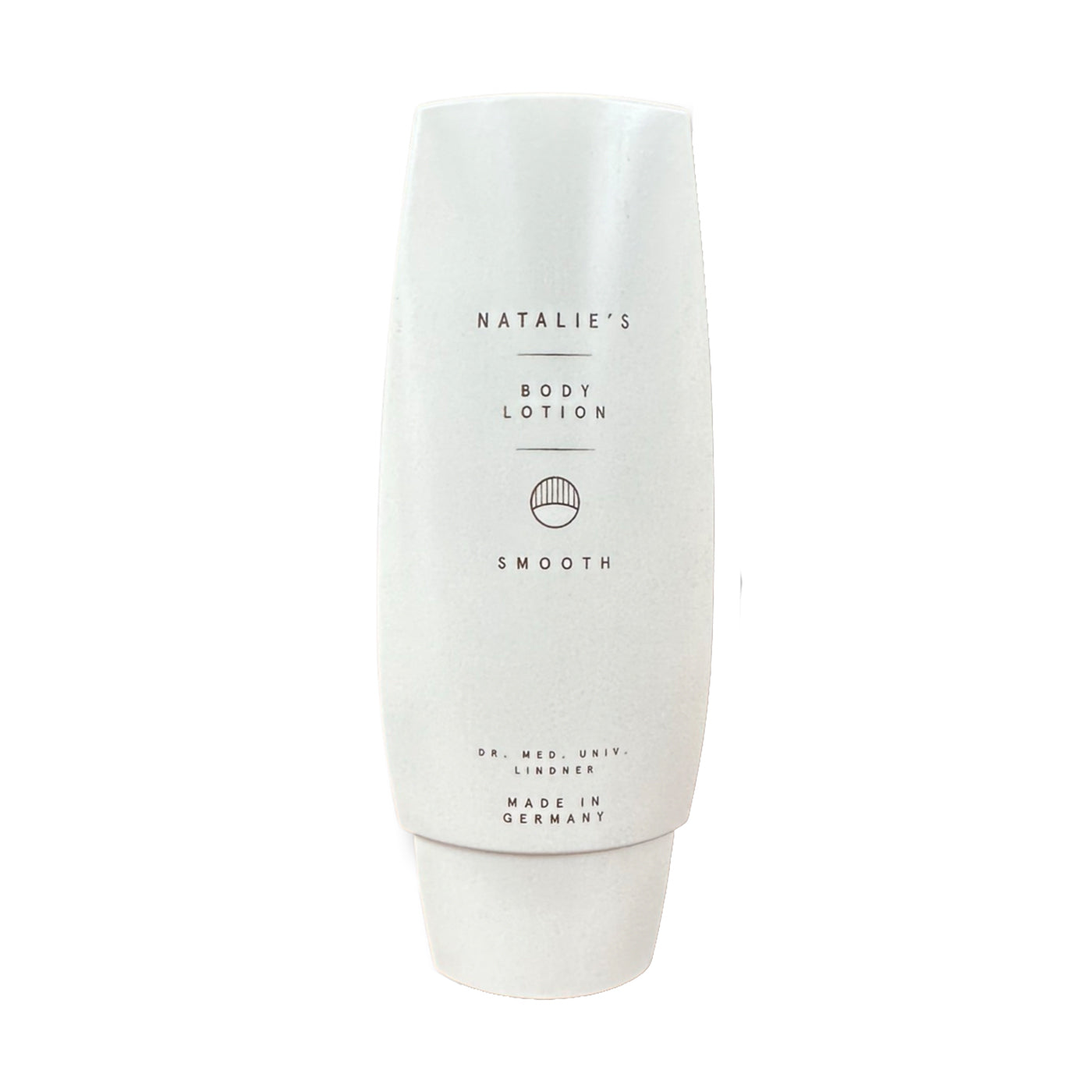 Description
Exfoliating lotion designed for dull, flaky skin; ingrown hairs; and keratosis pilaris / 2.5 fl oz petite size
Natalie's Smooth Body Lotion is the product that started it all: it was the brand's first formula, and it continues to be its number one best seller.
Natalie told us, "Smooth Body Lotion was the very first product I planned to create – I have bad keratosis pilaris, which is also known as KP or 'chicken skin.' I tried everything. Whatever my dermatologist gave me, I tried, but nothing really worked, and it was embarrassing for me…in my second year of medical school, I mixed a few serums together, and those are the same active ingredients we now use in the formula." 
Those actives include lactic acid, a gentle AHA that's vegan and suitable for sensitive skin; it's combined with allantoin to softly dissolve cornifications on the top layer of the skin, reducing keratin build-up. Niacinamide calms and alleviate sensitivity, while a a blend of multi-molecular-weight hyaluronic acid, ceramides, and shea butter hydrates and nourishes skin. As Natalie explained to us, Smooth's hydrating properties are particularly important in the treatment of keratosis pilaris. 
And it's not just for KP: if you tend to use body scrubs frequently but you're kind of over it, this one's for you. It's also for you if you struggle with ingrown hairs or any dry, flaky areas on your body (legs, elbows, feet, cuticles). In our interview with Natalie, where she shares some other great tips, she also mentions that it's fabulous a week before a self-tanning treatment, and it can also be helpful for eczema in conjunction with the Hydration Body Gel. "But especially where keratosis pilaris is concerned," she noted, "Smooth works insanely well."
Like all of her products, Natalie designed Smooth for the body, but it's at a quality level that you'd look for in a facial product; it's also non-comedogenic and hypoallergenic. As she told us, "If someone says you can't use a body care product on your face, it's not good enough, in my opinion!" So you can use Smooth on your face, too — just patch test first to see if it's right for you.
Smooth Body Lotion is gently fragranced with Natalie's hypoallergenic fragrance, which you must read about in our Brand Spotlight. (If you're particular about fragrance, you can always request a sample through our Custom Sample Service.) Top it with Natalie's Calm Body Oil to further soothe and relax the senses.
How to Use
Apply 1-2 times/day, ideally on wet or damp skin. This saves product, as less needs to be applied, and also results in an even faster absorption.
Avoid direct sun exposure on the following day or apply sunscreen, as lactic acid can increase sensitivity to sunlight. Start with a lower concentration and gradually increase as the skin adjusts to the acid.
Body regions with incredible results: entire body, with particular focus on legs, arms, bikini region. If any irritation occurs, discontinue use.
Ingredients
- Lactic acid is a gentle AHA that is suitable for sensitive skin and improves hydration while promoting collagen synthesis. It gently exfoliates the skin, removing dead skin cells and promoting a brighter, smoother complexion.
- Shea butter, multi-molecular hyaluronic acid, and ceramides can help to hydrate and nourish the skin, leaving it soft and supple.
- Allantoin and niacinamide have calming properties that can help to soothe irritated skin, alleviating sensitivity.

---
All Ingredients
Aqua (Water), Sodium Lactate, Cetearyl Isononanoate, Pentylene Glycol, Cocos Nucifera Oil*, C12-15 Alkyl Benzoate, Glycerin, Niacinamide, Methyl Glucose Sesquistearate, Magnesium Aluminum Silicate, Polyglyceryl-3 Stearate, Ceramide NP, Sodium Hyaluronate, Hydrolyzed Sodium Hyaluronate, Allantoin, Butyrospermum Parkii (Shea) Butter* , Cetearyl Alcohol, Benzyl Alcohol, Sodium Stearoyl Lactylate, Glyceryl Caprylate, Xanthan Gum, Glyceryl Undecylenate, Lactic Acid, Sodium Phytate, Alcohol, Methyl Benzoate, Ethyl Benzoate, Parfum (Fragrance)**

*ingredients from certified organic agriculture
**tested non-allergenic parfum
Non-comedogenic & hypoallergenic formula
Aqua (Water), Sodium Lactate, Cetearyl Isononanoate, Pentylene Glycol, Cocos Nucifera Oil*, C12-1...
See All