A look behind Natalie's best-selling body lotions
Dr. Natalie Lindner saw a need for high-quality, science-focused body care products that are as rich in active ingredients as high end facial serums. We're proud to have been Natalie's first retail partner in the US, and now we're the first to carry her newly-reformulated Smooth and Better Aging Body Lotions, two of her worldwide best sellers, in travel-friendly sizes.
In Natalie's interview with Dara, you'll learn about their reformulation, their thoughtful travel-friendly packaging (which is also newly available for Natalie's Hydration Body Gel, an Ayla favorite), and — most importantly — why these two products are such huge hits.
**
Dara: We are so excited to have these body lotions available at Ayla! They're slightly different from your full size body lotions; what prompted you to make these new formulas in a petite size?
NATALIE: We're a new brand, so we always try to listen to feedback and adapt. For example, the full size Smooth and Better Aging original lotions contain BHT. Opinions about this ingredient always vary, and everyone has a right to theirs; what we learned is that removing it from the formula was a fairly small thing, and it worked out really quickly. We will eventually change the full sizes over to the new formula, but we don't want to waste the stock we have, so those are still available for the time being.
The petite sizes are really cool, especially if you're only using the product in certain areas, which loads of people do with Smooth Body Lotion in particular: 300 ml of a lotion can be a lot to have sitting in your bathroom for over a year, especially if you're in a warm country.
The petite sizes are also helpful if you want to try a new product before committing to a larger size. And they make a nice gift: if your friend likes it, they can get the full size version. (That said, a lot of my friends use these products for their face, so they like the petite versions better than the full sizes. The big bottles can be too much to carry around!)
Dara: The petite sizes are so handy for travel, too.
NATALIE: They are – I tried to make the tubes super flat so that they're very easy to pack and can even fit into a handbag, which is especially helpful for the hand creams that are in the same tubes. I also think it's important that you can empty the tube completely, so there's no waste; a lot of tube packaging has product waste, and aluminum tubes tend to split. These are made of 100% recycled plastic.
Dara: Smooth Body Lotion is one of your best sellers. What prompted you to make it?
NATALIE: Smooth Body Lotion was the very first product I planned to create – I have bad keratosis pilaris, which is also known as "chicken skin." I tried everything. Whatever my dermatologist gave me, I tried, but nothing really worked, and it was embarrassing for me.
For example, in Germany, we have Oktoberfest, and it's a tradition to wear a costume with no sleeves. You really show off your arms during Oktoberfest! I was always embarrassed to wear the costume until I was in my second year of med school, and one of my friends asked what I'd done with my skin: it was one of my first trials with Smooth. I mixed a couple of serums together, and those are the same active ingredients we now use in the formula.
Dara: What are the major actives you use?
NATALIE: I think the key to our formula is 10% lactic acid (we use a vegan kind) — it works the best at an optimal pH.  
Lactic acid is one of the only AHAs that exfoliates without drying out the skin, so I find it superior to glycolic acid, which can be drying. This is very important where keratosis pilaris is concerned: you want the skin to be moisturized, because you're dealing with a buildup of keratin. So we've also included soothing niacinamide and allantoin as well as ceramides, hyaluronic acid, and shea butter to give you the perfect balance between exfoliation, hydration, and maintaining a healthy skin barrier.
Dara: You've mentioned that your customers in Germany don't only use Smooth for that one skin condition.
NATALIE: Yes, Smooth is not just for keratosis pilaris; it's so versatile. It's also excellent for those who are scrubbing their bodies all the time, since you get an exfoliant and a lotion in one go. It's helpful for ingrown hairs that can occur after waxing (you can even use Smooth on the bikini area since it's not as sensitizing as other products can be), and it's great on dry, flaky areas — legs, elbows, feet, cuticles. It's perfect to use a week before a self-tan, too.
But especially where keratosis pilaris is concerned, it works insanely well.
Dara: Can Smooth Body Lotion be used every day? What if your skin tends to be sensitive?
NATALIE: I use it every day, and many people do…but if you notice that it's a little too much for you, you can do it every second or third day. It depends so much on your skin type and whether you go out in the sun. If you have keratosis pilaris, though, you need to be consistent.
Smooth can sometimes be really good for eczema prone skin, too, because that skin type tends to be dry and flaky, but also super sensitive. The products I usually recommend for eczema are the Hydration Body Gel and, occasionally, the Smooth Lotion — it's not for everyone with eczema, so try it first and don't use it on open wounds, but it may really help if you use it two to three times per week. It's very hydrating and can be very helpful for the skin's lipid barrier.
Dara: I know that Smooth is your star, but Better Aging Body Lotion is another one that we're really excited about! It's so packed with goodies that it sounds like something that we'd typically use on our faces. Tell us what you love about this one.
NATALIE: This is a proper, strong, powerhouse kind of product. It has everything — retinol, bakuchiol, vitamin C, glycolic acid — because the body can tolerate more than the face. I've seen amazing results with it. The combination of vitamin A, which works on the lower levels of the skin, and glycolic acid, which works on the top layers, really helps with boosting collagen production and fighting hyperpigmentation. It also contains nourishing ingredients like squalane, shea butter, and ceramides to support the skin barrier. Everyone loves this one.
This formula is great wherever you see signs of aging, especially the chest and the arms. I call it "Better Aging" because I think we should all be honest — it won't make you look twenty years younger; no product can do that — but you'll see that your skin's texture is smoother and pores look smaller.
It's also really good for scars and stretch marks: you'll never be able to fully remove them, but you can really improve them. If you think about how expensive lasers and other cosmetic treatments are, it is such a good alternative. It will take 2-3 months to see a major improvement, and you'll want to avoid sun exposure during that time, but we've seen really great results especially with post-inflammatory hyperpigmentation.
This formula does contain retinol, so if you're pregnant or nursing, I suggest using Better Aging Body Oil instead: it contains bakuchiol only, not retinol.
Dara: Do you have any usage tips for the Better Aging and Smooth body Lotions?
NATALIE: You can mix and match them with our other products as you wish. For example, you can use the Smooth Body Lotion followed by the Calm Body Oil; consider Smooth to be your exfoliator.
With Better Aging, you can make it lighter by mixing it with Hydration Body Gel or make it richer by mixing it with the Better Aging Body Oil, which is a combination that works really well. You could also apply the oil on top — that will give you an extra glow.
I also like to use Smooth on my hands at night. We don't include AHAs in our Hand Creams, so I use those during the day (with sunscreen on top) and Smooth at night. If you do that, you'll find that your hands are a lot softer and smoother: the skin's texture will be a lot better.
With all of our products, especially Smooth, I suggest applying them to slightly damp skin after showering. You'll find that the products spread more easily and you need less product. (I'm not in the business of ripping off my customers — I want them not to have to use too much!) Damp skin absorbs products much more efficiently; this is true of serums, lotions, oils, anything you're applying to the skin.
Dara: Anything else you'd like us to know about these two products?
NATALIE: As with all of our products, you can use them on your face, too. Everyone is different, so patch test to see if it's right for you first, but it is possible and a lot of people love them on the face. They all contain the same very mild fragrance.
And if you're trying to decide between the two products, here are some tips:
- If your primary target is a loss of elasticity and fine lines, choose Better Aging.
- If your skin is more on dry side, or you have KP (keratosis pilaris) or ingrown hairs, and you're less concerned about aging, choose Smooth.
**
Learn more about Natalie's Cosmetics in our Brand Spotlight, and shop the collection at Ayla here.
You May Also like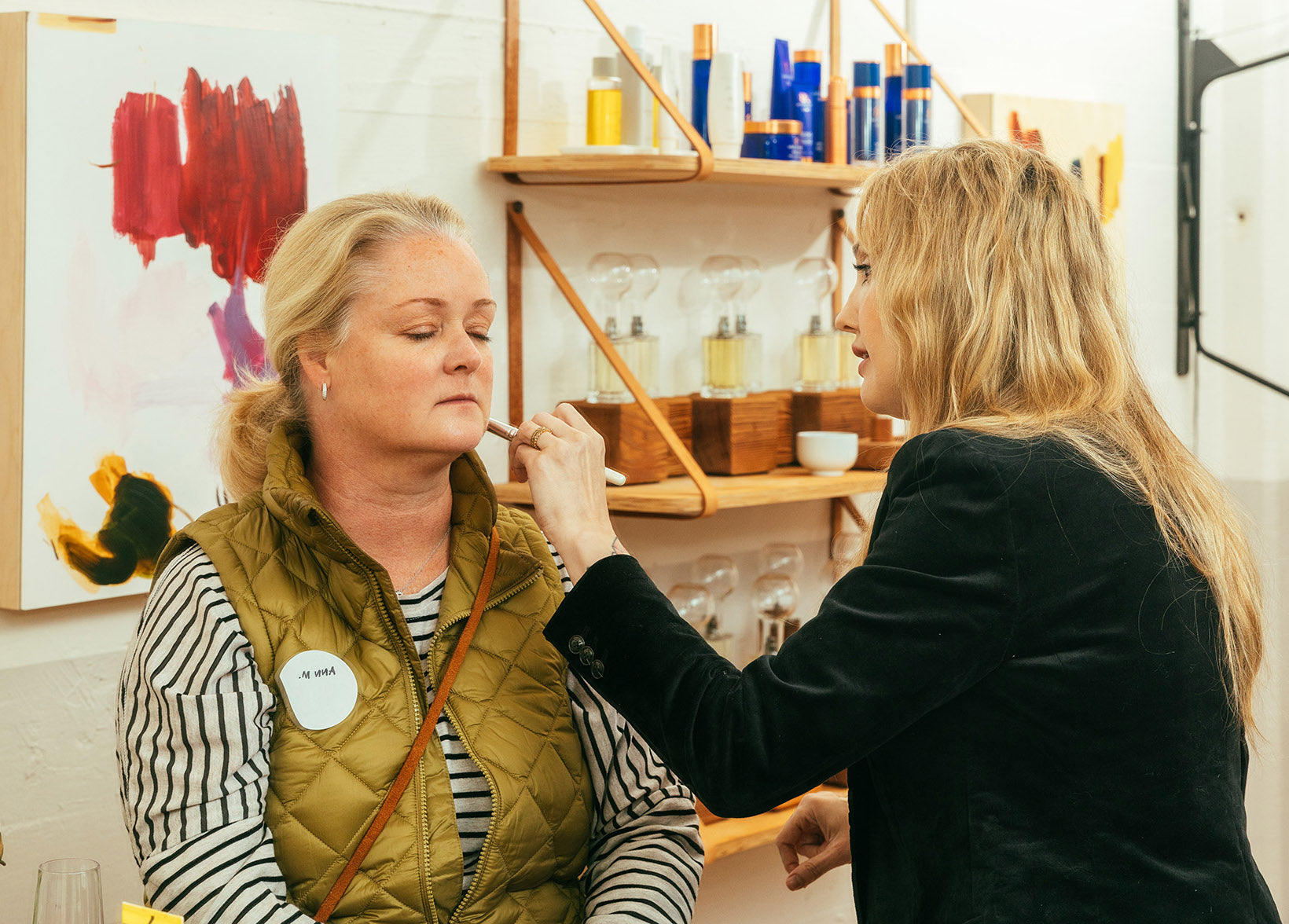 We admire makeup pro Melissa McMillan's brilliance with all things color-related, and she has a particular gift with brows. We asked her to share some of her top tips for filling them in.