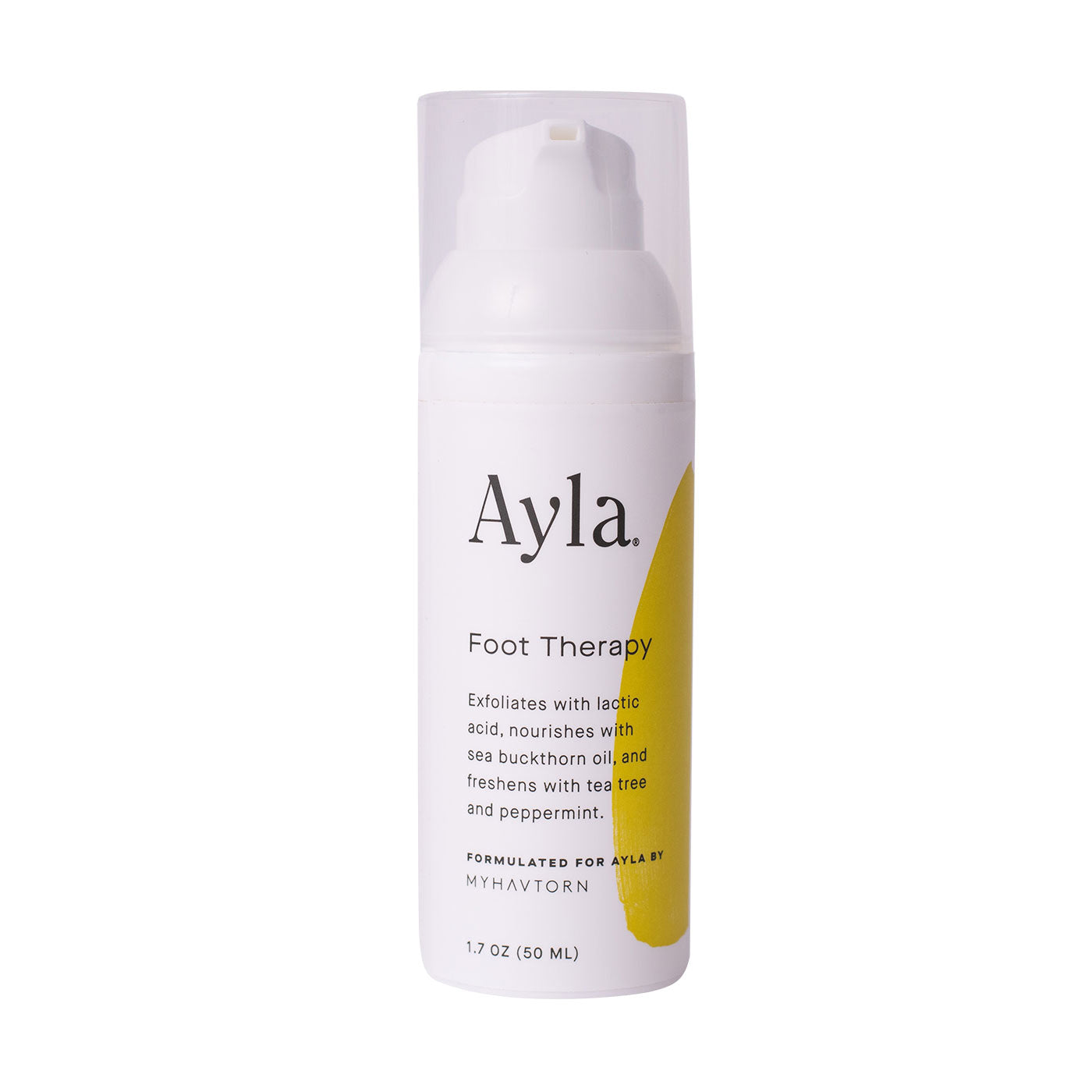 Description
Exfoliating foot cream with sea buckthorn and lactic acid / 1.7 oz full size or 3.4 oz deluxe size
Foot Therapy was made just for us by MyHavtorn of Sweden, and we couldn't be more excited about it. Because, if you use your feet a lot (who doesn't?) and don't have time for pedicures as often as you'd like (who does?), you may find that they get a little, well, not-so-baby-soft. But most foot creams out there either don't exfoliate those rough spots away or they exfoliate them a little too much.
We wanted one that was just right — so we called our friends at MyHavtorn and asked if they'd be up for making one. Thankfully, they weren't just up for it; they knocked it out of the park. This exfoliating cream, made exclusively for us by MyHavtorn, is everything we'd hoped for. It gently buffs rough spots with lactic acid, nourishes with EFA-rich sea buckthorn oil from the MyHavtorn farm, and freshens with antibacterial tea tree and rejuvenating peppermint. Over the course of a few nights, it will bring feet back into post-pedicure shape; maintenance applications can be made every other night (or whenever one remembers). Or you could just apply it every night because it makes you happy, which is fine, too.
Another thing we love? Although it's very nourishing, it melts into skin without the typical greasiness of most foot creams — so you won't slip around in your shower the morning after you apply it. Because we want to help preserve not only your baby-soft feet, but also your dignity.
Visit our blog to learn more about the story behind this special product.
How to Use
Massage a generous amount onto clean feet every night, using an extra dab on rough spots. Once you feel that your feet are sufficiently soft, you can apply it every other night...or you can keep using it every night. It's up to you!
Ingredients
- Gently buffs rough spots with 5% lactic acid
- Nourishes with EFA-rich sea buckthorn oil
- Freshens with antibacterial tea tree + rejuvenating peppermint
---
All Ingredients
Water (Aqua purificata), Rapeseed oil (Brassica Napus seed), Sunflower oil (Helianthus Annuus seed), Lactic acid, Shea butter (Butyrospermum Parkii), Glycerin, Tapioca starch, Cetearyl alcohol, Caprylic/Capric triglycerides, Glyceryl stearate, Sea Buckthorn oil (Hippophae Rhamnoides), Safflower oil (Carthamus Tinctorius seed), Beeswax (Cera alba), Xanthan gum, Sodium stearoyl glutamate, Sodium levulinate, Sodium anisate, Tea Tree oil (Melaneuca Alternifolia), Peppermint oil (Mentha piperita), Rosemary antioxidant (Rosmarinus officinalis), Limonene.*Natural and organic origin.*Found naturally in the essential oils.
Water (Aqua purificata), Rapeseed oil (Brassica Napus seed), Sunflower oil (Helianthus Annuus see...
See All
"This has seriously transformed my feet. I used to try those callus treatments at spas and hope that one might actually work and they never did. I thought I just had untreatable calluses. The combination of the cream and a weekly round with my diamond callus remover has made my feet better than I think they've been since high school."
Kristin