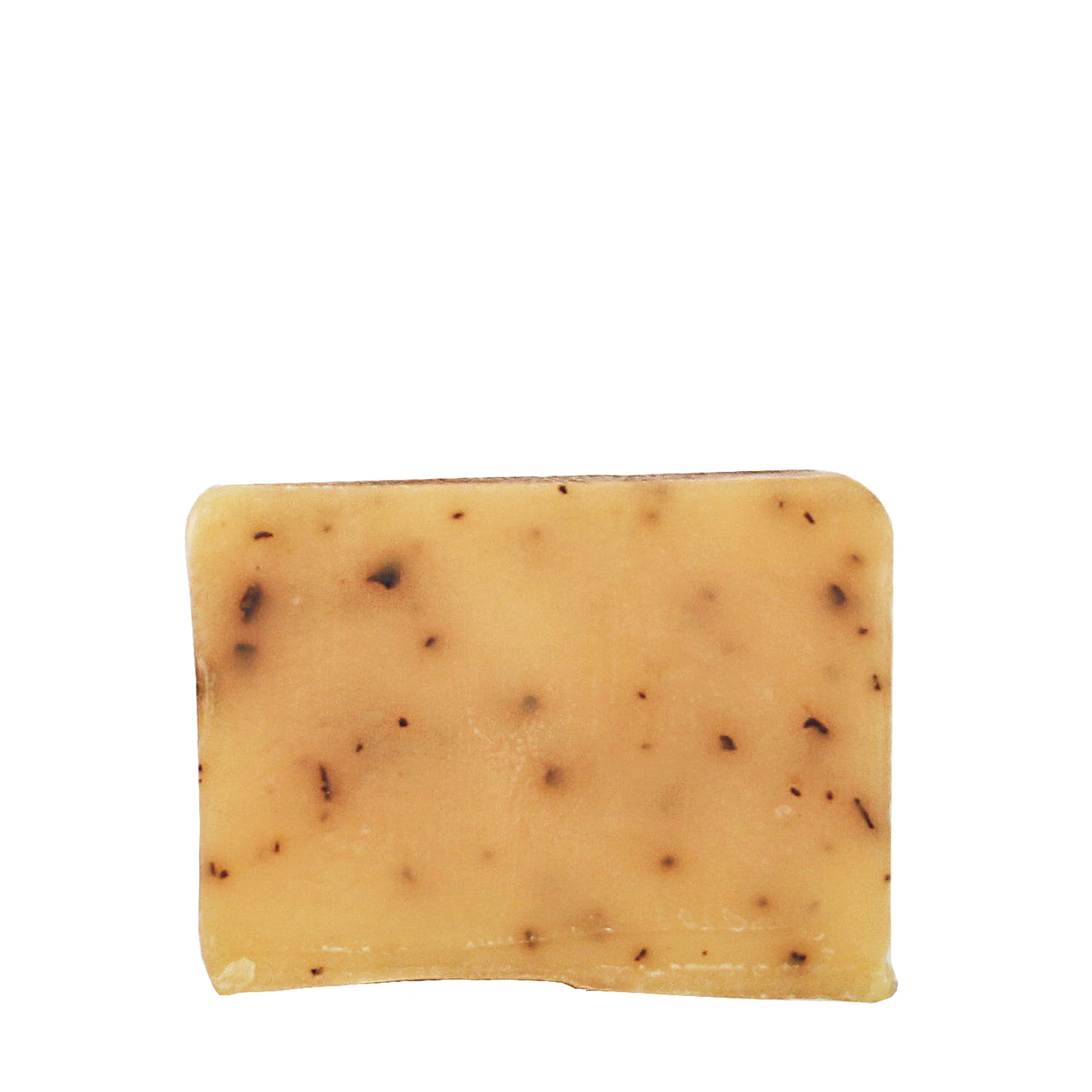 Description
Soothing, ultra-nourishing handmade soap / 3.5 oz

MyHavtorn's Sea Buckthorn Soap is one of its founders' favorite formulas, but until late 2020, they hadn't made it since 2013: its production is a time-consuming process that involves 3-6 months of curing (and that's after hand-picking and drying each leaf of Happy Tea that goes into it).
When Robin and Ingrid told us that they were making their special soap again, we were beside ourselves with excitement — and not just because we love things that are hard to get. After seven years, we still remembered using the Sea Buckthorn Soap like it was yesterday: this is the most nourishing soap bar we've ever laid our hands on, a true savior for those with dry and sensitive skin.
The secret of this soap, as with all things MyHavtorn, lies in the sea buckthorn: in its production, Robin (who does the whole process, from start to finish, himself) adds the sea buckthorn oil later so that it isn't entirely saponified. This means that more of it is available to soothe and moisturize your skin, which makes it our favorite soap for dry hands and itchy, winter-dry legs.
The icing on the top is the fact that it includes a generous sprinkling of individual leaves of Happy Tea to give it a scrubby feel that matches what Robin refers to as its "wild soul," along with a light scent of Juniper and Lemongrass to match the fragrance of their heavenly Body Oil.  
How to Use
In the bath, shower, or sink, use water to work the soap into a gentle lather. (Avoid the eyes, please.) Rinse. Breathe. Hot tip: Store this oil-rich soap on a dish that allows it to drain. You'll want to get every last use out of it.
Ingredients
- Moisturizing rapeseed oil, rich in omega-3 fatty acids, lends the soap a creamy lather
- Sea Buckthorn oil, freshly pressed from berries on the MyHavtorn farm, contains a full suite of essential fatty acids (omega 3, 6, 7, and 9), making it an excellent skin soother
- Sea Buckthorn leaf tea, made from the leaves of the Sea Buckthorn trees on the MyHavtorn farm, add a gentle, mineral-rich scrub to the cleansing experience
- Juniper and Lemongrass essential oils are included for their cleansing, uplifting, and energizing properties
---
All Ingredients
Sodium rapeseedate (Rapeseed oil), Sodium Cocoate (Coconut oil), Sodium Shea Butterate (Shea Butter), Aqua (Water), Sodium Ricinoleate (Castor Oil), Glycerin, Hippophae Rhamnoides Oil (Sea Buckthorn Oil), Cymbopogons choenanthus oil (Lemongrass oil), Juniperus Communis Fruit Oil (Juniper Oil), Rosmariums Officinalis Oil (Rosemary antioxidant), Limonene*, Linalool*. *From essential oils
Sodium rapeseedate (Rapeseed oil), Sodium Cocoate (Coconut oil), Sodium Shea Butterate (Shea Butt...
See All