For many, spring 2020 heralded a time of slowing down. For Robin Johansson, co-founder of MyHavtorn, it was time to make soap — which we couldn't have been happier about. MyHavtorn last made soap in 2013, and we still hadn't forgotten it: it was the most nourishing soap bar we'd ever tried. 
Read on for our interview with Robin, who made the entire 2020 batch himself, from mixing to curing to hand-cutting and wrapping each bar. As he describes the MyHavtorn Sea Buckthorn Soap production process, he reveals why it's so remarkably moisturizing (and why it takes so long to make!).
Ayla: We are so excited to have your Sea Buckthorn Soap back at Ayla! It's been a long time since you've made it. What prompted you to make soap again?
ROBIN: Yes, it's been a long time! This is one of our family's favorite formulas. Our Face Oil was the first product we ever made, but the soap was a very early one, too. We first developed this soap in 2010, and the last batch was made in 2013 — so it's been almost 7 years. We actually saved some soaps from that last batch for our own family to use, and they still work very well! Their scent has faded, but they've retained their great cleansing properties. These soaps last for a very long time.
We'd been thinking of making the soap again for the past several years, but it takes a very long time to make each batch and the recent years have been so busy. This spring, though, I just got a strong feeling that now is the time to make it again, so I pulled out our recipe books and looked for this much-loved formula.
Ayla: Tell us about the production process — we know a lot of work goes into the soap, and you made this entire batch yourself. 
ROBIN: Well, before production even starts, the most time-consuming part of the process is probably the development of the formula itself: finding the right ingredients and putting them together in the right way, knowing how hard or soft you would like the soap, how much lather you would like, what type of cleansing properties, and so on. There's a lot of trial and error with soap: you don't want it too hard or too soft, and you want the right pH level.
When you have all that figured out, after months or years of work, the final process of making the soap is relatively simple, once you've been trained to make it; it just takes a lot of time.
First, you need to find the right balance of oils and lye, mix them, and put them into your mold. We have a specially made soap mold made from our Swedish pine trees that suits this soap recipe very well. You let it settle in the mold for a day or two, slice it into soap bars, and then let it settle/mature for another 3-6 months.
I often forget this part in describing the production process, but what takes the most time in making the soap, I think, is harvesting the Sea Buckthorn Leaf Tea. This gives the soap some extra Sea Buckthorn qualities and a nice, "scrubby" feeling.
With this particular batch, we didn't have the jig that we'd normally use to cut our soap — maybe since it's been so long since we've made it. So I've cut all of these soaps freehand, with a knife: that's why it's not "perfectly" sliced. That is one of the signatures of this 2020 soap. This particular one is a wild soap with a lot of soul. 
So yes, if you're counting all of the moments in making the Sea Buckthorn Soap — from harvesting the tea and berries, to mixing the soap, to slicing it, to wrapping it — it takes time. But it's fun to make, and at the end, you have a soap that lasts for a pretty long time and feels really nice!
Ayla: It does indeed feel beautiful. And we're amazed that these soaps last for so long!
ROBIN: Many soaps made this way get a little harder each year; as time goes on, they resist water more effectively. While we put an expiry date sticker on each bar, that's mainly for the scent. But you can leave the soap in a dry cabinet for years before using it, and it will still work well.
And this is actually an important thing to remember once you start to use it. If you have this soap in the shower or the side of your sink, it gets exposed to a lot of moisture, which makes it become softer. It's good to keep this soap as dry as possible.
Ayla: How did you choose the ingredients for your soap?
ROBIN: This is both the hardest and most exciting moment in all of the product development that we do. To find awesome ingredients is easy — nature is full of wonderful things — but to balance them so that they work together and achieve the purpose of the product is harder.
For a soap, you obviously want great cleansing properties; you also want it to be gentle to your body, and you want it to lift your mind. For cleansing properties, we know how well castor and coconut oils work from our Facial Cleanser. We also use rapeseed oil, which we get directly from the producer in the south of Sweden. And Sea Buckthorn Oil, with all its EFAs and antioxidants, provides all the nourishment you need. For extra cleansing power, we added our Sea Buckthorn Leaf Tea: it gives the soap a nice scrub. 
What makes our soap especially moisturizing is that not all of its oils have been saponified (turned into soap). We add the Sea Buckthorn Oil later in the production process to ensure that it is not entirely saponified and you have some remaining in the formula to moisturize the skin.
Ayla: The scent of the soap is just perfect. Tell us how you chose that. 
ROBIN: Adding scent to a product is always tricky. The smell of a product is the first impression you get, and scents can speak so differently from one another.
A guideline in all of our work is that we must love it ourselves! We wanted the Sea Buckthorn Soap to work nicely with our Facial Cleanser and Body Oil, which have a similar scent base. So we used Juniper Oil, which is known for its cleansing properties, and Lemongrass Oil, which has a lovely, fresh fragrance that inspires energy and positivity.
Ayla: How do you and your family like to use this soap?
ROBIN: We use it both in the shower, as a body scrub (just be careful to not get soap in your eyes!), and by the sink, as a hand soap. We also like to bring this soap with us when we are out camping; it's very convenient to pack, and it's a reliable item to have in the wild while also making you feel a little bit luxurious. This batch, in particular, has some wildness to it as well as some luxury. It has a lot of character and soul. I really enjoyed making this batch.
And we have another tip for this soap: due to the oil-rich formula, we are always careful to put it someplace where it can dry after we use it. If you have it by the sink, try to put in onto a soap dish that allows it to dry completely when you're not using it. Then you can enjoy the full benefit of its natural oils.
**
It's no secret that we love this brand to bits and pieces. Check out their full lineup here, and learn more about their Happy Tea and Foot Therapy on our blog.
You May Also like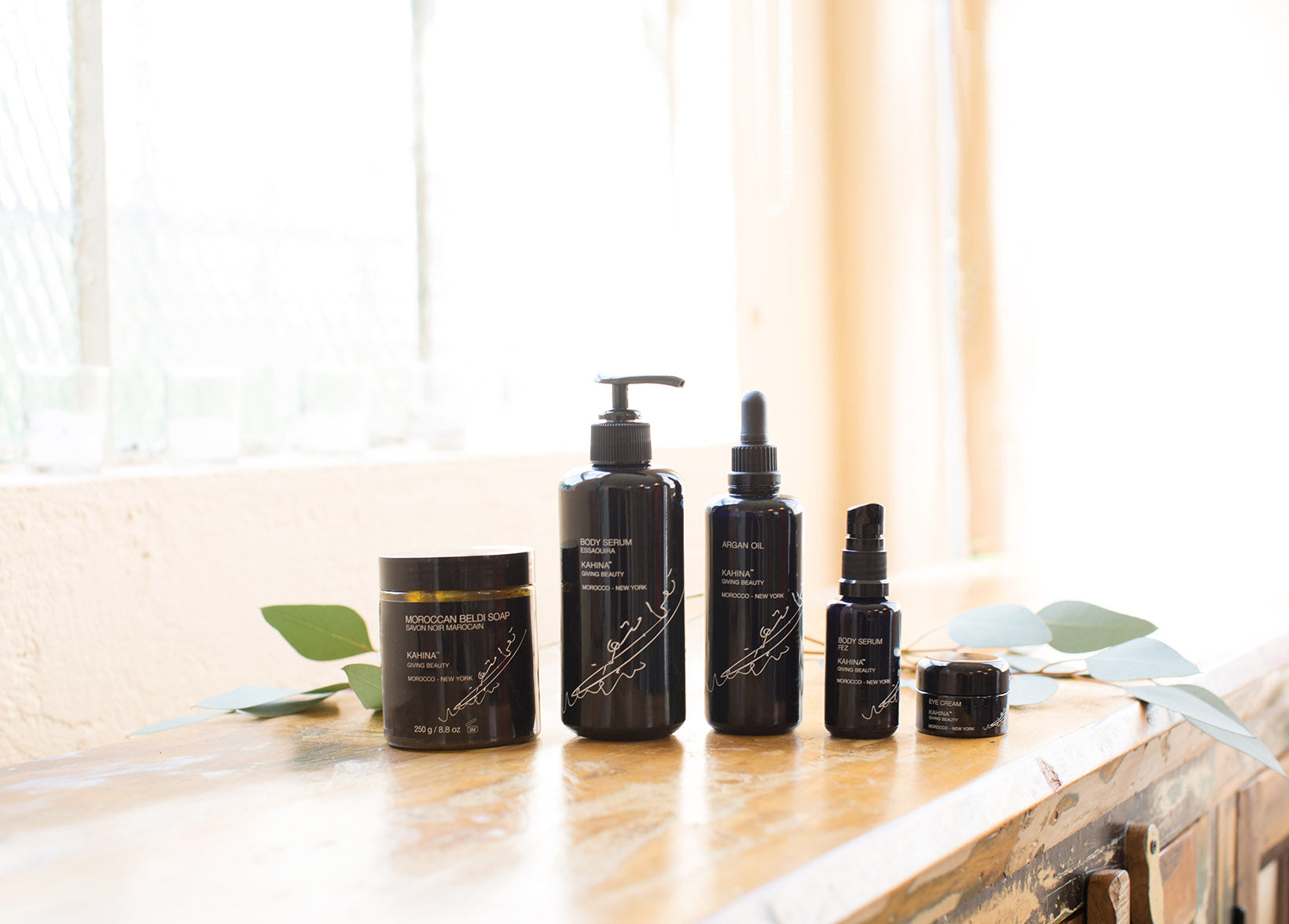 Kahina's founder, Katharine L'Heureux, tells us about her journey as a pioneer in organic skincare — and what inspires her ever-forward-thinking mind these days.