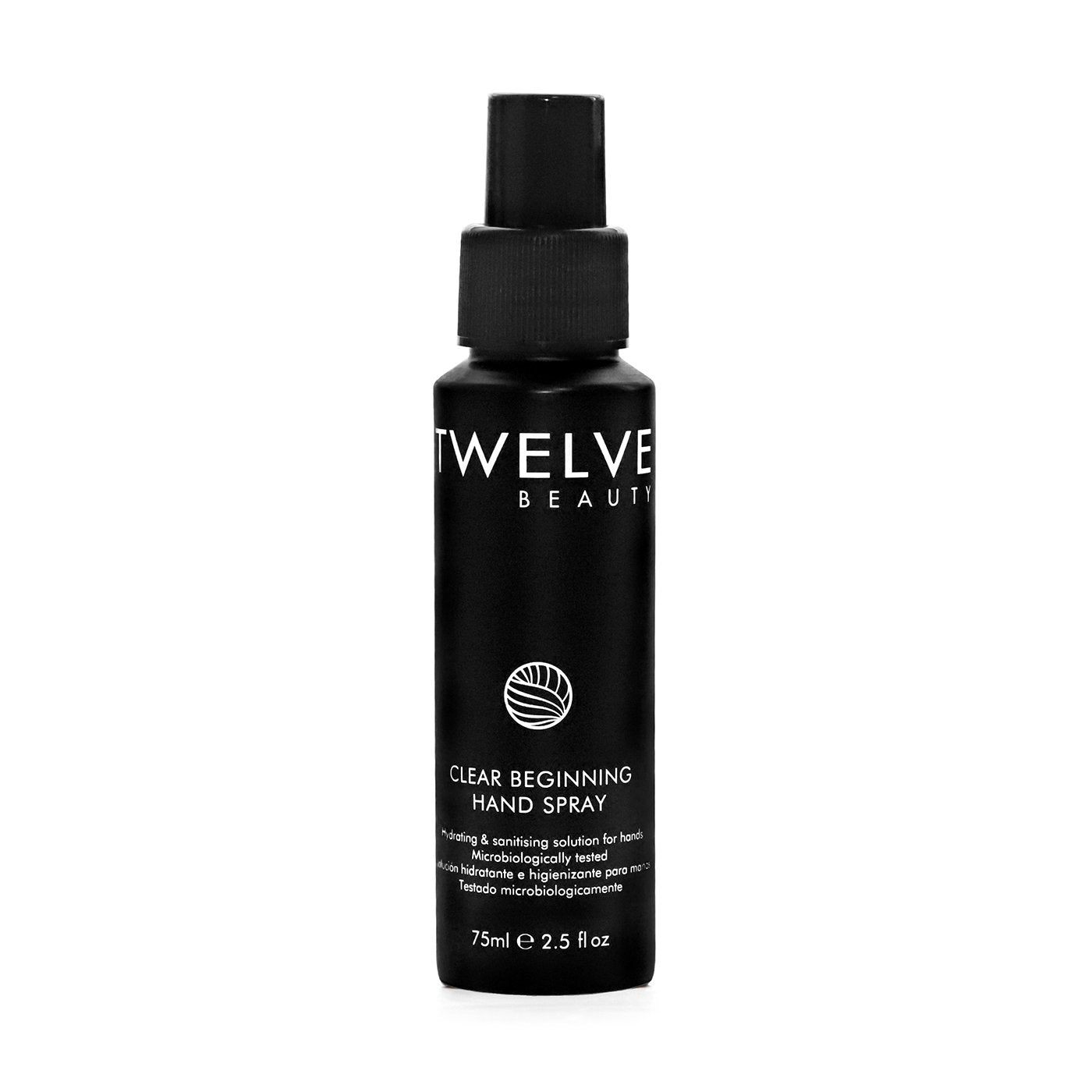 Description
Alcohol-free, super-hydrating, skin-safe hand sanitizing spray / 2.5 fl oz
TWELVE Beauty Clear Beginning Hand Spray is a thoughtfully-formulated, alcohol-free spray that efficiently kills a litany of pathogenic microorganisms while gently treating your hands with proven hydrators. And, as with all great products, there's a great story behind it, too.
When the global pandemic first swept through our lives in early 2020, many cosmetics manufacturers generously pitched in by making hand sanitizers to alleviate shortages. TWELVE Beauty's founder, Dr. Pedro Catalá, wanted to help as well — but, Pedro being Pedro, he couldn't just churn out a hand sanitizer like all the others.
Instead, the pharmacist-botanist-formulator hunkered down (after all, Spain was on a serious lockdown for months) to think about how he could create a protective product that actually improved the condition of your hands instead of ravaging them, as many alcohol-based hand sanitizers can. As Pedro puts it, "Not only is alcohol known to cause skin dehydration, but there are many studies that show it also prohibits the biosynthesis of collagen in fibroblasts — which means, in plain English, that it accelerates skin aging. For someone like me, whose ethos has always been to prioritize skin health, I felt compelled to find a powerful yet clean, skin-safe alternative."
The result, Clear Beginning, has already been lauded in Spanish Elle and Cosmopolitan for its ability to effectively protect without harming the skin, making it a great choice for those of us who are coming to the realization that this life-with-global-pandemic is here to stay for a lot longer than expected — and that our hands will be around even longer, so they deserve some consideration, too.
Hypoallergenic, quick-drying, and extensively lab-tested, Clear Beginning is antibacterial, anti-fungal, and anti-microbial: it's one of the few clean beauty hand sanitizer alternatives on the market that have gone through such rigorous testing. Among alcohol free solutions, this one is a beast of efficacy.
But it's a gentle beast: the vegan formula is packed with skin-friendly, plant-based extracts to leave hands feeling soft and moisturized, not sticky or dried-out. The cherry on top is that its lightweight aluminum packaging is very simple to recycle. Gentle on hands, gentle on the environment, and keeps us all a little healthier: in our view, it doesn't get much better than that.
Read all about Clear Beginning in this enlightening interview with Pedro: he explains exactly what's in it, what it does, and why we should all still be washing our hands, too.
How to Use
Mist your hands with this lightweight formula and rub in until fully absorbed. (We also love it as a yoga mat spray!)
Ingredients
- Propanediol, a natural & sustainable alternative to glycols, increases the antibacterial capacity of the formula
- Lactobacillus Ferment has powerful moisturizing and antibacterial properties
- Saccharide Isomerate is a plant-based carbohydrate identical to those found in human skin, with the ability to retain moisture
- Sodium PCA is a naturally occurring component of human skin and a part of the "natural moisturizing factors" (NMF) that maintain a healthy epidermis
---
All Ingredients
Aqua, Propanediol, Lactobacillus Ferment, Saccharide Isomerate, Sodium PCA, Squalane, Panthenol, Oryza Sativa (Rice) Starch, Citric Acid, Cetrimonium Chloride, Benzalkonium Chloride, Citrus Aurantium Dulcis Peel Oil
Aqua, Propanediol, Lactobacillus Ferment, Saccharide Isomerate, Sodium PCA, Squalane, Panthenol, ...
See All