When COVID-19 swept the world, many cosmetics manufacturers pitched in by making hand sanitizers to alleviate shortages. TWELVE's founder, Dr. Pedro Catalá, wanted to help, too — but in typical Pedro style, he wanted to make the best hand solution possible and do things a little differently. Read on to learn more about TWELVE Clear Beginning Hand Spray.
***
Ayla: Tell us what prompted you to create Clear Beginning.
PEDRO: Clear Beginning Hand Spray was my answer to a simple question that many of us have asked ourselves in front of this global pandemic: how can I be useful, and what can I do to help apart from donating some extra protective stock such as gloves, face masks, etc. to the community?
Ayla: How did you think about this particular formula?
PEDRO: From the very first moment, I knew I wanted to avoid alcohol at all costs. Alcohol is an effective biocide, for sure, but it dehydrates human tissue such as skin, and it blocks the production of collagen by inhibiting the fibroblasts. In other words, it can significantly accelerate the skin aging process at high concentrations.
I do not want to demonize other products; I just wanted to offer a safe alternative to alcohol based products, as my customers keep mentioning the negative impact they notice on their hands after using alcohol based sanitizers.
I also wanted to remind people of the ideal function of a hand sanitizer. The utmost recommendation is that hand washing with water and soap is the most efficacious way to get rid of any germs, including COVID-19. Then, for extra protection, it is recommended to use some sort of hand sanitizer. But we must bear in mind that even alcohol based products take time to work, and you need to be sure to apply them to every corner of your hands in order for them to be effective; if your hands are dirty, they are even less so. Hand sanitizers should never act as a substitute for traditional hand washing: this is important to remember.
Ayla: That is an excellent reminder. What did you replace the alcohol with in your formula? 
PEDRO: By avoiding alcohol — but still aiming for great efficacy and a fast acting product — I knew I had to study and identify which ingredients are capable of eliminating microorganisms in the greatest quantities and shortest amount of time. I also knew that the efficacy test for these types of treatments would be complex and costly, so I needed to perfectly understand every single ingredient. As a small brand, this was a huge investment, so I knew I only had one shot.
Here is the full list of the ingredients and their individual functions, although I should mention that they are designed to work synergistically:
Propanediol: A natural & sustainable alternative to glycols, which increases the antibacterial capacity of the formula.
Lactobacillus Ferment: A probiotic capable of minimizing bacterial growth in two ways: through the acidification of the formula itself, and by producing antibacterial peptides called bacteriocins.
Cetrimonium Chloride: Commonly used as a skin & hair conditioner, it is also great at inhibiting the growth of bacteria & germs.
Benzalkonium chloride: This is bacteriostatic (inhibits the growth of microorganisms) and is also a potent bactericide (eliminates microorganisms).
Oryza Sativa (Rice) Starch: Highly soothing & film forming.
Panthenol: Known to repair & moisturize skin.
Saccharide Isomerate: A plant-based carbohydrate identical to those found in human skin, with the ability to retain moisture.
Sodium PCA: A naturally occurring component of human skin & a part of the "natural moisturizing factors" (NMF) that maintain a healthy epidermis.
Ayla: We love how many hydrating ingredients you included in your spray. How do you suggest using it?
PEDRO: Simply mist your hands with this lightweight formula and rub in until fully absorbed. I recommend using it after washing and drying your hands, and also throughout the day to boost protection. I selected a spray top that would reach every corner of your hands more easily than most do, and the lightweight aluminum bottle is easy to recycle.
Ayla: You also did some major testing of this formula. Can you tell us more about that process, and what it tested for?
PEDRO: I worked with an independent lab in Italy that specializes in these type of tests, and we included the specific microorganisms allowable in tests for skincare products. The process uses a growth medium where a microbiologist inoculates several pathogenic microorganisms — for example, bacteria including E. Coli, fungi, and yeasts. Then the microbiologist applies the product and observes, over a short period of time, its capacity to eliminate the harmful microbes in both quantity and speed. They were pleasantly surprised at how effective it was!
Ayla: Tell us about these particular microorganisms.
Staphylococcus aureus, pseudomonas aeruginosa, escherichia coli, salmonella typhimurium, candida albicans, aspergillus brasiliensis: Unfortunately, these microorganisms are more common than we think and are part of our lives. I remember my grandmother being very strict with hand hygiene. She had frequent check points around the house — very army-style — and there was little me like an obedient soldier, washing my hands vigorously. While grandma didn't know about the specifics, she understood the importance of hand hygiene and how microorganisms live around us: on the kitchen table, on the bathroom sink, on the cover of a magazine, and so on. No wonder I am now spraying my Clear Beginning Hand Spray everywhere, from my desk to my yoga mat.
Ayla: Why do you think Clear Beginning is so effective?
PEDRO: I think there are two reasons, mainly. Safe alternatives to alcohol exist, but
you need to use several ingredients that work synergistically, not just one or two alternatives, and
you really should go through the hassle of a microbiology test.
The hassle and expense of the microbiology test is why so many producers opt for the alcohol route: you don't need a test once you reach alcohol concentrations of above 60-70%, approximately. Regulations are different in Europe from those in the US. In Europe, it depends on each country because the use of ethanol is under constant review. And in the US, an alcohol based hand sanitizer needs to contain ethyl alcohol or ethanol at a level of 60-95% or isopropyl alcohol at a level of 70-91.3%.
Due to the emergency situation, some authorities turned a blind eye and relaxed their requirements in order to fight COVID-19 and ease the manufacturing registration process. Every hand sanitizer on the market has NOT been tested against COVID-19, but it is assumed that alcohol just kills everything.
Ayla: Like those alcohol-based alternatives you mention, Clear Beginning was not tested specifically for its effect on COVID-19. Can you tell us more about that?
PEDRO: Clear Beginning Hand Spray is classified as a skincare product, so I followed the European Union regulations in terms of testing and labeling. I can't make any claims or test on any virus, as this would then fall into another product category such as disinfectants or OTC drugs. Our testing focused on the pathogenic microorganisms that are allowable within skincare testing. But given its excellent performance in those tests, I can confidently say that this is a highly efficacious, alcohol-free solution to protect your hands in general.
I understand modern skincare as something safe but efficacious, and Clear Beginning Hand Spray achieves both; I couldn't be happier with the final result.
****
In case it's not already obvious: we adore Pedro and all of his TWELVE creations. Check out the full lineup here.
Any topic discussed in this article is not intended as medical advice. If you have a medical concern, please check with your doctor. 
You May Also like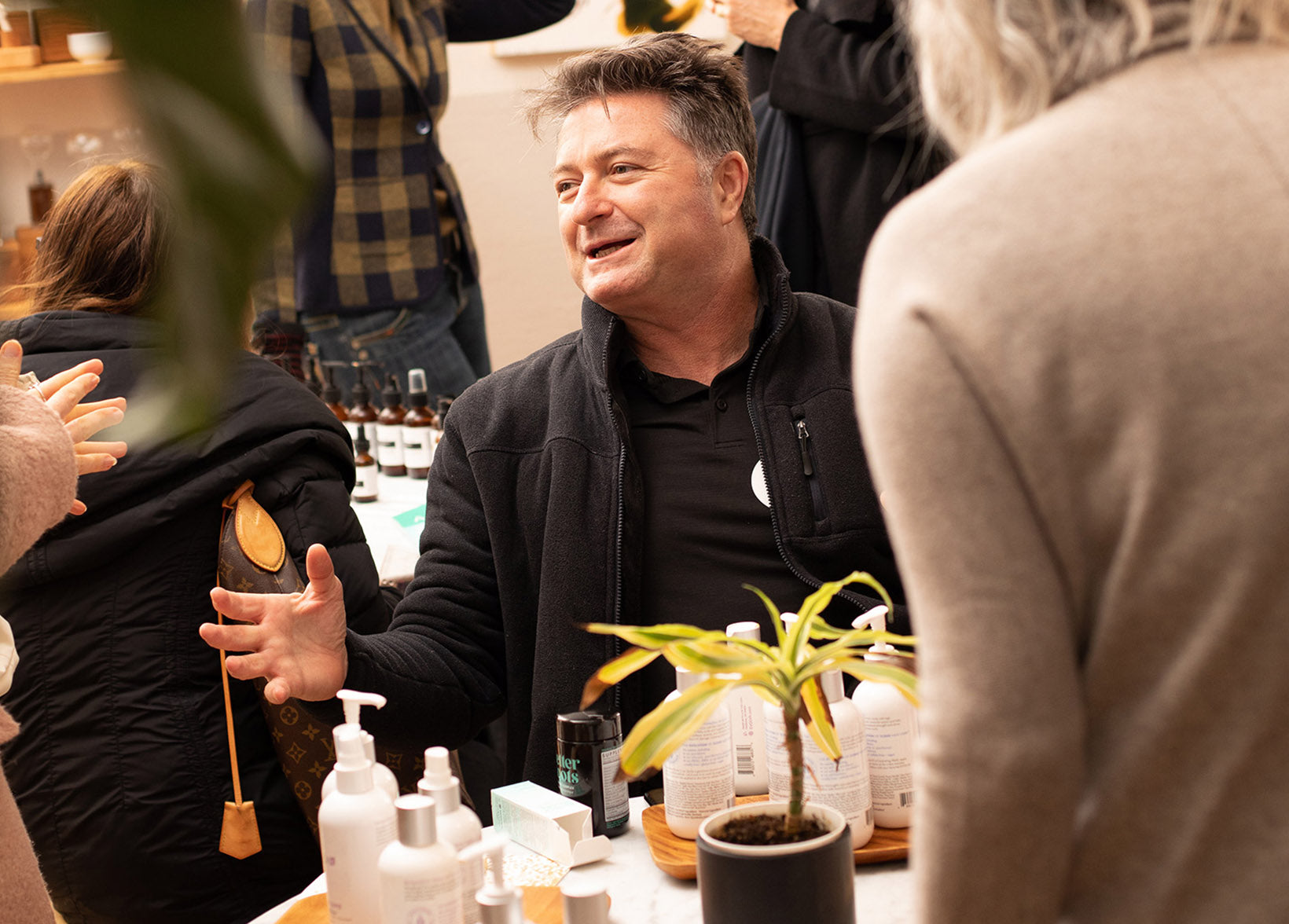 Boris Oak, founder of EVOLVh, told us his four golden rules for hair styling — and they're gems. Check them out here.