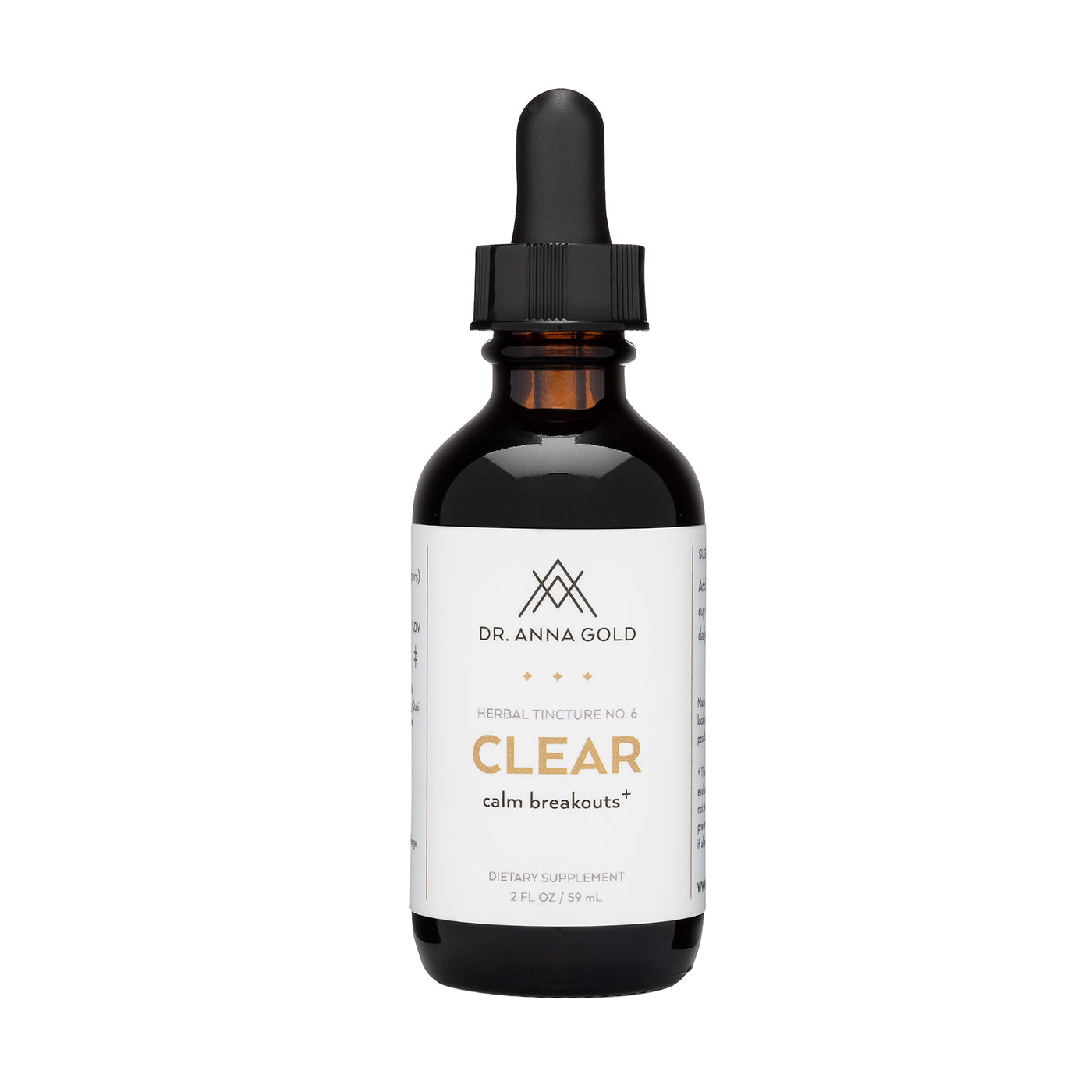 Description
Ingestible elixir to calm breakouts and support healing in acne prone skin / 2 fl oz
Dr. Anna Gold's CLEAR tincture is designed for acne prone skin; its creator, Dr. Gold, developed it for cystic acne, but it can work on any hot, superficial breakouts. Designed to calm blemishes and deep eruptions by healing skin from within, CLEAR is, in our view, a must-have for those who struggle with acne and want to know what else they can do aside from using the right products on their skin and paying attention to their diet.
 Our acne prone testers noticed a dramatic difference in their breakouts while taking it — their skin's oil levels seemed to smooth out, their breakouts were noticeably less frequent, and their pimples didn't overstay their welcome like they used to. You do have to take CLEAR regularly (you can't expect miracles to occur after one dose), but if you're compliant, we're guessing that you'll be as pleasantly shocked by its efficacy as we have been.
And if your breakouts tend to pop out and say hello around the time of your period, take CLEAR along with BALANCE. It's a killer combination for hormonal breakouts.
How it works: The TCM herbs in this formula are known to clear heat and disperse stagnation, since acne is considered to reflect internal heat in the Stomach, Lung, or blood levels. Forsythia, Siler, and Schizonepeta are herbs often used in TCM to clear heat from the surface (the skin) while Gardenia is used to drain heat from the interior. Angelica and Sichuan Lovage are used in TCM for their effect on microcirculation, with the goal of replenishing and refreshing the body's tissues. Astragalus and Licorice are included for their healing properties on the gut and immune system, and calendula for its anti-inflammatory and healing potential.

Dr. Anna Gold's tinctures are made in small batches using organic, wildcrafted, and pesticide-free herbs. Each batch is microbiologically tested by independent labs and certified free of heavy metals.

If you have severe allergies to any specific foods, please check the ingredient list and consult your doctor if you're uncertain about these varieties.

Note: This product is not intended to diagnose, treat, cure, or prevent any disease. Please consult with your physician or qualified herbalist before using if pregnant or nursing. Keep out of reach of children.

How to Use
Drink 20 to 60 drops (1-3 full droppers) in 1/4 cup warm water 3-5 times daily.
Ingredients
- Forsythia is used for ailments characterized as "internal heat" and "wind heat" in TCM
- Chinese Peony is known as a "heat reducing" herb for the liver
- Bupleurum is often used in TCM for menstrual issues; it's included here for those who use CLEAR for hormonal breakouts
- Bitter Orange and Gardenia are frequently used in TCM to support healthy digestion
- Angelica and Sichuan Lovage nourish skin and promote microcirculation
- Siler and Schizonepeta relieve itch and calm inflammation
- Calendula is a flower used in traditional folk medicine for its anti-inflammatory, anti-viral, and anti-microbial agents.
---
All Ingredients
Calendula flowers*, Schizonepeta aerial parts*, Forsythia fruit*, Siler root, Dong Quai root*, Sichuan Lovage rhizome, Chinese Peony root*, Fragrant Angelica root, Platycodon root, Bupleurum root*, Rice-bran Fried Bitter Orange peel, Chinese Skullcap root, Gardenia fruit, Licorice root*.

(*Organic)

Other ingredients: Distilled Water, Ethanol
Calendula flowers*, Schizonepeta aerial parts*, Forsythia fruit*, Siler root, Dong Quai root*, Si...
See All
"I've had cystic acne my whole life. With Anna's help, she has cleared my acne. I started by taking this three times a day for two months and now I only take it when I get stressed (I take the Balance Potion too) and break out. Without Anna's help I would be lost."
Holly Beineman