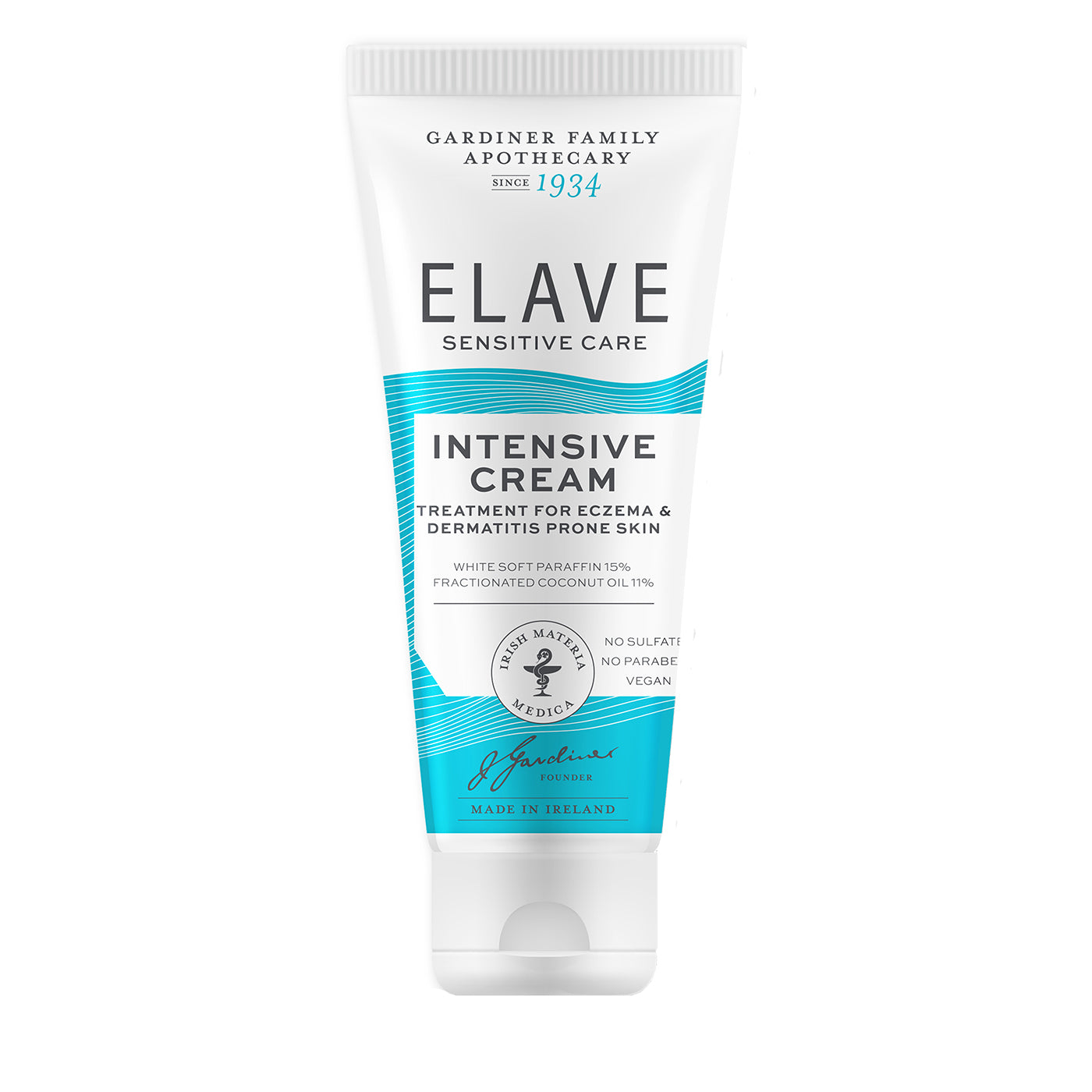 Description
Incredibly effective treatment cream for eczema, dermatitis, and very dry, rashy skin / 4.4 oz 
Elave Intensive Cream is, hands down, the best eczema treatment we've ever tried; the fact that it comes from a brand we've loved since we first opened our doors in 2011 is a delightful bonus.
Visit any home in Ireland, and you're pretty much guaranteed to come across a product from Elave or its sensitive-skin-focused parent company (run by the same family that established it in 1934); Elave is the top-selling brand there for dry and sensitive skin. Which, generally speaking, the Irish know a thing or two about.
And of all Elave's products, this one might be the most life-changing if you struggle with dry, sensitive, rashy skin that you've identified as eczema or dermatitis. This rich but non-greasy, fast-absorbing, steroid-free cream was designed to protect skin's natural barrier and reduce flareups of dry, itchy, sensitive, reactive, eczema- and dermatitis-prone skin — and it is so effective that it is one of Elave's worldwide best sellers.
Elave Intensive Cream is also the one product we carry that contains white soft paraffin, which in Elave's case is pharmaceutical grade and of the highest level of purity available. We've avoided carrying other products containing petrolatum and its derivatives, but have gladly made an exception for this one because the ingredient Elave uses is of such high quality (it is also rated a "1," the lowest-risk category, on ewg.org) and also because in this particular formula, the occlusive nature of paraffin is a great thing. Combined with the other ingredients in the formula — like fractionated coconut oil, glycerin, and palmitic acid — it quickly soothes and stops eczema in its tracks like nothing else we've seen. (And, by the way, one of the strictest, natural-ingredients-only formulators we know even admitted to us, "That's a great ingredient.")
Suitable for use on both body and face by all skin types, including (especially) eczema- and dermatitis prone; pediatrician approved even for newborns; suitable for use during pregnancy; free of fragrance sulfates, alcohol, and colorants; jaw-droppingly effective. We think every household could use a tube of this wonder cream.
How to Use
Apply a thin layer of cream, covering the affected area completely. Massage gently and thoroughly into the skin. For best results, use at least twice daily. (We love using it on slightly damp skin.)
Suitable for frequent, long-term use on face and body; suitable for use on babies from newborn.
Ingredients
- White soft paraffin is a very effective emollient in the management of skin disorders. Because it's not readily absorbed by the skin, it can form a protective layer over it, allowing it to better heal itself.
- Fractionated coconut oil creates a barrier on the skin's surface, decreasing moisture loss while softening and smoothing the skin.
- Glycerin, naturally derived from vegetable oils, is a humectant that readily absorbs and retains water. It also helps to improve skin's barrier function.
- Palmitic acid is a fatty acid that naturally occurs in the skin. A very good emollient, it too helps strengthen skin's barrier function.
---
All Ingredients
White Soft Paraffin, Fractionated Coconut Oil, Glycerin, Macrogol Cetostearyl Ether, Cetostearyl Alcohol, Glyceryl Monostearate, Palmitic Acid, Benzyl alcohol, Stearic Acid, Disodium Edetate, Citric Acid, Sodium Citrate, Purified Water.
White Soft Paraffin, Fractionated Coconut Oil, Glycerin, Macrogol Cetostearyl Ether, Cetostearyl ...
See All