You'll find this beautiful spot within 10 miles of Dundalk, Ireland, where Elave is headquartered and manufactures all of its products. (Photograph by Conor McEneaney, a longtime member of the Elave team)
Elave is made by a family-run pharmaceutical company in Ireland that has been dedicated to sensitive skin care since 1934. Well-priced, gentle, and free of fragrance and potentially irritating or toxic ingredients, Elave has been the top-selling brand for dry and sensitive skin in Ireland for over a decade; at Ayla, it's been a favorite for reactive skin, men, and those who struggle with allergies since 2011.
During the past few years, we've noted that many members of our community have experienced increased sensitivity and reactivity, and in some cases, flare-ups of conditions like eczema and rosacea. We thought it was the perfect time to shine a spotlight on this storied Irish brand. Read on for Dara's interview with Joanna Gardiner, the CEO of Gardiner Family Apothecary – creators of Elave.
**
Dara: Your grandfather founded the first family apothecary — and started making products for sensitive skin — in 1934. It's a pretty incredible story. Tell us more about the Gardiner Family Apothecary's beginnings.
JOANNA: By 1934, Joseph Gardiner, my grandfather, was married to my grandmother, Maureen; they would go on to have six children, the second youngest being my Daddy, Sean Gardiner. My grandfather's brothers and nephews emigrated to Boston (a typical Irish flight path) from the west of Ireland, but Joseph remained.

Joseph Gardiner
Joseph travelled across the island of Ireland as a commercial traveler calling to local Chemist shops, and during this time, he spotted an opportunity to make the creams and ointments for people with dry, sensitive skin. In 1934, Joseph Gardiner founded the first family skincare apothecary on the east coast of Ireland, in Dundalk.
Since then, four generations of the Gardiner family have been involved in the business, and we still manufacture absolutely all our specialist skincare in Ireland and export internationally to three continents.

Joanna Gardiner 

Dara: And from what I understand, your products are so popular in Ireland now that they can be found in almost every household. How did the word spread about Elave in Ireland?
JOANNA: The word spread because the formulations were of a very high standard and really worked for eczema- and rosacea- prone skin as well as reactive skin types. Our skincare has literally been passed down from generation to generation.
We took that expertise and combined it with researched and proven advances in skincare and created Elave, which we think of as "clean daily protection for reactive, sensitive skin." Medical professionals and dermatologists in Ireland really endorse Elave, which we are grateful for.
Dara: According to the Irish Skincare Foundation, eczema and rosacea are particular struggles for many people in Ireland. Do many people find you as they're looking for help with this?
JOANNA: So many of us are prone to skin sensitivity and skin dryness, especially the Celtic type 1 and 2 skin types — typical Irish pale white skin types that rarely tan and easily burn. 
However, it is medically researched that all skin types can become sensitized from the overuse of harsh products, especially shampoos, as well as from over-washing and exposing the face, scalp, and body to unnecessary chemicals that strip the skin's natural oils. And in men and women, rosacea or facial redness — sometimes with an acne-like appearance — is the fastest growing skin condition.
Dara: For those of us with sensitive skin, your products just feel so good on the skin (and the scalp). Can you tell us about some of the guiding principles you follow in formulating for sensitive skin?
JOANNA: It's medically proven that soap and sulfates are to sensitive skin what sugar is to diabetes, so that was our first guiding principle for Elave skincare. In addition to avoiding soap, sulfates, and SLS, Elave also contains no MI, parabens, alcohol, colors, or perfumes. We take these out to help sensitive skin and eczema- and rosacea-prone skin every day stay calm, as they can harm a delicate, sensitive skin barrier. (Once you get used to no perfume, it's very difficult to go back to perfumed products. And with 100 chemicals in most perfumes, why would you!)
If the skin barrier is protected from known "triggers" from head to toe, the skin is healthy and clear and flare-ups are minimized. Our shampoo has been a game changer, as the suds from shampooing often run down the face, neck, and body. People forget that, and using a specialist shampoo can really make the difference.
Dara: One of the things I love about Elave is that it uses straightforward, simple, yet efficacious ingredients. There isn't a lot of unnecessary "fluff" in your formulas.
JOANNA: It is estimated that 40% of us have had a reaction to facial skincare containing actives.  As we are focused on sensitive skin, we leave out known harmful ingredients, and add in very carefully chosen ingredients, like chamomile, to calm the skin — especially for the scalp and the body. 
As far as the face is concerned, it is estimated that 40% of us have had a reaction to facial skincare containing actives. But we believe those of us with sensitive skin want age defying actives as much as anyone, so we create a super non-reactive base and add in age-defying actives like Vitamins C, B, and E; hyaluronic acid; Glycolics; Madonna lily; and other nourishing botanicals. We have a super talented formulation team here and we really are on a mission to protect sensitive skin.
Dara: Does this list of ingredients you avoid in your formulations evolve and change over time? What have been some of the newer additions?
JOANNA: We are constantly researching, and 96% of our products are vegan — with by-products only, such as manuka honey, being used to benefit the skin in the remaining 4%.
I am a celiac, and Ireland has the highest incidence of this in the world! So the Elave range is gluten free, too.
Dara: You take great pride in manufacturing your products in Ireland, where you follow rigorous standards. Can you tell us about some of these specifically Irish standards?
JOANNA: We operate to cGMP Pharma manufacturing and ISO 14001 Environmental, which are world-recognized standards, and all our products are PETA certified cruelty free; 97% are PETA Vegan.
The Irish standard we are very proud of is the Guaranteed Irish Standard, which is about being 100% Irish manufactured and supporting Irish jobs and communities. (I think after 87 years in business we have more than earned that one!)
Dara: You've been committed to sustainability for a long time as well.
JOANNA: In addition to the 1SO 14001 environmental standard, we've generated our own energy from lithium-free solar for 5 years at our manufacturing plant, and we operate to a short supply chain. Sustainability is a massive commitment and will remain a priority going forward.
Dara: This may get controversial…but as an Irish brand that is somewhat removed from the "clean" beauty movement in the US, I'm curious about your point of view on it.
JOANNA: In my opinion, it is great to see ingredients like parabens — a known carcinogen — disappear from most moisturizers. I would say the clean skincare movement has contributed to that, and that is very important. I do get angry to see cases of ingredients in baby products (often used by women) causing health issues, like cancer. That is not acceptable. 
And the clean skincare movement has, I believe, gotten us to question what we pour over our head in the shower, or to understand that cheap skincare usually contains cheap ingredients. 
Overall, I believe in clean skincare — but interestingly, a lot of natural ingredients, such as lavender, can really irritate sensitive skin. At Elave, we focus on what's best for sensitive skin and take out as many worrying chemicals as possible while also avoiding natural ingredients that could cause irritation.
For customers with the most sensitive skin, Elave is usually one of our first recommendations. Check out the lineup here.
You May Also like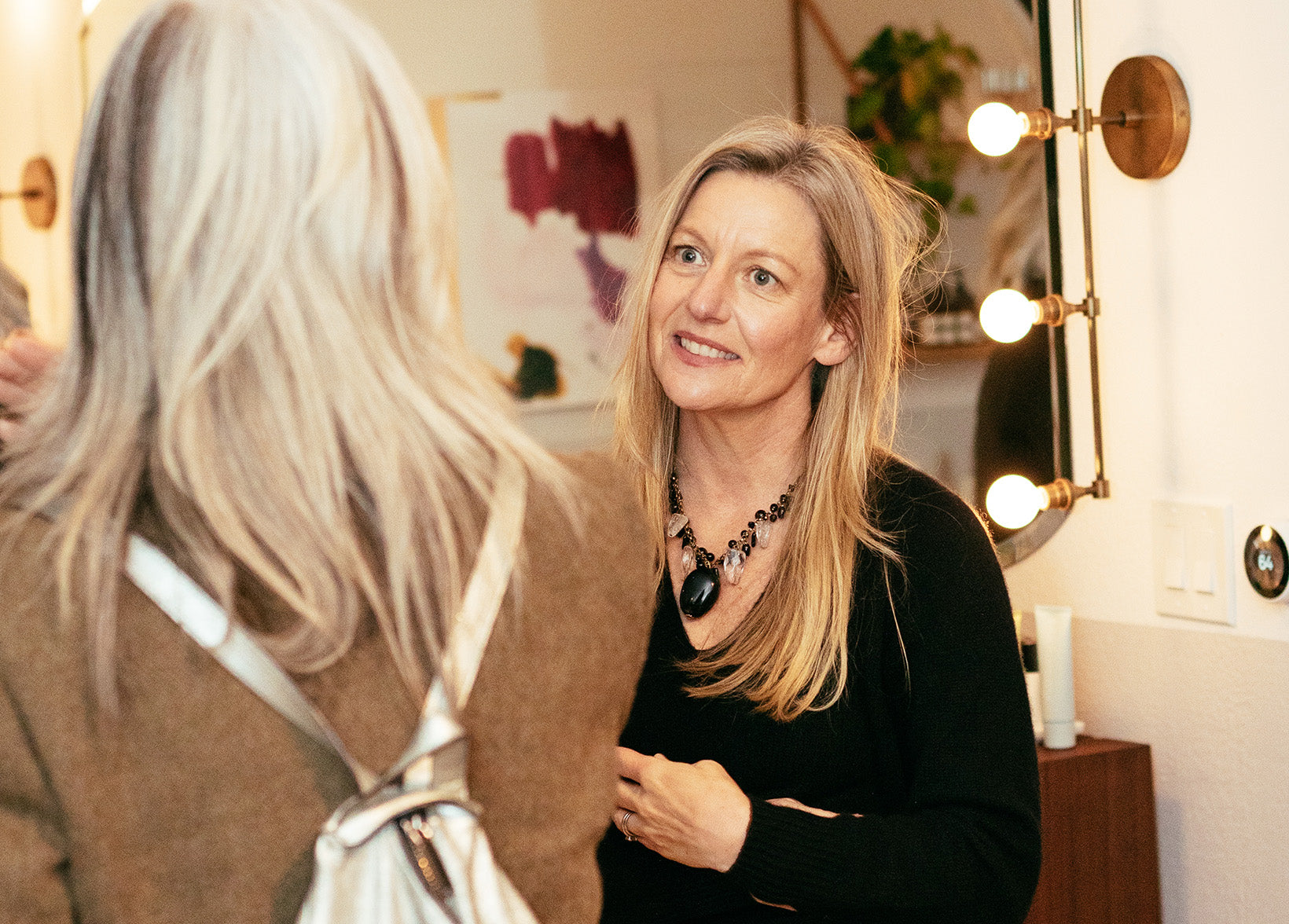 Annee de Mamiel explains how a variety of hormonally-related skin challenges are related — and how her Phyto-P Elixir works across all of them.