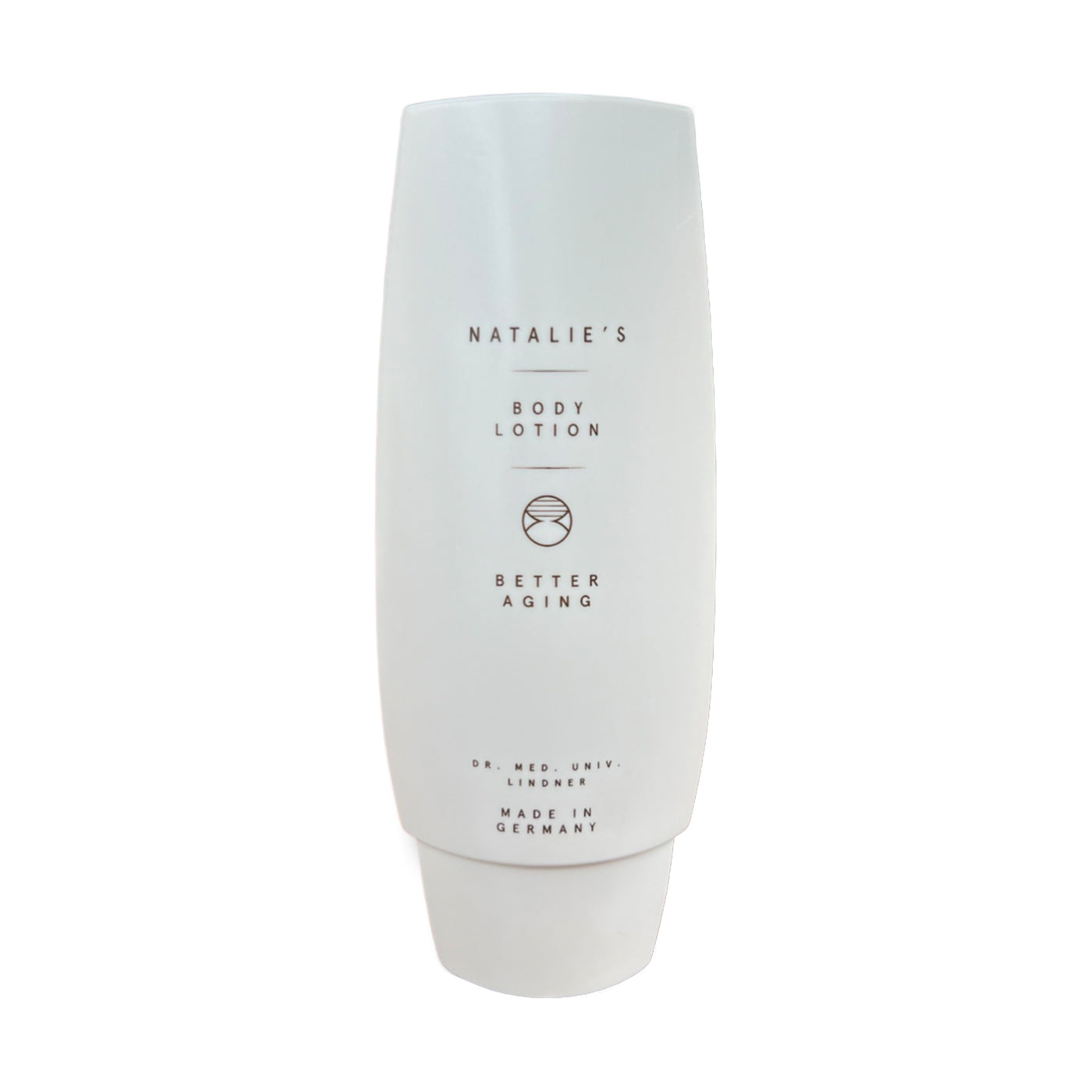 Description
Power-packed body treatment with retinol, bakuchiol, Vitamin C, and hyaluronic acid / 2.5 fl oz petite size
Natalie's Better Aging Body Lotion is, as Natalie herself describes it, "a proper, strong, powerhouse kind of product." This lotion is no joke: if you're looking for a gold-standard ingredient that you'd typically find in an "anti-aging" product, it's probably in here. There's collagen-boosting retinol and its plant-based sidekick, bakuchiol; brightening glycolic acid; antioxidant-rich vitamins C and E; plumping, multi-molecular-weight hyaluronic acid; and a nourishing blend of ceramides, squalane, and shea butter to support a healthy barrier. Natalie told us, "Everyone loves this one," and we can see why based on its ingredient list alone.
But it really delivers, too. Natalie noted in her interview with Dara about this best-selling product, "I call it 'Better Aging' because I think we should all be honest — it won't make you look twenty years younger; no product can do that — but I've seen amazing results with it. You'll see that your skin's texture is smoother and pores look smaller, and it can really improve the condition of scars and stretch marks. If you think about how expensive lasers and other cosmetic treatments are, it is such a good alternative. It will take 2-3 months to see a major improvement, and you'll want to avoid sun exposure during that time, but we've seen really great results, especially with post-inflammatory hyperpigmentation."
Better Aging Body Lotion is a fantastic all-over treatment that we particularly love for the chest and the arms. And, like all of her products, Natalie designed it for the body, but it's at a quality level that you'd look for in a facial product; it's also non-comedogenic and hypoallergenic. As she told us in our Brand Spotlight, "If someone says you can't use a body care product on your face, it's not good enough, in my opinion!"
If you're going to go for it on your face, patch-test it first — this lotion means business. You can also lighten it up by mixing it with Natalie's Hydration Body Gel (one of our absolute favorites) or make it richer and boost its benefits even further by mixing it with her Better Aging Body Oil. 

And if you're pregnant or nursing, Natalie suggests choosing the Better Aging Body Oil instead of the Better Aging Body Lotion: the Oil formula is retinol-free, but you'll still enjoy the benefits of bakuchiol with it.
One last note — Better Aging Body Lotion is gently fragranced with Natalie's hypoallergenic fragrance, which you must read about in our Brand Spotlight. (If you're particular about fragrance, you can always request a sample through our Custom Sample Service.)
How to Use
Apply 1-2 times/day to damp skin. Avoid direct sun exposure on the following day or apply sunscreen.
Body regions with incredible results: entire body, focusing on chest & arms.
Make it lighter by mixing it with Hydration Body Gel or make it richer by mixing it with the Better Aging Body Oil; you can also apply the Better Aging Oil on top for an extra glow.
If any irritation occurs, discontinue use. This product is not suitable for pregnancy and breastfeeding due to its retinol content.

Ingredients
- Vitamin A (retinol) is an anti-aging ingredient that is a proven treatment for the improvement of skin texture, acne, and hyperpigmentation. It is also excellent at treating fine lines, wrinkles, scarring, and stretch marks.
- Vitamins C and E are antioxidants that help improve the appearance of skin texture, scarring, and sun damage.
- Glycolic Acid is an alpha hydroxy acid that exfoliates the skin. It also helps treats uneven texture and scarring while reducing the appearance of fine lines and wrinkles.
- Bakuchiol is a non-irritating plant based alternative to retinol that stimulates collagen production to keep the skin plump and firm.
- Multi-Molecular Hyaluronic Acid is a a skin-identical ingredient that intensely moisturizes your skin and holds 1000 times its weight in water.
- Squalane is another skin identical ingredient that supports and protects the skin's natural barrier from environmental stressors.
- Organic Shea Butter is a nourishing butter that improves texture, boosts skin elasticity and hydrates the skin.
---
All Ingredients
Aqua (Water), Caprylic/Capric Triglyceride, Pentylene Glycol, C12-15 Alkyl Benzoate, Glycolic Acid, Glycerin, Methyl Glucose Sesquistearate, Squalane, Polyglyceryl-3 Stearate, Cetearyl Alcohol, Magnesium Aluminum Silicate, Ceramide NP, Glyceryl Linoleate, Glyceryl Linolenate, Bakuchiol, Sodium Hyaluronate, Retinyl Palmitate, Ascorbyl Palmitate, Tocopherol, Tocopheryl Acetate, Allantoin, Butyrospermum Parkii (Shea) Butter*, Helianthus Annuus (Sunflower) Seed Oil*, Sodium Stearoyl Lactylate, Xanthan Gum, Sodium Phytate, Potassium Sorbate, Parfum (Fragrance)**, Sodium Hydroxide, Lactic Acid, Alcohol, Methyl Benzoate, Ethyl Benzoate, Benzyl Alcohol

*ingredients from certified organic agriculture
**tested non-allergenic parfum
Aqua (Water), Caprylic/Capric Triglyceride, Pentylene Glycol, C12-15 Alkyl Benzoate, Glycolic Aci...
See All