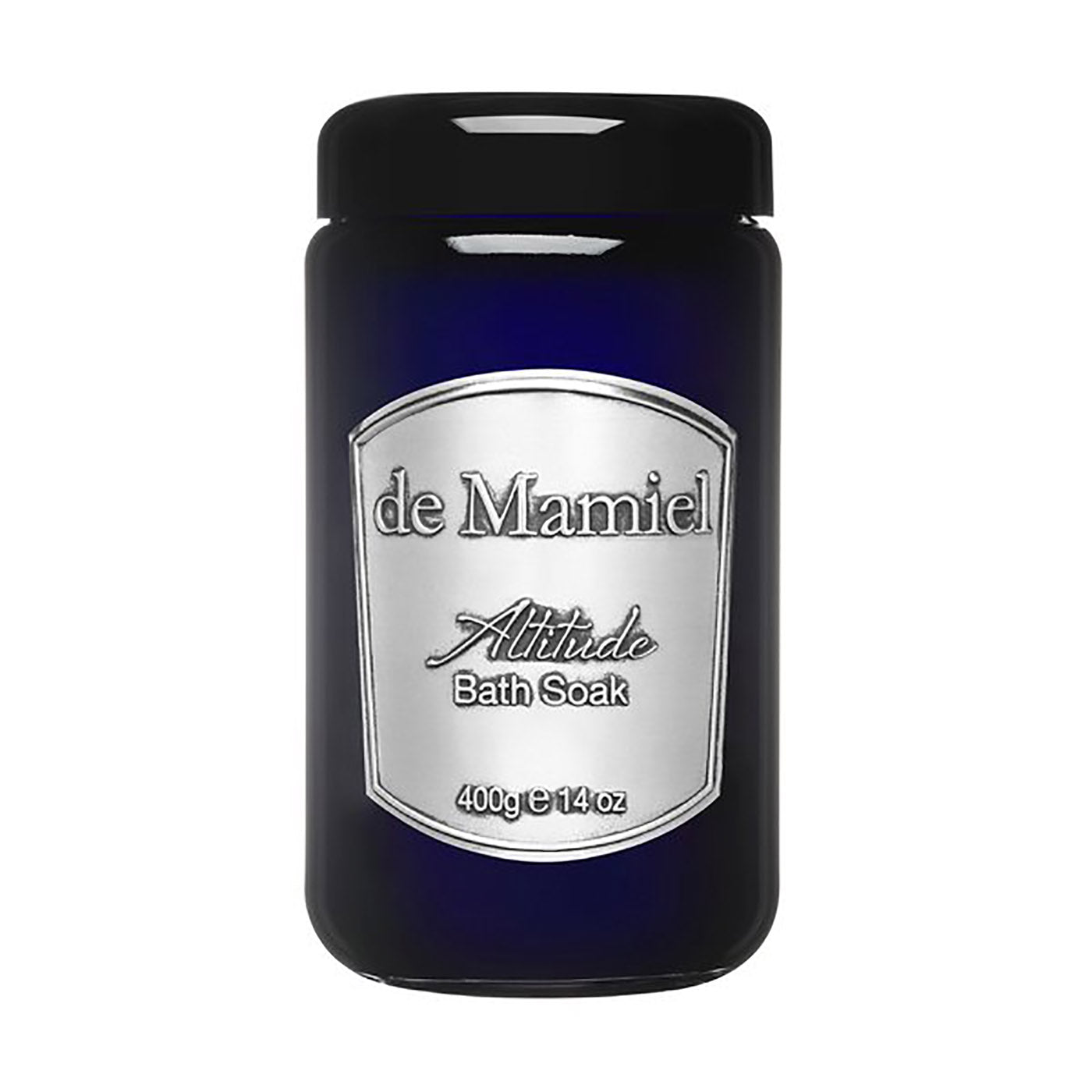 Description
Grounding, calming, rebalancing aromatherapy bath / 14 oz.
de Mamiel Altitude Bath Soak was designed to showcase the marvelous Altitude Oil in an ideal context: folded into a deeply grounding and calming — yet, somehow, perfectly rejuvenating — salt bath.
Given our founder's Sea Soak addiction and sensitive skin, Dara doesn't usually go for baths with any fragrance, but this one changed her mind. (Completely. When our first big shipment of Altitude Bath Soaks arrived, she immediately ripped open one of the shipping boxes, pulled out a container, and exclaimed, "Ooh! I just finished my last jar and really need this one!")
First, there's the salt base: creator Annee de Mamiel chose mineral-rich Himalayan salt, soothing Dead Sea salt (excellent for dry, itchy skin), and magnesium-rich Epsom salts, which tend to be just the thing for tired, achy muscles. Layered in is Shungite crystal powder, prized for its purification properties — in this interview with Annee, she describes its myriad benefits, particularly for those who like the idea of bath time doubling as digital-detox time.
And there's just something about the Altitude Oil that everyone adores. As Annee told us in her explanation of the magic behind this product, the blend of fragonia, eucalyptus, lemon myrtle, pine, lavender, peppermint, and a touch of patchouli encourages deep breaths and purification, but it's also centering and nurturing: "When it's been a long, taxing day and you're physically exhausted and mentally fatigued — or jet lagged — it really revives you. It provides a sense of calm that resets and rebalances our energy levels."  
Annee also mentioned, "The beauty of essential oils, and the reason why I love them so much in my work and include them in my products, is that they can help process some of these things without your even having to think or talk about it. They just help the body to move it through."
Which is exactly the beauty of this bath. Submerge yourself in it, maybe listen to some beautiful music and add some Bach flower drops for good measure, and it'll do so much of that letting-go for you, without your even realizing it.
How to Use
Pour 1-2 capfuls under running water to allow the salts to dissolve, and for maximum results, relax in the water for at least 10-15 minutes. A temporary rise in body temperature during or immediately after soaking is completely normal and can be attributed to individual stress levels.
Ingredients
- Dead Sea salts are excellent for itchy, sensitive skin
- Himalayan and Epsom salts are rich in minerals that benefit tired, achy muscles
- Shungite crystal powder is prized for its purification properties
---
All Ingredients
Sodium Chloride (himalayan salt and dead sea salt), Magnesium Sulfate (epsom salts), Magnesium chloride, Sodium Bicarbonate, Powdered Shungite, Cocos nucifera (coconut) Oil, Lavandula angustifolia (lavender) flower oil*, Eucalyptus radiata (eucalyptus) leaf oil*, Agonis fragrans (fragonia) leaf oil, Mentha piperita (peppermint) leaf oil*, Pinus sylvestris (pine) leaf oil*, Backhousia citriodora (lemon myrtle) leaf oil,Pogostemon cablin (patchouli) leaf oil*, Limonene°, Geraniol°, Linalol°, Citronellol°, Eugenol°, Citral°

*Certified organic
˚Natural essential oil constituents
Sodium Chloride (himalayan salt and dead sea salt), Magnesium Sulfate (epsom salts), Magnesium ch...
See All