Interview with creator Annee de Mamiel
de Mamiel Altitude Bath Soak was designed to showcase the marvelous Altitude Oil in an ideal context: folded into a deeply grounding and calming — yet, somehow, perfectly rejuvenating — salt bath. Here, creator Annee de Mamiel discusses how she used her background in Traditional Chinese Medicine and Aromatherapy to create this decidedly addictive product.
**
Dara: I can see why so many people have become addicted to the Altitude Bath Soak — I feel similarly, and I don't typically take scented baths! What inspired the development of this bath soak, and what do you think makes it so helpful?
ANNEE: After we introduced the Altitude Oil, people kept asking us for more products with the Altitude Oil scent; it really began there. I think we're all drawn towards the Altitude Oil because it's got so many things going on with its blend of fragonia (one of my favorite oils), eucalyptus, and lemon myrtle; it's a combination that allows us to be grounded and calm, yet revived.
This blend is all about the lung meridian and the breath, encouraging us to breathe more deeply and open our lungs. This also relates to the skin, because in Traditional Chinese Medicine, your skin is the third lung — it takes in and pushes out.
It helps open the heart as well, especially for me: it's quite an Australian scent and takes me home. I find it incredibly centering and nurturing and calming, while at the same time encouraging openness and acceptance. It's not just for me, though; when I do my patient notes, the Altitude Oil always features heavily in them.
So in a bath, when it's been a long, taxing day and you're physically exhausted and mentally fatigued — or jet lagged — it really revives you. It provides a sense of calm that resets and rebalances our energy levels.
Dara: I'm intrigued by the triple salt blend. What prompted you to include these three different types of salt?
ANNEE: Each salt has a purpose; I wanted to make something that showcased the unique benefits of all of the salts.
- Epsom salts are wonderful for soothing tired, achy muscles; they're very relaxing and high in both magnesium and sulfur.
- Dead sea salt soothes and softens dry skin and tends to help quite a bit with itchy skin, eczema, and psoriasis, too. It's very high in magnesium and calcium.
- Himalayan salt contains around 85 different minerals in it: it's very mineral rich!
And I put them all together because, whenever I make something, it has to have that 360-degree effect. That's what I want myself: give me something that's complete, that's going to hit on every level — emotional, physical, cellular — and that I don't have to buy additional things for. I always want to take the thinking out of the question, "What it is that your body needs?" Let your body pick what it needs, not what your analytical mind needs: that choice is real healing.
Dara: Tell us about the Shungite Crystal Powder. What led you to include this?
ANNEE: It helps with the emotional benefits of the bath. Shungite is 98-99% carbon, and it has been used in Russian spas for hundreds of years, if not longer, as a water purifier. But it also has properties that can help relieve stress and fatigue.
And this needs more study, but it's been floated that it can help reduce oxidative stress, particularly the type related to EMFs. At the very least, from that standpoint, it does no harm…in my view, if it helps, anything is better than nothing!
Dara: Do you use the Altitude Bath yourself? How frequently, and when do you find yourself reaching for it most?
ANNEE: I wasn't a big bather at all for some time – wasn't how I was brought up in Australia, given the droughts – but I first began taking baths after exercise since it really helps with achy joints.
And now that we have this Altitude Bath, when I'm feeling overwhelmed or stressed, I'll come home and have a bath with it for 10-15 minutes. I'll spend that whole time fully submerged with water up to my neck; it's been shown that, at certain temperatures, this can decrease cortisol levels. I'll massage some Restorative Cleansing Balm on my face, submerge, and let go; I always come out feeling calm but energized.
You can use the bath every day if you like! I just don't suggest using it during pregnancy.
Dara: This bath has increased my already-high appreciation of the Altitude Oil, too. How else do you use the oil itself?
ANNEE: I put it in the shower in the morning as well. I love when the steam hits it and opens you up. It's like "Ah, good morning!" If you're feeling headachy, peppermint really helps ease that tension, and there's also calming lavender and grounding patchouli. My Sunday ritual always starts with the Altitude Oil — a few breaths, rubbing it in my palms and breathing deeply.
And if I have to travel into the city, that scent is protective, comforting, and cocooning. The antibacterial and antiviral properties of fragonia and eucalyptus are so high that it can be a great boost for our immune system.
Fragonia, in particular, has a very specific chemotype with a particular balance of constituents. It's more powerfully antibacterial and antiviral than tea tree, but without the pungent smell. Fragonia is more floral. It's such a potent and precious oil: it's only made by one farm in southwestern Australia. When the bush fires went through a few years ago, it was as scarce as hens' teeth! But it's in over 50% of our products because you know exactly what you're getting with it, and I think it's so potent and so effective on cortisol and stress. It also helps reset the body clock, so it's wonderful for jet lag.
***
Want to learn more about de Mamiel?
Check out our Brand Spotlight here.
Find out how our esthetician, Sarah, uses the Restorative Cleansing Balm for facial massage here.
And to hear from Annee about how she treats stress in clinic — and tips she often gives clients to limit the effects of stress at home — in her interview with Dara here.
You May Also like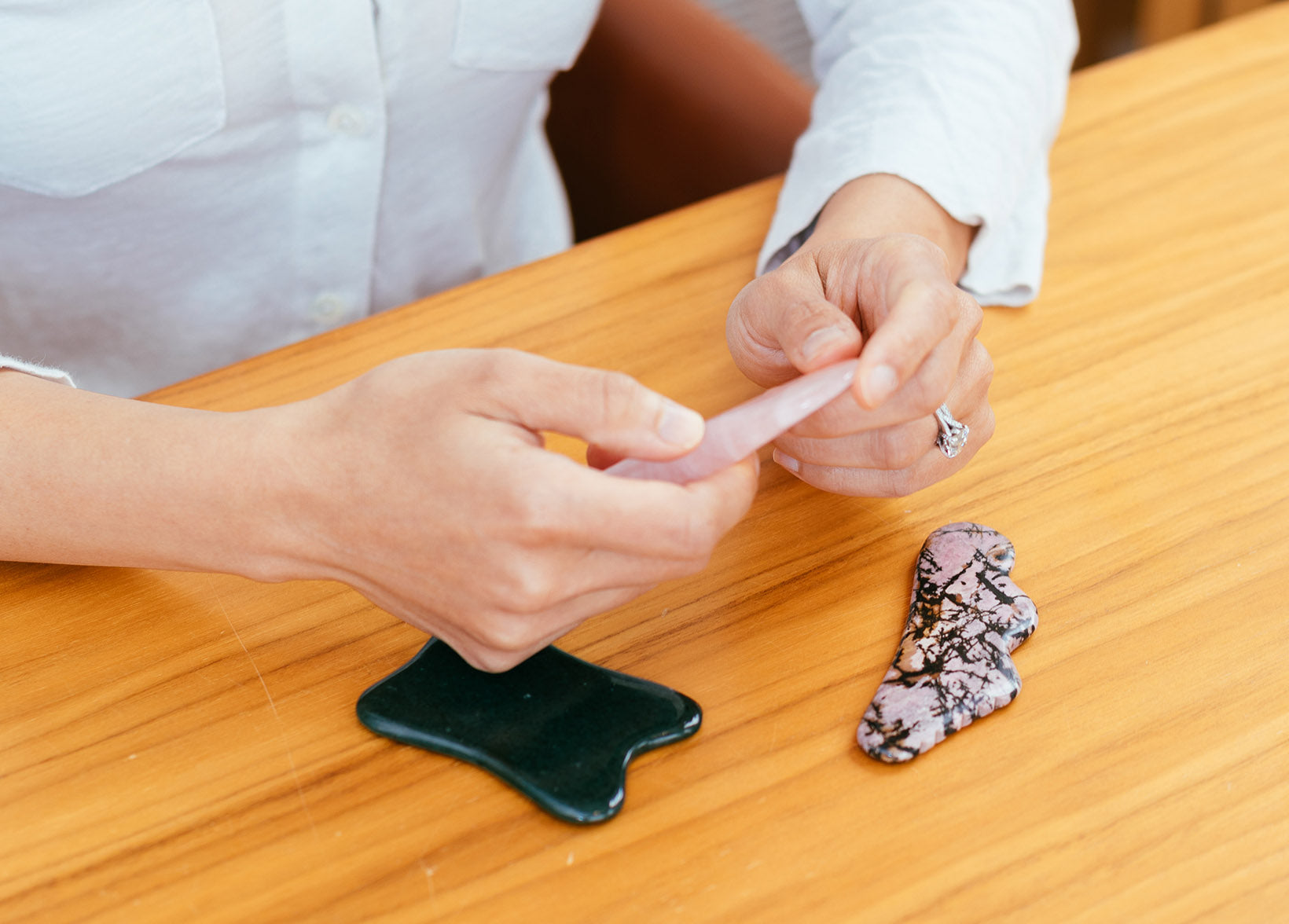 MyHavtorn's go-to skincare therapist and product expert, Erica Randlett, is deeply trained in Gua Sha — she's the person who first told us about it years ago — along with massage, lymphatic drainage, and meditation. Having spent five years as...