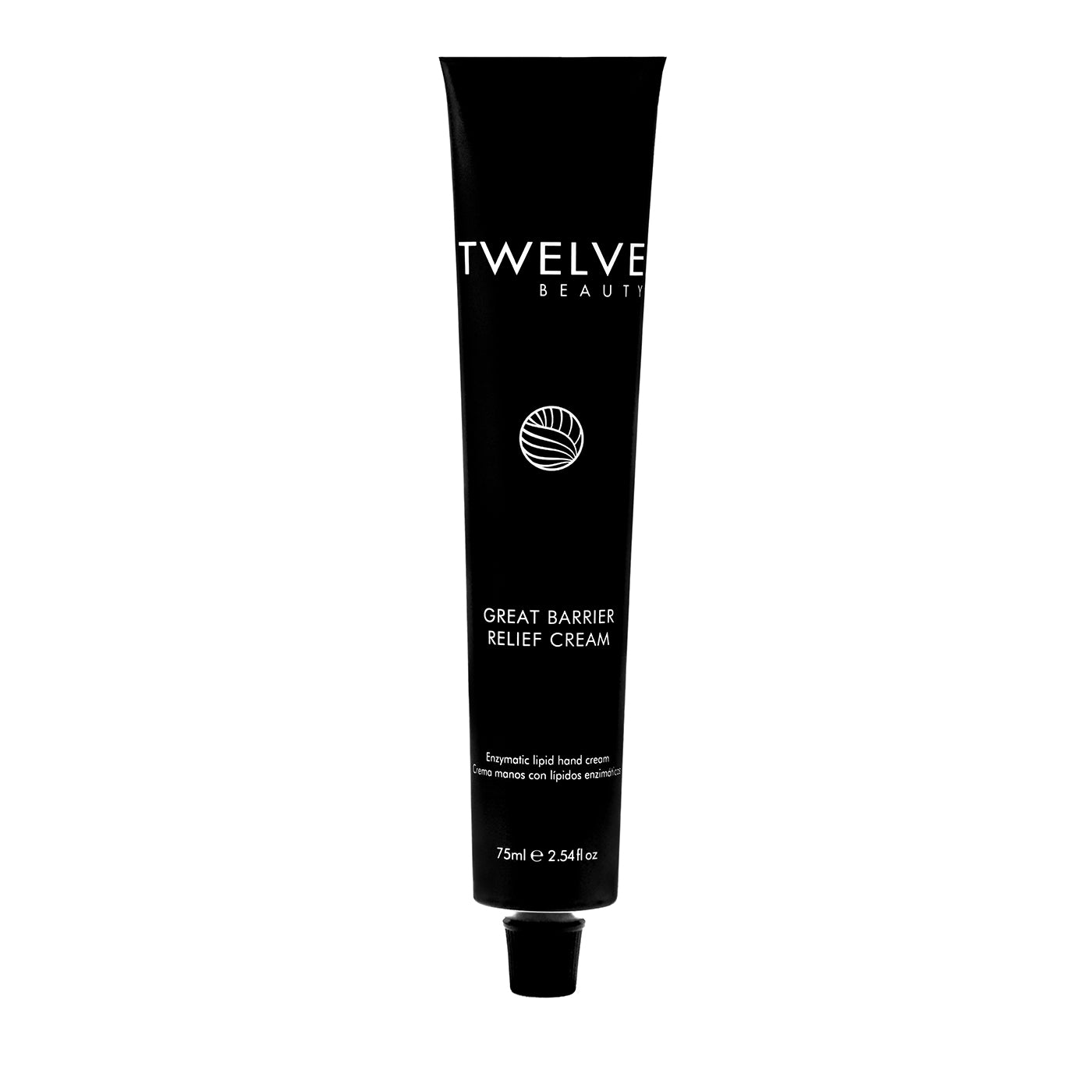 Description
Rich, fast-absorbing hand cream with activated plant oils and 5% niacinamide / 2.5 oz
TWELVE Great Barrier Relief Cream is just what we were hoping for from TWELVE, whose founder shared some key tips for hand care with us at the start of the pandemic. At the time, we asked, "Will you create a hand cream? When?!"
Finally, it's here. As its creator, Dr. Pedro Catalá, told us, "My hand cream is one of those projects that I started and stopped many times over the years — and then I learned the new technique of enzymatic lipid activation. At that moment, I realized the time had come to revisit my niacinamide-rich hand cream formula and include in it all the wonderful benefits these activated oils provide. Enzymatic technology safely breaks down the triglyceride content of the oils (linseed, borage, almond, olive) I love, releasing new molecules that improve elasticity and deeply restore and calm stressed hands. This allows for rapid absorption without greasy residue while deeply nourishing the skin."
The unusual texture is what you'll notice first — Great Barrier Relief Cream feels deliciously rich, but not at all greasy. And it gets even better: the formula features 5% niacinamide along with those activated plant oils, which helps it address hyperpigmentation (very common on sun-exposed hands) while restoring optimal moisture levels. It does have a fragrance, so if you're particular about hand cream fragrance — understandably so — you can always request a sample using our Custom Sample Service.
It's everything. And it's packaged in a handy, lightweight aluminum tube that makes it easy to pop into a bag without any worries about leaks: you'll want to make sure every last dollop makes it onto your hands. 
Read more about the ingredients in this innovative product in our interview with Pedro.
How to Use
Massage into hands anytime, anywhere.
Ingredients
Key ingredients:
-Almond/Borage/Linseed/Olive Acids/Glycerides restore sebum and protect skin from frequent washing
-Shea butter infuses elasticity in dry, chapped hands
-Niacinamide is a well-tolerated form of Vitamin B3 that helps restore damaged skin and addresses hyperpigmentation
-Panthenol is a natural moisturizing agent capable of soothing stressed, irritated skin.
---
All Ingredients
Aqua, Butyrospermum Parkii (Shea) Butter, Niacinamide, Glycerin, Almond/Borage/Linseed/Olive Acids/Glycerides, Oryza Sativa (Rice) Starch, Panthenol, Cetearyl Alcohol, Sodium PCA, Sodium Stearoyl Lactylate, Saccharide Isomerate , Glyceryl Laurate, Glyceryl Stearate, Xanthan Gum, Levulinic Acid, Parfum, Dehydroacetic Acid, Benzyl Alcohol, Citric Acid, Sodium Citrate.
Aqua, Butyrospermum Parkii (Shea) Butter, Niacinamide, Glycerin, Almond/Borage/Linseed/Olive Acid...
See All