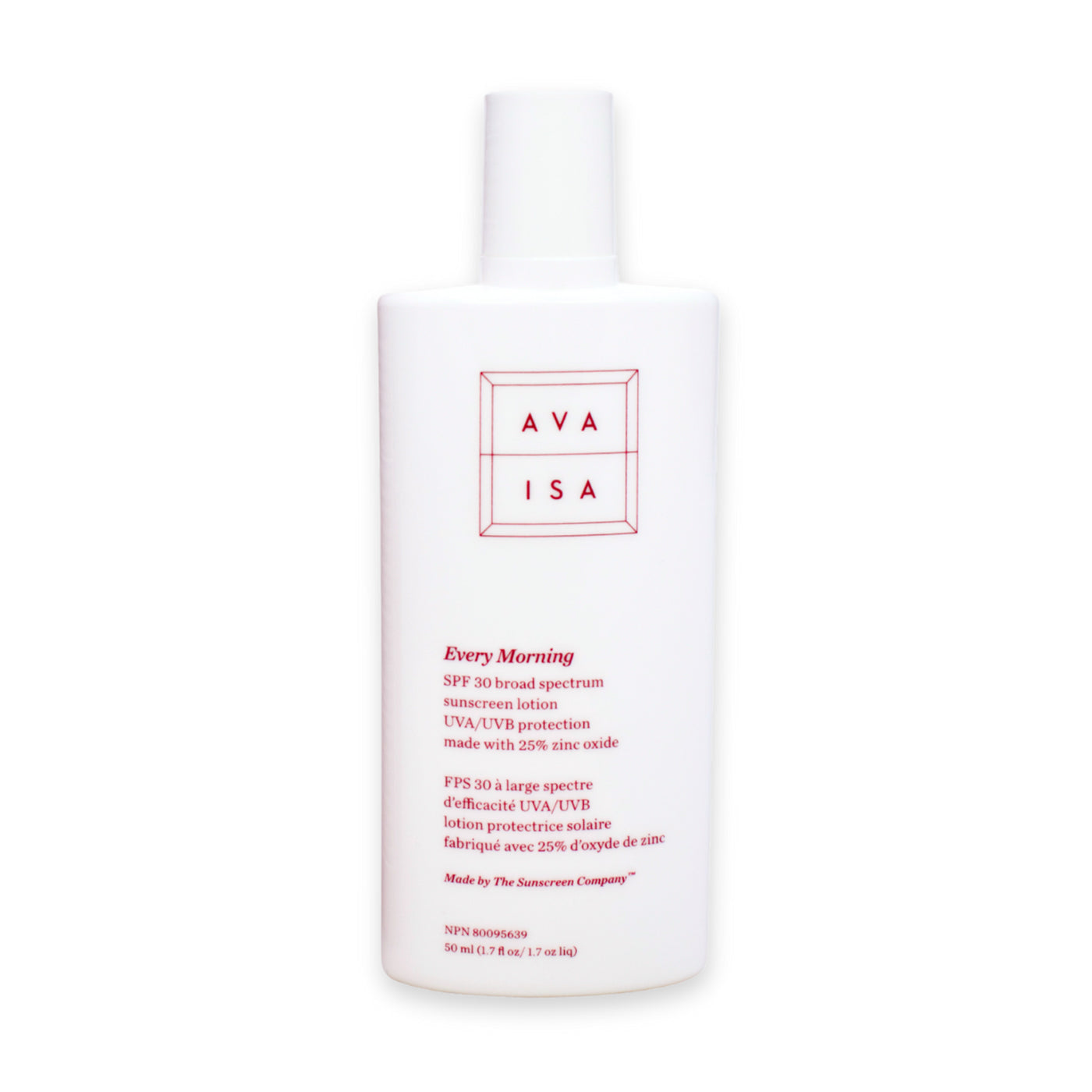 Description
Lightweight, transparent, untinted sunscreen with a beautifully non-drying finish / 1.7 oz

Ava Isa Every Morning SPF 30 is one of our favorite untinted sunscreens *ever* for sensitive skin that would appreciate a non-drying, mineral-based sunscreen. (Which, incidentally, is very difficult to find.)
Ava Isa is made by The Sunscreen Company, a Canadian company that has formulated sunscreens since 1995. This team has many years of experience working with zinc and has found novel ways to formulate with this notoriously tricky ingredient, allowing it to blend more easily over the skin.
Like the brand's immensely popular Sun-e-Serum Drops, Every Morning SPF 30 exclusively uses non-nano zinc oxide at 25%, which means that it provides a significantly higher level of UVA protection (UVA PF of 12.25) than many other sunscreens. It also applies smoothly and transparently — in Dara's view, even more transparently! — across skin tones.
The major difference between Every Morning and Sun-e-Serum is the texture and finish of the formula: Every Morning has a more lotion-like texture that's hydrating without heaviness. It's a texture that's unlike any other we've tried, and we think it's magnificent. This is one of our top recommendations for those who have sensitive, reactive skin; whose skin tends to feel a bit too dry with most mineral sunscreens; those who have a compromised skin barrier; and anyone concerned with hyperpigmentation.
To learn more about the Every Morning formula — and why Ava Isa formulates with zinc only, despite the fact that the company's HQ is in Canada, where they have access to other new and exciting sunscreen ingredients — check out Dara's interview with The Sunscreen Company's CEO, Sara Dudley, on our blog.
And to learn more about Ava Isa and how they manage to make their formulas so transparent and lightweight, check out our Brand Spotlight. We are huge fans!
How to Use
Shake well, then apply evenly to face, neck, and chest after your moisturizer. Here are two helpful guidelines for the appropriate amount to use: a) think about using ¼ teaspoon for the face, or b) squeeze it out of the bottle along the length of two fingers (from palm to tip of index and middle fingers), then apply.
Ingredients
- Zinc Oxide is a physical UVA/UVB blocker and the best source of non-irritating, broad-spectrum sun protection available
- 7-Dehydrocholesterol is a lipid rich cholesterol for skin barrier repair and anti-hyperpigmentation that is also a pre-cursor to vitamin D3. (Not vegan, but cruelty free!)
---
All Ingredients
Active Ingredient: 25% Zinc Oxide
Inactive Ingredients: Aqua, Coco-Caprylate/Caprate, Polyglyceryl-3 Polyricinoleate, Isostearic Acid, Caprylic/Capric Triglyceride, Propanediol, C13-15 Alkane, Dimethicone/Vinyl Dimethicone Crosspolymer, TMP Lauryl Dimethicone, Caprylhydroxamic Acid, 1,2-Hexanediol, 7-Dehydrocholesterol (not vegan), Sodium Chloride, Cerium Oxide.
Active Ingredient: 25% Zinc Oxide
Inactive Ingredients: Aqua, Coco-Caprylate/Caprate, Polyglyc...
See All