The Sunscreen Company began when Sara Dudley's parents (both doctors — a dermatologist and a high-risk OB/GYN and endocrinologist) realized that there was a real need for efficacious sunscreens that were healthy enough for them to confidently recommend to their patients. After years of prototyping, they had formulas ready to bring to market — and Sara joined the company to bring them market.
Now, The Sunscreen Company has a portfolio of brands, including Ava Isa, which has quickly become an Ayla favorite; they even count Michelle Obama among their fans. Read on to hear more about the story behind this Canadian company, what makes their Ava Isa sunscreens different, and what we should be looking for in a daily sunscreen (for example, what concentration of zinc oxide to look for).
Sara Dudley, CEO of The Sunscreen Company 
Ayla: Your parents worked on sunscreen prototypes for 13 years before you joined the company to bring them to market: that's a long time!
SARA DUDLEY: Yes — my parents met our other co-founder, our chemist, in the mid-90's and started to prototype and formulate for those 13 years before I came to the company. Both my parents were busy physicians and this was a side hustle for them.  I was in high school, and I remember they would bring urine jars (because they're sterile and spill-proof) filled with samples of sunscreens and other skincare products they were working on. 
Zinc oxide, at the time, was still being refined from the versions that lifeguards would use on their noses. It was not aesthetic like what we have now. However, those years of iterations for formulas meant that we as a company had developed an appreciation for the need to develop an aesthetic mineral sunscreen, i.e. something that you would want to wear every single day, especially on your face. 
We had also developed a pretty good shorthand on how to do it by the time I arrived in 2008. During my first meeting at the company, I was handed a binder full of formulations, which is such a goldmine of Intellectual Property for any company to have. My job was to execute and make real all of this rich IP, and we've been working on it ever since.
Ayla: Your Ava Isa formulas use only zinc oxide, which many of us usually associate with thick, white, and pasty formulas since it is comes in such large, heavy particles. Tell us how you managed to turn it into something so silky and transparent. Is there something different about the zinc you're using? We don't sell any sunscreen formulas made with nanoparticles, so we know it's not that…
SARA: That's right — the zinc oxide we use is considered non-nano and is uncoated.
Our Ava Isa Sun-è-Serum Drops SPF 35 is really just a product of all of those years of research and refinement.  Traditionally, you need to create a really strong structure to disperse and suspend zinc oxide particles (i.e. your dispersion) and to maintain that over the course of the product's shelf life. In R&D, we were working with large concentrations of zinc oxide, like 25%, but then we would also add in particulate grade filters that are not approved for sale in the US, like Tinosorb M and Tinosorb S.
In challenging ourselves in this way, we found a way to maintain great dispersions while providing lighter feeling products. It's a delicate balance between lightness and stability.
I'm still so proud of that formula because when I read the INCI list, it seems so deceptively simple, but it was definitely a process developing it. We wanted something that could compare to non-mineral SPF benchmarks that were available in similar SPF serum formats, like Dr. Sturm's Sun Drops or Coola's Silk Drops.  We also wanted to challenge the notion that mineral sunscreens could not be used by people of color. 
I'm happy with what we created — it's also just put us one step further to be able to create mineral sunscreens with any kind of desired texture. We have four formulas in R&D right now, each with unique textures and properties. We don't want people to feel like they have to settle when it comes to finding a mineral SPF.
Ayla: And tell us about Bio UVA, one of the ingredients you use in these Ava Isa drops. It sounds very cool!
SARA: Thank you! We've finally been granted all of the global patents that we applied for, so this is a truly patented innovation. Mineral filters are great, zinc oxide especially.  They are challenging to formulate with, though, and they do have their limitations in that you still need to use large concentrations of them to get truly protective SPFs. 
You can optimize their performance, though, by using other ingredients to enhance your dispersion. Conventionally, you can use something like Poly (methyl methacrylate) or PMMA in your formula. It can help in two ways by either keeping the mineral filter in place almost like a wedge and prevents them from agglomerating into big clumps. They can also sometimes act like small reflectors and reflect the UV ray back onto the UV filter so it can properly absorb and attenuate. 
My mother, who is a dermatologist, had mentioned that in cosmetic injectable fillers, suppliers were using Polylactic Acid to make similar type structures. Polylactic acid is derived from sugar cane and can be sustainably developed. We source one that is Ecocert certified (organic) and we really like its ecological profile. It's used in skincare as a mattifying agent.  Our team made the connection and wondered if we could use it in our SPF formulas to help improve their performance, specifically in the UVA range, which has always been our main concern. 
We started to test it in a range of formulas, and we discovered that we could improve our UVA and our UVB protection by up to 60%.  By making our zinc oxide work "smarter," we were giving people better protection and delivering some of the highest possible UVA Protection Factors for sunscreens in North America. Our Simply Zinc formulas have a UVA PF of 20. Our Ava Isa Sun-è-Serum Drops SPF 35 have a UVA PF of 15. Most mineral sunscreens that contain a 25% concentration max out their UVA PF at 11-12, and most non-mineral sunscreens in North America (i.e. ones that rely on Avobenzone for their UVA protection) get a UVA PF of 5-8.  That difference in UVA Protection Factors on a daily basis is going to give better protection against skin cancer as well as pigmentation and photo-aging.
Ayla: And tell us more about index matching, another approach you use in your formulation. Is this done by most sunscreen formulators?
SARA: Index Matching just goes to show the depth of innovation that goes into something as simple as zinc oxide as your UV filter. This is actually an innovation of our supplier, who realized that aside from manipulating particle size, you could improve the transparency of your zinc oxide if you used the principle of Index Matching. 
Everything has what is called a Refractive Index and relates to the way that an object bends light around itself. If two objects have matching Refractive Indexes, then one of the objects will appear to become transparent. Our supplier matches the Refractive Index of zinc oxide to its carrier — for example, Medium Chain Triglycerides. The zinc oxide particle then becomes much more transparent. 
Ayla: You've mentioned that many people are confused about sunscreen, and we agree. Can you summarize what we should all be looking for in an everyday sunscreen? And does the percentage of zinc in a formula matter?
SARA: People are becoming much more educated about the need for an everyday sunscreen but I still see, even among influencers or "skintellectuals," the misunderstanding that all sunscreens are created equally.
For example, we still do not talk about the role of UVA and its impact on our skin health.  Most consumers look for the label claim "broad spectrum" and are satisfied that it's sufficient to give them the best protection. But in my opinion, the claim "broad-spectrum" is based on a sub-par test.  A sunscreen with a UVA PF of 5 can make the same "broad-spectrum" claim as one that has a UVA PF of 20.  It's a low bar that even the FDA has recently mentioned they're beginning to look for ways to improve. 
I've also seen some recent confusion around whether concentration matters when it comes to UV filters. I've heard it said that dispersion is all that matters and that a 2% zinc oxide can be the same as a 25% zinc oxide. But in my years of testing our own sunscreens and prototypes, of testing competitor sunscreens and seeing supplier proto-types and their test results, I have never seen that be the case. Concentration does matter. We once sent out roughly 10 commercially available mineral sunscreens for a test called Hybrid Diffuse Reflectance Spectroscopy to a lab in Germany, at my father's behest, in order to help support initial work to replace the current SPF method used for sunscreens.  This method gives both an SPF (UVB) result and a UVA PF.  Of the 10 samples we tested, there is a pretty straight linear correlation between concentration of zinc oxide and the resulting UVA PF. In other words, the more zinc oxide used, the more protective your sunscreen is. 
For a North American consumer, I'll always tell them to look at the concentration of zinc oxide in their formula and to look for something as close to 25% as possible.  It's not a perfect indicator of quality, but it's the easiest and most available. If you have the time and ability, you can always reach out to a brand as well and ask them for their UVA PF since that probably will not be on the bottle. 
Ayla: How much of the Sun-e-Serum drops do you need to apply in order to get the full coverage?
SARA: You would apply the same amount as any other sunscreen, so a teaspoon for the face for best coverage. I know I probably personally under-apply what I need, but I also then supplement my coverage with a BB cream that has 18% Titanium Dioxide and Iron Oxides — so it's giving me some additional UVB and some minor short wave UVA protection plus infrared protection. 
I'll also apply our mineral lip balm Ava Isa Sun Lip Sun Whip SPF 15 in Clear Sunshine on areas that are prone to pigmentation, like my orbital bone.  Those two additional measures are not sufficient in terms of protection on their own, but they're nice to supplement with. 
Ayla: We're thrilled that your Sun Lip Sun Whip extends protection to the lips, too. Can you tell us what prompted you to create this product (and also tell us how you managed to make it clear)?
SARA: For the lip balms, we noticed that it was rare to find a mineral lip balm that had adequate protection in terms of having enough zinc oxide. We used the same zinc oxide as in the Ava Isa Sun-è-Serum SPF 35 for the lip balms, so the Clear Sunshine (clear version) has really great transparency and will not give you a "ghost lip." 
I really love them, though, because of all of the other ingredients that are in them.  We used 20% of this really lovely refined shea butter and different vegan waxes so they're very nourishing. I actually use the Clear Sunshine as a lip treatment at night, because the combination of the zinc and the shea butter is very healing and it prevents me from getting chapped lips even in the worst of winter. And as I mentioned earlier, I use it as a highlighter during the day on my orbital bone where I'm prone to pigmentation so that I'm getting extra protection there.
Ayla: We had to ask this last question. Does Michelle Obama (a reported fan of yours) use the Ava Isa formula, or does she only use the CyberDERM Simply Zinc Ultra SPF 50?
SARA: I honestly don't know! I can tell you that the Ava Isa formula is probably a slightly better fit for her, as it's 100% transparent, whereas Simply Zinc Ultra has a nude beige tint.  We actually got the opportunity to provide her sunscreen because of her lovely facialist, Jennifer Brodeur, who is a fellow Canadian and who has been so supportive of us over the years.
You May Also like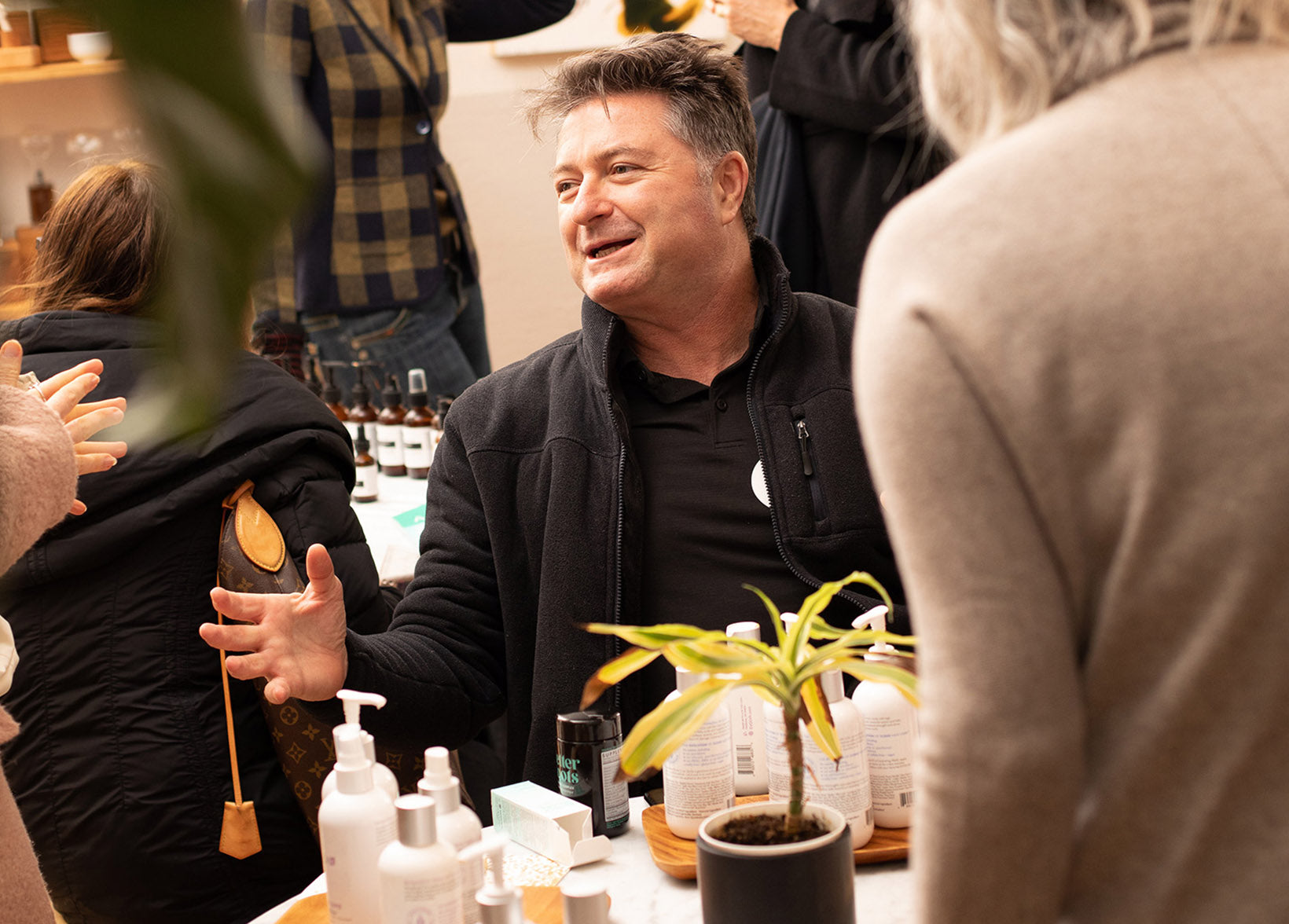 Boris Oak, founder of EVOLVh, told us his four golden rules for hair styling — and they're gems. Check them out here.