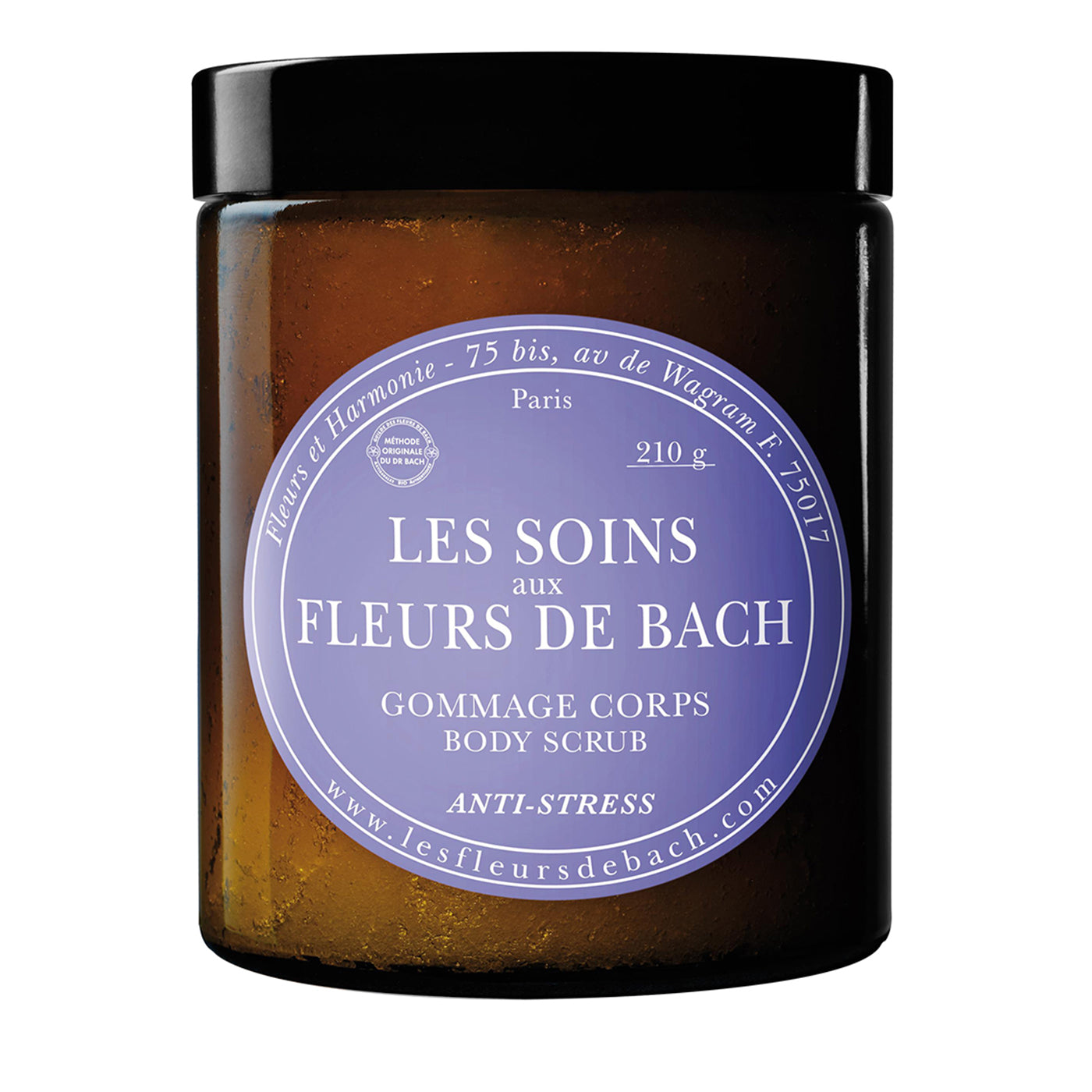 Description
Heavenly-scented sugar scrub with anti-stress Bach flower essences / 7.4 oz 
Les Fleurs de Bach Anti-Stress Body Scrub was the first (and still, the only) body scrub to make the Ayla cut: we're very picky about products in general, and body scrubs are hard to get just right. This one's certified organic formula is infused not only with organic Bach flower essences for a clinically proven de-stressing effect, but also a subtle, natural, entirely essential oil-based fragrance featuring bergamot, orange, and lavender.
The heavenly smell aside, what made us fall in love was the perfectly scrubby but sensitive skin-friendly feel of the cane sugar crystals and apricot kernel powder. Use it once a week on damp skin to smooth and refresh; it'll leave you feeling totally relaxed, thanks to its Bach flower essences of agrimony, oak, impatiens, white chestnut, pine, crabapple, and verbena. It works beautifully in both the bath and the shower, and the gorgeous, hefty glass jar will make your bathroom look superchic. Makes a great gift, too.
If you don't already know the wonderful story behind this little company and its exacting methods, check it out here. Available in the US exclusively at Ayla.
How to Use
Massage over damp skin, then rinse.
Ingredients
- Cane sugar sourced from Thailand.

Organic Bach flower essences for the following specific situations:
- Agrimony for those who hide discomfort, pain, difficult feelings, or suffering behind a cheerful face. Here, it's included to help you find the right words to express your feelings.
- Oak for the stoic, who often just keep going out of duty until they wear themselves out. Here, it's included to aid in the process of letting go.
- Impatiens for those who move quickly and get frustrated by those who don't. Here, it's included to help calm tightly-wound nerves.
- White Chestnut for spinning thoughts that you can't switch off. Here, it's included to help bring the ticker-tape to a stop.
- Pine for feelings of guilt, even when it's not really your fault. Here, it's included to bolster self-esteem.
- Crab Apple for perfectionists and those who feel shame around their appearance. Here, it's included to encourage you to stop the exhausting effort for perfection.
- Vervain for the enthusiasts who want to "convert" others to their point of view and find it hard to unwind and relax. Here, it's included to encourage a sense of calm and peacefulness, particularly when you're overworked.
---
All Ingredients
Sucrose, caprylic/capric triglyceride, silica, parfum (essential oil fragrance), lauryl glucoside, polyglyceryl-2 dipolyhydroxystearate, prunus armeniaca (apricot) kernel oil, glycerin, aqua (water), alcohol, verbena officinalis flower extract, quercus robur bud extract, impatiens glandulifera flower extract, agrimonia eupatoria flower extract, aesculus hippocastanum flower extract, pinus sylvestris flower extract, malus sylvestris flower extract, limonene, linalool, geraniol.
Formula is certified organic by ECOCERT.
Sucrose, caprylic/capric triglyceride, silica, parfum (essential oil fragrance), lauryl glucoside...
See All
"That scrub. OMG. That scrub."
(Everyone who buys it, pretty much)