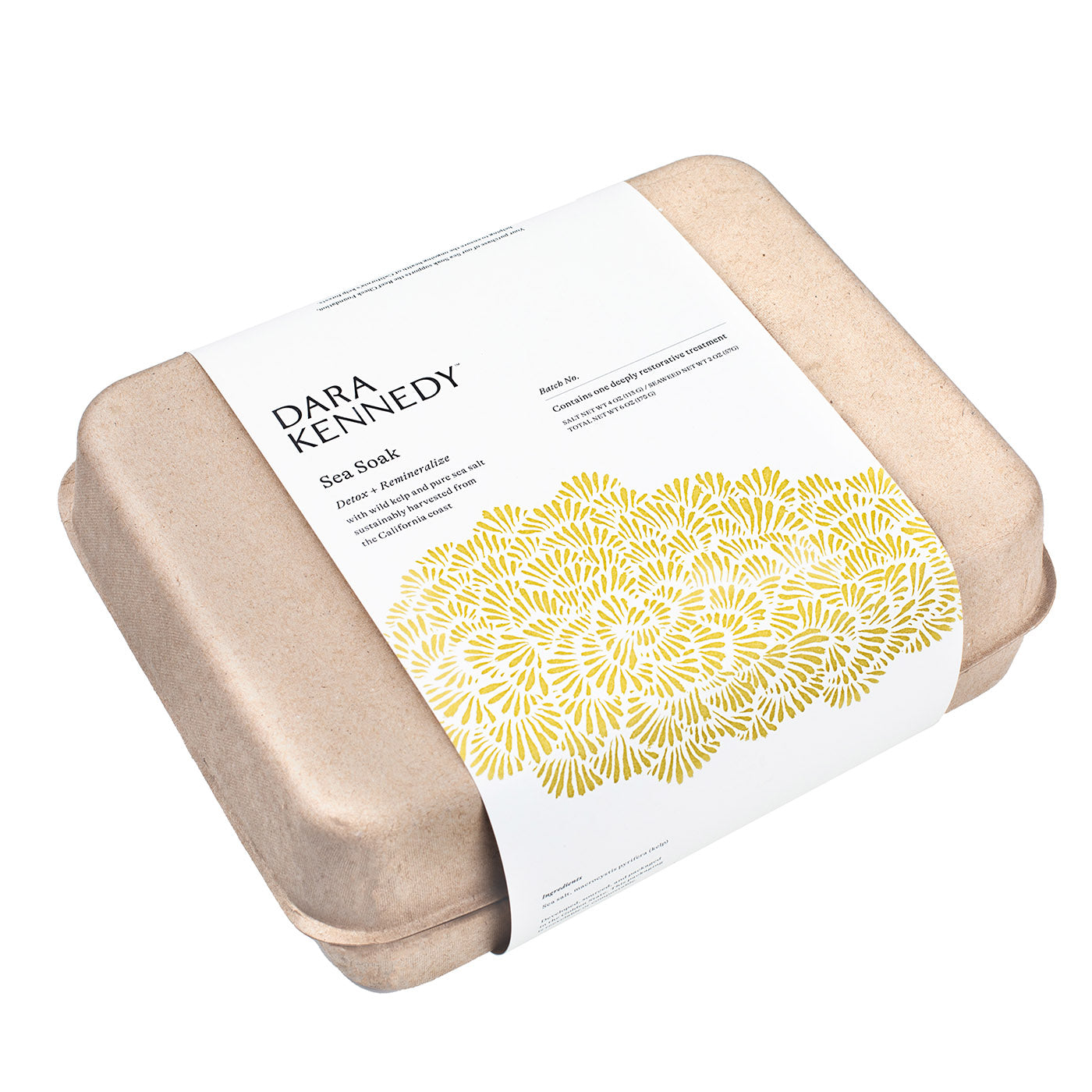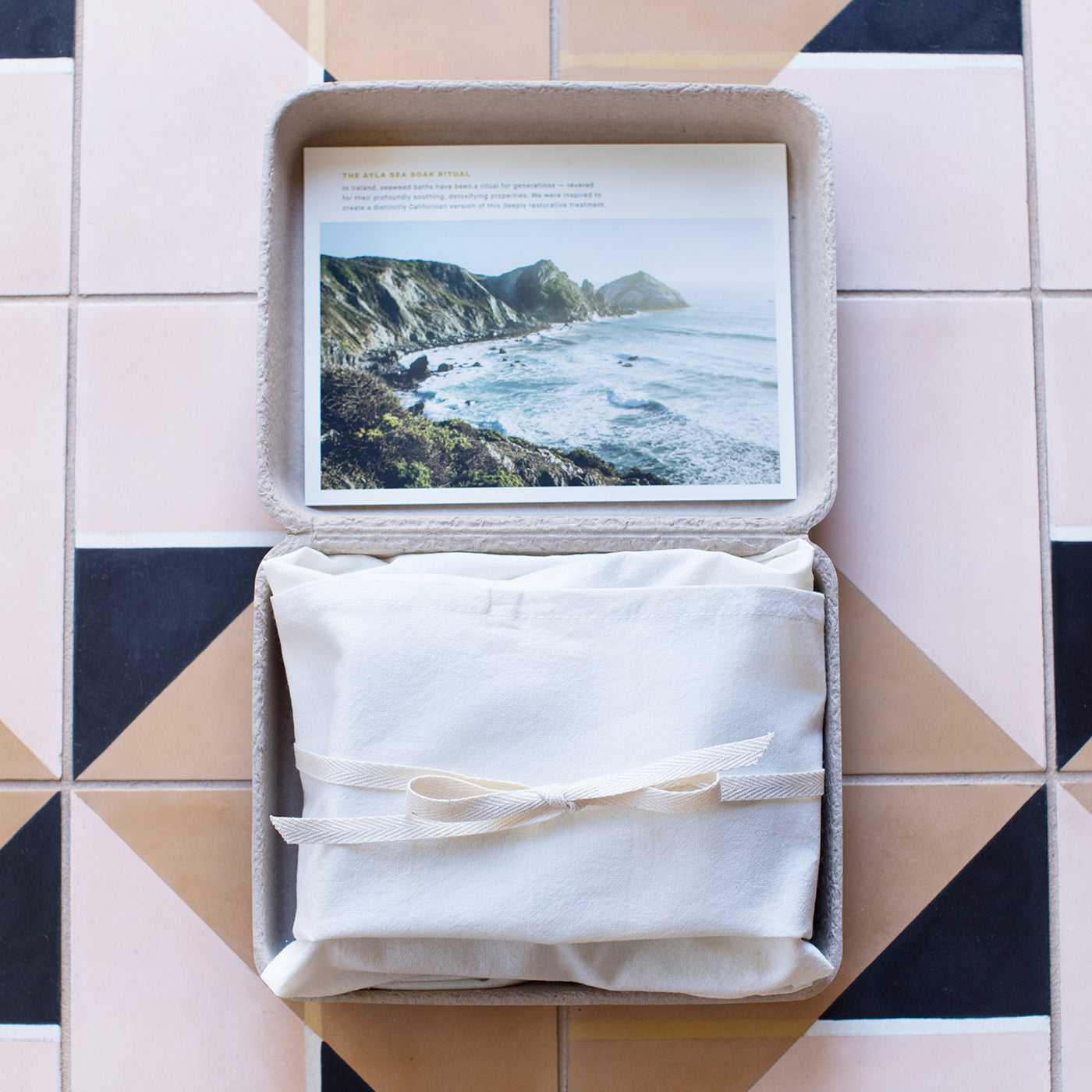 Description
Detoxifying, remineralizing treatment for body, skin, & scalp / Contains one deeply restorative bath with kelp, salt, and organic cotton bag
This, friends, is no ordinary bath. Our Dara Kennedy Sea Soak (formerly known as Ayla Sea Soak) is designed to be a profound way to witness the power of individual ingredients in their natural state, at the highest level of quality, and at the peak of freshness — as close to a spa treatment as you can get without having to leave your house.
Our inspiration
In Ireland, the seaweed bath has been a therapeutic ritual for generations — a panacea for ailments as varied as rheumatism, water weight, sluggish circulation, and cellulite. Seaweed's natural function is to filter out pollutants in the ocean, sweeping out excess acidity and CO2 in the water while supplying nutrients to sea life; similarly, in a hot bath, salt water helps seaweed coax out what your body needs to let go of and replace it with essential minerals.

Our ingredients
We've fallen in love with this deeply detoxifying treatment, and our Sea Soak heightens its benefits with a California twist. While Bladderwrack is typically used in Ireland due to its abundance in the Atlantic, we've opted for the wild brown seaweed of the Pacific coast, Giant Kelp, which is richer in specific anti-inflammatory & detoxifying components. And our pure, mineral-rich salt is the key to drawing out the full benefits of our kelp. To make it, already-pristine Big Sur seawater is filtered nine times before being greenhouse evaporated over the course of four months.
Want to see a photo of our founder inspecting kelp on a boat? Read more about our Sea Soak's incredible ingredients and commitment to sustainability.

The results
The result is a skin-soothing, glow-boosting, detoxifying ritual — excellent for "I feel gross" moments, sore muscles, stressful/sleepless times, and the general sense of depletion that can come with modern daily life.
Our numerous testers compared its effect to that of a deep-tissue massage, a session at the infrared sauna, a bath or body wrap at a spa, and "how I feel after the best, hardest workout I've ever done." And thanks to the fresh, potent alginate gel you can squeeze out of your bath bag, it's our go-to treatment for flaky scalps and pretty much any inflammatory skin condition.
Make the ritual even more restorative by listening to a meditation that was made just for it. And if you'd like to see what others have experienced with their Sea Soaks, check out its testimonials and press reviews.

The California love
We donate 5% of all Dara Kennedy Sea Soak sales to Reef Check Foundation and are very proud to partner with them to help ensure the ongoing health of California's kelp forests. Our Sea Soak is not only a deeply restorative treatment, but also a love letter to our beautiful state of California and its natural, untouched beauty — and a reminder to us all to protect the Earth's natural beauty, everywhere.
When you're done soaking, your bag of kelp can be repurposed as an incredible plant fertilizer: check out instructions from our seaweed forager here.
And our sustainability efforts don't stop with the Sea Soak. Read more about how all of your Ayla purchases are made more earth-friendly.  
We're thrilled that the Sea Soak has been featured in so many press pieces (click on the name of each publication to read more): IntoTheGloss, San Francisco Magazine, MindBodyGreen (read to the end of this one!), Town & Country, Vanity Fair, C California Style Magazine, The San Francisco Chronicle, Musings Magazine, Vogue Paris, and Beauty Independent.
How to Use
1. STEEP.
Fill your tub half-full with very hot water and sprinkle in the entire container of sea salt. Then, pour all the seaweed into your cotton bag and tie it closed securely; drop it into the bath and let it steep for at least 10 minutes, then fill the tub completely with water. For best results, we suggest keeping the water quite hot. It will gradually turn the same olive-brown shade of the seaweed as its nutrients are released into your bath.

2. SOAK.
Prepare to soak in your hot bath for 20-30 minutes. After about 5 minutes, you'll feel your blood pumping; soon after that, you'll start to sweat (don't worry, this is supposed to happen). Enjoy a guided meditation as you soak by visiting aylabeauty.com/seasoak.

3. SQUEEZE.
As you soak, gently squeeze the cotton bag to release the kelp's natural mineral-rich gel; massage this soothing gel onto your face and scalp.

4. REHYDRATE + RELAX.
Post-bath, drink 1-2 tall glasses of water. Don't be surprised if you feel the need to lie down for a few minutes. Just trust that your body knows what it needs, and go with it.
Ingredients
We're proud to create a product that responsibly features California's incredible natural resources.  

- Our giant kelp is hand harvested by our seaweed forager off the coast of Santa Cruz, California, where wild kelp beds are abundant. To ensure maximum potency, the kelp is rinsed in the Santa Cruz mountains immediately after harvest; it's then sun-dried in the California desert (after being chopped into pieces so that more of the alginate gel is available to your bath).

- Our special sea salt, from a devoted salt artisan in Big Sur, happens to be a favorite finishing salt of chefs in the finest restaurants along the California coast due to its incomparable saltiness, freshness, and purity. It's higher in a number of trace minerals, like potassium and calcium, than salt made from water elsewhere along the California coast.

- Each element of the plastic-free Sea Soak packaging is recyclable or compostable, and the biodegradable organic cotton bag is hand-stitched in San Francisco. We have sourced, printed, or made as much of packaging as possible in the Golden State.
---
All Ingredients
Sea Salt, Macrocystis Pyrifera (Giant Kelp).
Sea Salt, Macrocystis Pyrifera (Giant Kelp).
"WOW!!!!! I feel amazing — as good as I feel after a massage — my muscles are more relaxed, my blood feels like it is just humming through my body. I definitely worked up a sweat, but there was something smooth about the experience, whereas I often find steam rooms and saunas to feel jarring. It was very relaxing, a great way to unplug."
Kristin R.