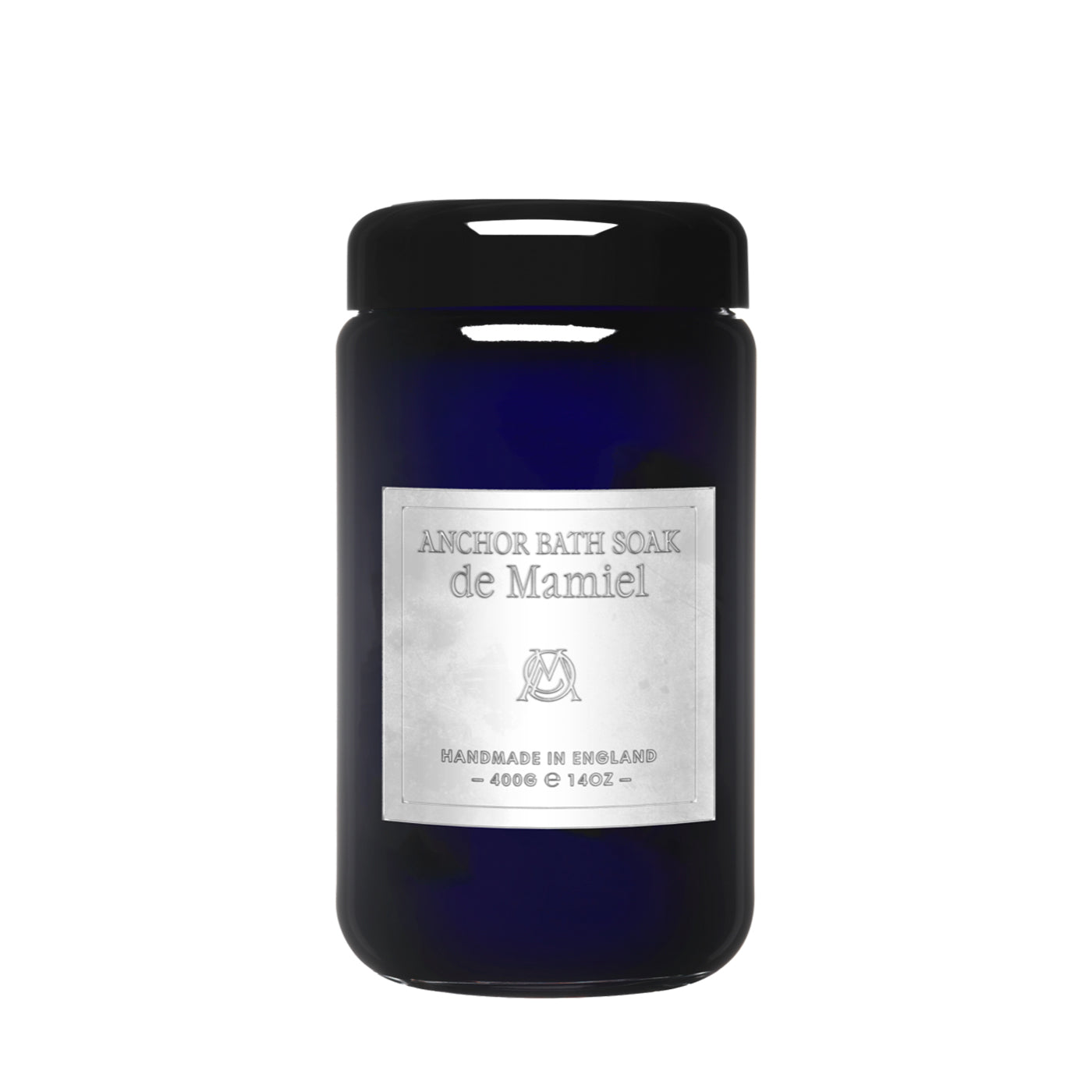 Description
Aromatherapy bath designed to bring a sense of stillness and tranquility / 14 oz.
de Mamiel Anchor Bath Soak was designed to showcase the deeply grounding Anchor balm in another ideal context: folded into a deeply calming salt bath that's one of our bedtime favorites.
For the salt base, creator Annee de Mamiel chose mineral-rich Himalayan salt, soothing Dead Sea salt (excellent for dry, itchy skin), and magnesium-rich Epsom salts, which tend to be just the thing for tired, achy muscles. Layered in is Shungite crystal powder, prized for its purification properties — in this interview with Annee, she describes its myriad benefits, particularly for those who like the idea of bath time doubling as digital-detox time. 
And if you're not already familiar with Anchor, know that it is just what its name evokes: the most grounding scent, perfect for quickly and profoundly bringing on a sense of stillness and tranquility. Annee designed it specifically for those who wake up in the middle of the night and are unable to go back to sleep, those who toss and turn, or those who wake up too early and feel unrested. She says, "The Anchor Soak eases away the day's stresses and takes me to a place where dreams are made. It's soothing and meditative for mind and body, relaxing and preparing you for sleep whilst hydrating and nourishing your skin."
From an aromatherapeutic perspective, its key note of Vetiver, among many other goodies in the formula, helps to ground and calm an overactive mind so that you can sink back into deep, restorative slumber. As Annee told us, "The beauty of essential oils, and the reason why I love them so much in my work and include them in my products, is that they can help process some of these things without your even having to think or talk about it. They just help the body to move it through."
Wiping away stress without having to think about it? Magic. Climb into this bath, maybe listen to some beautiful music and add some Bach flower drops for good measure, and it'll do so much of that letting-go for you, without your even realizing it.
How to Use
Pour 1-2 capfuls under running water to allow the salts to dissolve, and for maximum results, relax in the water for at least 10-15 minutes. A temporary rise in body temperature during or immediately after soaking is completely normal and can be attributed to individual stress levels.

Sensible cautions:
Avoid direct contact with eyes. Do not take internally. Keep out of reach of children.
Not recommended for use during pregnancy
Ingredients
- Dead Sea salts are excellent for itchy, sensitive skin
- Himalayan and Epsom salts are rich in minerals that benefit tired, achy muscles
- Shungite crystal powder is prized for its purification properties
---
All Ingredients
Sodium Chloride (Himalayan salt and dead sea salt), Magnesium Sulfate (epsom salts), Magnesium chloride, Sodium Bicarbonate, Powdered Shungite, Cocos nucifero (coconut) Oil, Lavandula angustifolia (lavender) flower oil, Santalum album (sandalwood) wood oil, Boswellia sacra (frankincense) resin oil, Jasminum grandiflorum (jasmine) flower extract, Rosa damascene mill (Persian rose) blossom oil*, Anthemis nobilis (chamomile) flower oil*, Citrus aurantium bergamia (bergamot) peel oil*, Vetiveria zizanoides (vetiver) root oil*, Nardostachys jatamansi (spikenard) root oil*, Daucus carota sativa (carrot) seed oil*, Pogostemon cablin (patchouli) leaf oil*, Commiphora Myrrha (myrrh) gum oil, Linalool°
*Certified organic
°Natural essential oil constituents
Sodium Chloride (Himalayan salt and dead sea salt), Magnesium Sulfate (epsom salts), Magnesium ch...
See All