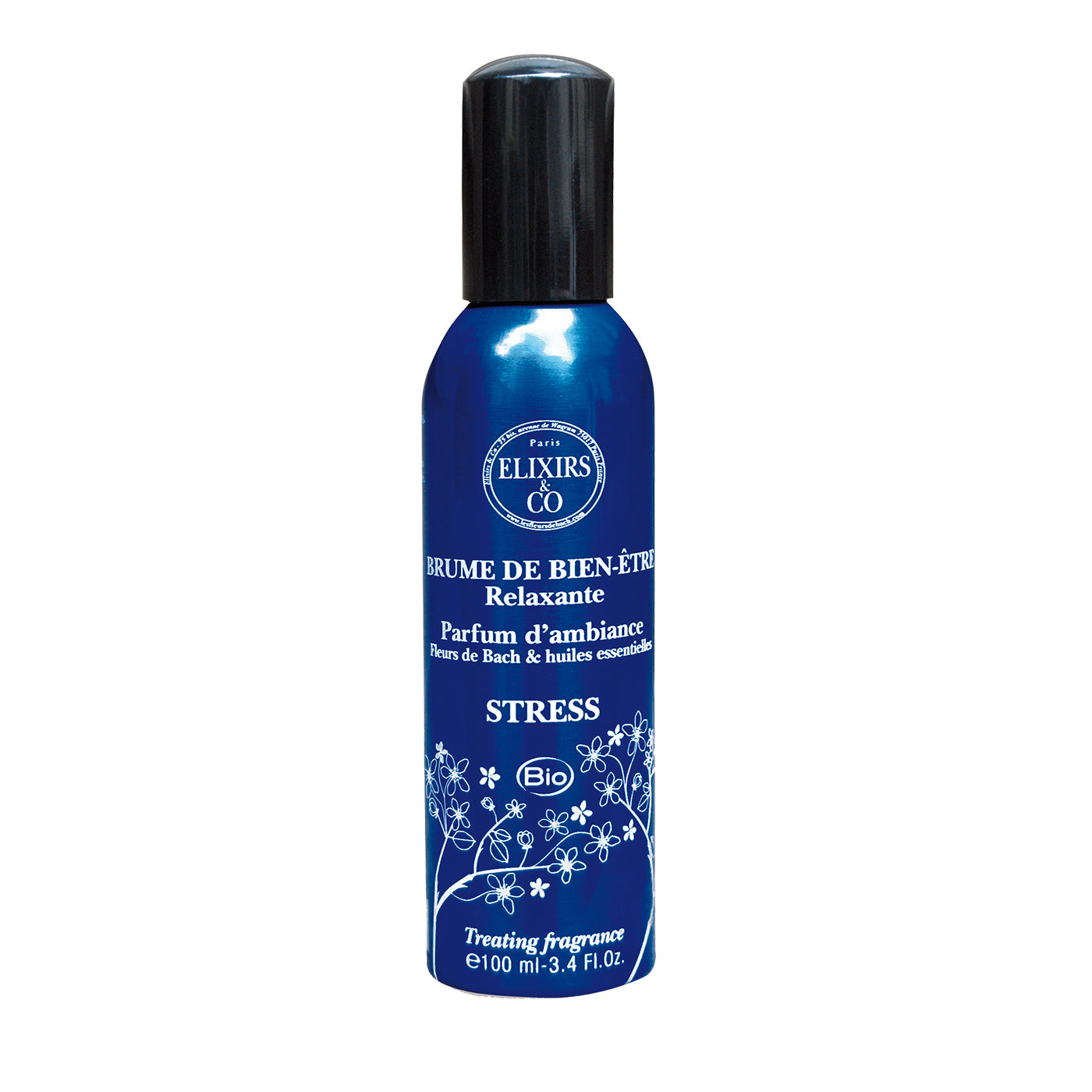 Description
Anti-stress mist to bring a sense of calm and serenity to your environment / 3.4 oz
Les Fleurs de Bach Anti-Stress Room Treatment Spray is the perfect new addition to the Anti-Stress lineup from Les Fleurs de Bach, a team of Parisians deeply devoted to creating mood-balancing Bach flower remedies with true integrity and efficacy. As they've told us, their Anti-Stress products are designed specifically to "help you to put things in perspective, clear the burden of guilt, express your feelings more easily, and bring back a sense of tranquility and mental calm." (We'll take everything on that menu, please.)
Like the other members of the indispensable Anti-Stress family, the Room Treatment Spray's certified organic formula is infused not only with potent Bach flower essences for a clinically proven de-stressing effect, but also a refreshing blend of lavender,  rosemary, and wild mint essential oils for a hit of calm- and serenity-boosting aromatherapy. Keep this spray anywhere you tend to find that your jaw gets a little too clenched up: the car, your desk, or perhaps your bag— because who knows when stressy moments will surface, really.
And thankfully, the forward-thinking team from Les Fleurs de Bach have a range of products that work as a team to keep stress in check. When you find that you've tipped just a little too far into the realm of irritability, take the Stress Elixir to not only work on the root of the issue but also find a nearly instant sense of serenity (our founder and many other busy parents swear by it). Spritz this Room Treatment Spray for an extra dose of calm when you walk in the door to your home. And as you wind down in the evening, try the Anti-Stress Body Scrub (the best body scrub in the world, we think) in your bath or shower, followed by the Anti-Stress Body Lotion. Then, revel in your newfound state as the epitome of serenity. Or, at least, something much closer to it than you previously were.
If you can't get enough de-stressing scents, also check out the Anti-Stress Treating Fragrance, which is scented like the rest of the Anti-Stress lineup (spray it in your immediate surroundings and let it rain over you), and the Félicité eau de toilette, scented like the Anti-Stress lineup but formulated specifically to be worn on the body.
Read more about the astounding level of devotion behind this brand, and the lengths they go to in order to create their products, on our blog.

Available in the US exclusively at Ayla.
How to Use
Spray about 4 sprays around the room when you want to take a break and feel a sense of calm
Ingredients
- Mint, Lavender, Rosemary and Geranium essential oils
- Bach flower essences of agrimony, oak, impatiens, white chestnut, pine, crabapple, and verbena
---
All Ingredients
ALCOHOL DENAT, WATER (AQUA), FRAGRANCE (PARFUM), ALCOHOL, AESCULUS HIPPOCASTANUM (WHITE CHESTNUT) FLOWER EXTRACT, AGRIMONIA EUPATORIA (AGRIMONY) FLOWER EXTRACT, IMPATIENS GLANDULIFERA (IMPATIENS) FLOWER EXTRACT, PINUS SYLVESTRIS (PINE) FLOWER EXTRACT, QUERCUS ROBUR (OAK) BUD EXTRACT, MALUS SYLVESTRIS (CRAB APPLE) FLOWER EXTRACT, VERBENA OFFICINALIS (VERVAIN) FLOWER EXTRACT, LINALOOL, LIMONENE, GERANIOL, COUMARIN
ALCOHOL DENAT, WATER (AQUA), FRAGRANCE (PARFUM), ALCOHOL, AESCULUS HIPPOCASTANUM (WHITE CHESTNUT...
See All