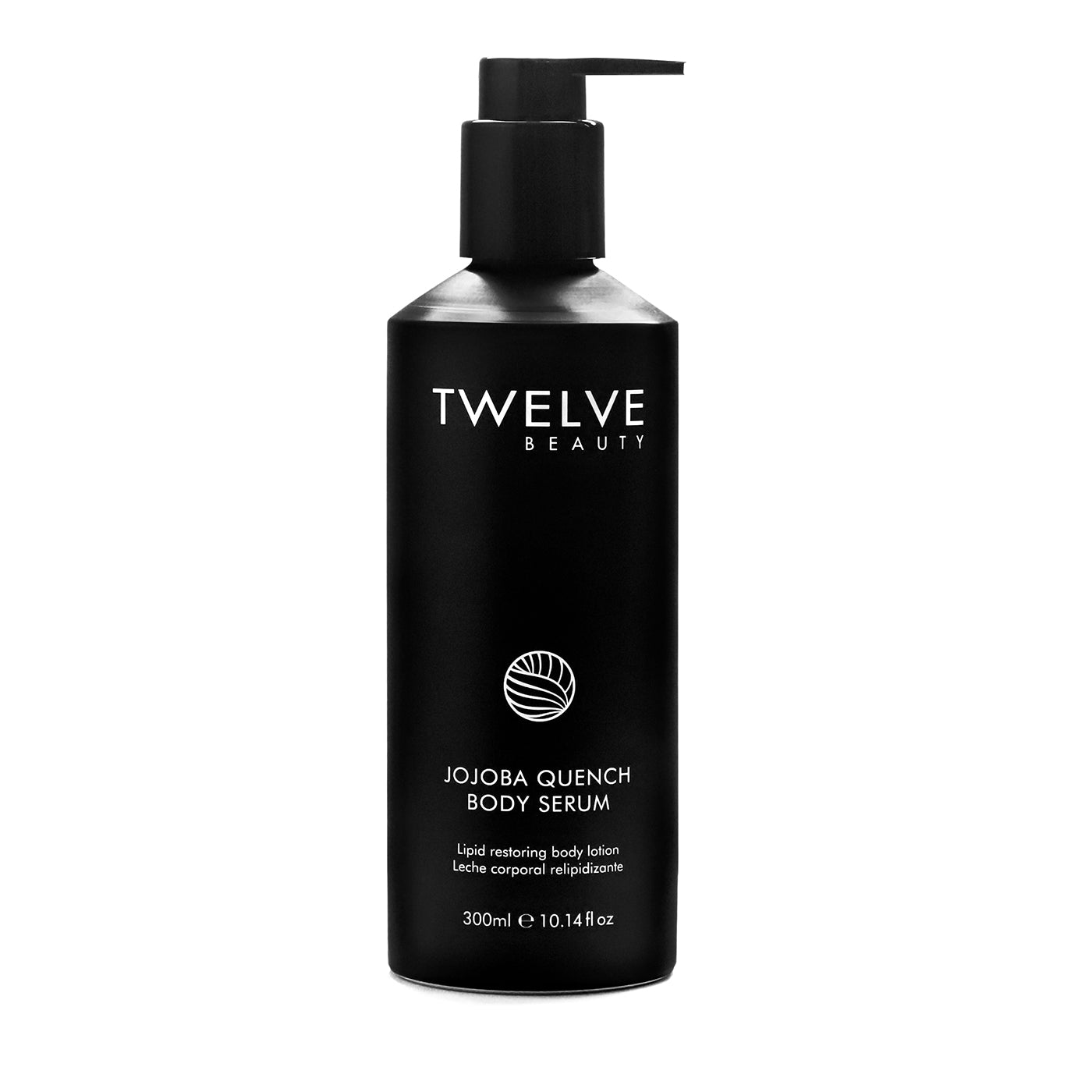 Description
Impossibly lightweight yet deeply quenching & calming body lotion / 10.1 oz
TWELVE's Jojoba Quench Body Serum is a showstopper. It's one of those products we've always wished could exist — a deeply quenching and calming body moisturizer with a super-light, fast-absorbing texture — but simply assumed to be an impossibility. How could a body serum provide long-lasting moisture, especially for sensitive skin that tends to get itchy?
The answer lies with a formulation method that creator Pedro Catalá mastered during his years earning his PhD in Italy: Niente in Acqua. As Pedro says, "This method involves a very light, yet highly stable emulsion that contains a small amount of oil, hence the name, meaning Nothing in Water. Jojoba Quench Body Serum contains a high dose of emollients, yet its texture and consistency remain true to this approach. It is also my way of paying homage to the modest yet highly beneficial jojoba: there are many more fashionable lipids in use in the skincare industry today, but in my opinion, none come even close to providing the same skin benefits as this magnificent plant."
Magnificent indeed, especially when jojoba esters and oil are blended with linoleic acid-rich spent grain wax, hydrating sodium PCA, and the carefully chosen botanicals (soothing mallow flower, restorative imperatoria leaf, and antioxidant powerhouses white genepi and butterfly bush) that TWELVE is known for.
Its sweet, warm, suits-all-genders scent of German Iris adds elegance to the experience without overpowering. This is one of those products you'll keep thinking about — and, as Pedro told us, it may inspire you to spontaneously stroke your arms and legs because they'll feel so impossibly, improbably, perfectly soft.
Read more about the ingredients in this innovative product in our interview with Pedro.
How to Use
Apply with a light massage. Use daily for optimum results.
Ingredients
Key ingredients:
- Hydrolyzed Jojoba Esters possess film-forming properties and improve the skin barrier while reducing trans-epidermal water loss.
- Organic Virgin Jojoba Oil is deeply hydrating and nourishes the skin without residue.
- Spent Grain Wax is rich in linoleic acid, improves the skin's barrier, and reduces itchiness.
- Sodium PCA is an essential component of the N.M.F (Natural Moisturizing Factor), which helps restore and maintain an optimum level of hydration in the upper layers of the epidermis.

All ingredients:
Aqua, Caprylic/Capric Triglyceride, Dicaprylyl Ether, Simmondsia Chinensis (Jojoba) Seed Oil, Glycerin, Hydrolyzed Jojoba Esters, Butyrospermum Parkii (Shea) Butter, Saccharide Isomerate, Sodium PCA, Sodium Hyaluronate, Argania Spinosa Kernel Oil, Spent Grain Wax, Cetearyl Alcohol, Sodium Stearoyl Lactylate, Malva Sylvestris (Mallow) Flower/Leaf/Stem Extract, Peucedanum Ostruthium Leaf Extract, Buddleja Davidii Extract, Artemisia Umbelliformis Extract, Olus Oil, Glyceryl Laurate, Hydrogenated Vegetable Oil, Glyceryl Stearate, Euphorbia Cerifera (Candelilla) Wax, Xanthan Gum, Tocopherol, Levulinic Acid, Dehydroacetic Acid, Benzyl Alcohol, Parfum, Limonene, Linalool.
---
All Ingredients